The Best Post and Rail Fencing for Your Horse property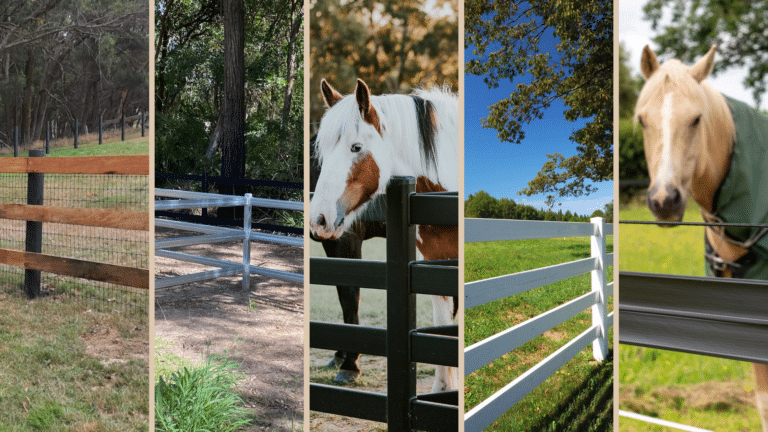 Post and Rail fencing can make your equine property look beautiful, create a safe enclosure for your animals and give a nice strong boundary to your dream property. If you have your heart set on getting that beautiful line of post and rail fencing spanning across your property, you probably already know this. 
The problem is not the fencing but the avalanche of options that can leave you or for that matter any horse property owner confused and overwhelmed. 
We know it's not an easy decision. After all, there are so many different types of post and rail fencing available today and each has its own pros and cons, cost, design, usage and specifications. If you want to solve this riddle quickly and find the best post and rail fencing for your horse property, then this quiz can help you. 
If you'd like to take the longer route, weigh all your options, gain access to helpful resources, learn different factors that should be considered while making your decision and reach the best post and rail fencing solution that fits you, your property and your vision then keep reading. 
At Stock & Noble, we provide high-end property owners with the finest fencing solutions across Australia and New Zealand. We have years of expertise in selling premium post and rail fencing like Horsrerail, Legacy Rail and Buckley. Based on our experience in helping our numerous clients build their signature properties using post and rail fencing, we would share some key insights that will bring clarity to your decision. 
In the end, you will be able to choose the best post and rail fencing based on your priorities. What else can be better than the confidence of making the right decision? 
Best Post and Rail Fencing for Properties on a Fixed Budget
Budget is one of the most critical factors when you are out to build a property. It can eliminate some fencing options easily from your list of considerations. So, before you begin your search, have a broad idea of how much flexibility your budget allows. 
For equine properties with budget restrictions, Timber post and rail fencing, PVC post and rail fencing, and Flexible rail fencing like Horserail, or Cattle Rail fencing are excellent choices. 
You can even mix and match, combining Horserail with timber for a cost-effective solution. These options cater to lower budgets while providing safety for your horses.
Helpful Resources to find the best Post and Rail Fencing based on cost: 
The Post and Rail Fencing to Choose When Looks is THE Priority
Most of our clients have aesthetics as their biggest priority. Well, who doesn't want a beautiful-looking property it's a fact that fencing does last a long time and plays a critical role in defining the looks of the entire property so there's a strong argument for making it the best-looking fence ever! However, great looks do come with a cost. 
So, if you're specifically looking to build a signature property that makes a statement and impressive visual aesthetics are your top priority, opt for either hardwood timber or Premium Steel Post and Rail Fencing (Buckley). 
These options are known to be a favourite of owners creating signature properties and you might even find them featured on equine magazines. They sure offer a stunning appearance that will enhance the overall beauty of your property. 
Helpful Resources to get the most beautiful Post and Rail Fencing
If Low Maintenance is the Biggest Need
Would you rather enjoy weekends maintaining your fencing or enjoying your property? We know the answer, but if it's the biggest criterion on your list then Buckley fencing is your best bet. It offers excellent durability and requires minimal upkeep, giving you peace of mind. 
Helpful Resources to find the low maintenance Post and Rail Fencing solutions
When Longevity Matters the Most
Consider Premium Class 1 Hardwood Timber Post and Rail Fencing, Premium Steel Post and Rail Fencing, Cattle Rail, or Legacy Rail. When longevity is your top concern, these options are the cream of the crop, each boasting a life span of over 30 years. 
Helpful Resources to get the most durable Post and Rail Fencing 
Where Horse Safety is the Biggest Concern
If you are an equine property owner, you might be aware of the in-built curiosity for horses. and the ability to injure themselves on even the most safe of fences.  
Owing to this they often try to venture out of the enclosed areas, might run into a fence when spooked or test the fencing against their might or just play with the fence in their spare time. 
Therefore, taking measures to try and keep them safe, is one of the most important criteria our clients often quote as the top priorities when choosing a post and rail fence. 
Products that are globally proven and hailed for high horse safety standards are Buckley and Horserail. These fencing solutions are specifically designed with horse safety in mind. So, if horse safety is key, go for Horserail or Buckley. 
Helpful Resources to find horse-safe Post and Rail Fencing
Which Post and Rail Fencing is the Easiest to Install
If you're looking to get your post and rail fencing installed by a fencing contractor all of these fencing can be easily installed. If you're considering taking it up as a DIY project and have some prior experience in installing fences, then the good news is that all these post and rail fencing options are pretty straightforward. 
However, Cattle Rail may require welding experience, while installing hardwood timber might require machinery due to the weight of the posts. Nevertheless, with proper guidance, all of them can be easily installed. 
Before you begin your fencing project, it'll be best to dig up as many resources as you can on installing your post and rail fences as well as ask for the installation manuals from your supplier. Especially with an engineered fencing system like Buckley, it's critical to follow the guidelines laid out by the manufacturer. 
Helpful Resources to find an easy-to-install Post and Rail Fencing
Post and Rail Fencing that's Safe for the Environment
For eco-conscious property owners, PVC made from recycled materials and Buckley made from recycled steel are excellent environmentally friendly choices. 
Timber Post and Rail fencing be it hardwood or Treated Pine involves burdening our natural resources. This is another reason why alternate fencing solutions are gaining popularity. 
Helpful Resources to find an environmentally safe Post and Rail Fencing
Best Post and Rail Fencing Based on the Return on Investment
If the factor of return on investment is crucial, and you're contemplating selling the property in the future, our recommendation varies based on your timeline. 
For instance, if you plan to sell within the next couple of years, Treated Pine Post and Rail Fencing can yield a good ROI. However, if your property plan involves enjoying it for around 10 years while still seeking a favourable ROI, it's worth considering premium fencing solutions like Buckley Steel Post and Rail Fencing System or Hardwood Post and Rail Fencing options. These choices will provide long-term value and the potential for a solid return when the time comes. 
Helpful Resources to learn your approximate ROI on Post and Rail Fencing 
Choice of Gates can Influence the Choice of Post and Rail Fencing
Gates are an important part of a fencing project, and we highly recommend them to be a part of your initial plan rather than an afterthought. Matching and customisable gates can significantly impact the overall look, cost, and safety of your fencing. Different types of gates accompany the various post and rail fencing. 
While Timber Post and Rail Fencing and Cattle Rail typically offer customisation, Premium Steel Post and Rail Fencing like Buckley provide matching gate options. 
Helpful Resources to get the right gates for your horse property
Based on Compatibility with Electrics or Mesh
If you plan to add electrics or mesh components to your fencing, it's important to ensure that your chosen fencing system is compatible with these additions. 
Proper compatibility will enable seamless integration and enhanced functionality for your equine property. For a detailed discussion on the suitability of electric fencing with your choice of post and rail fencing, reach out to a fencing expert. 
Helpful Resources to add electrics or mesh effectively
Other Factors to Consider While Choosing the Best Post and Rail Fencing
Termites
Assess termite risk and avoid timber in infested areas. 
Horse Behaviour
Consider horse habits; avoid Timber Post and Rail Fencing if horses windsuck or crib. 
Horse Size 
Choose sturdy fencing for larger horses. Be cautious with PVC Post and Rail Fencing for large horses due to strength concerns. 
Undulating Land 
Avoid flexible rail fencing like Horserail on steep slopes or undulating land. 
Mould
Avoid timber and opt for Steel Post and Rail Fencing in humid regions to minimise mould issues. 
Coastal Areas
If your equine property is in coastal areas, Cattle rail fencing might not be the best solution for you. 
Reactive Soil
Use longer fence posts in areas with reactive soil for stability. For example, Buckley comes with 2.5-metre-long fence posts while PVC typically has shorter posts that can move in the reactive soil and become wobbly over time. 
Helpful Resources
Are You Confident to Choose the Right Post and Rail Fencing for Your Property?
You are on a journey to build your dream property and wanted to know which post and rail fencing would best help you achieve that. Through this blog, you learnt everything from budget-friendly solutions to the epitome of elegance, from low-maintenance options to long-lasting durability, and from horse safety to ease of installation. Each fencing choice presented has its unique benefits and features, catering to diverse priorities and preferences. 
Equipped with helpful resources, expert insights, and honest reviews, you now have a comprehensive toolkit to navigate the post and rail fencing world successfully. We understand that every equine property is unique, and your vision is distinct. Thus, we encourage you to consider all factors and weigh your options thoughtfully. 
Remember that building a horse property is an investment in your passion and lifestyle. The right post and rail fencing system can elevate the experience of both you and your horses, offering a secure and picturesque environment to thrive. Therefore, taking the time to make an informed decision is a worthwhile endeavour. These interactive tools can further help you take the first step of creating an accurate fencing plan. 
As you embark on your post and rail fencing project, don't hesitate to seek expert advice and consultation. Book a personalised consultation where our fencing experts provide you with the best solutions tailored to your needs. The guidance of fencing professionals can be invaluable, ensuring that your chosen fencing system perfectly aligns with your property's unique characteristics and vision.