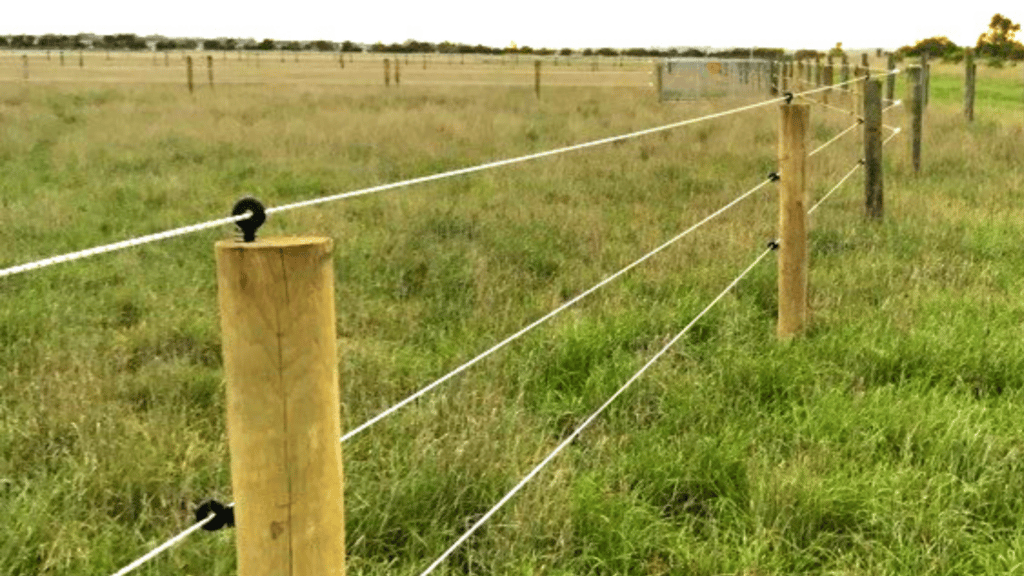 EquiRope Electric Horse Fence: An Honest Review   
 Electric fence is one of the most searched products by horse property owners. If you are one of them, you already know why we have written this article and how beneficial it can be for someone looking for electric fences in Australia and New Zealand.  
While there are different kinds of electric fences available in the market, it's tough to find the one that's specifically designed for a horse property. If you're considering an electric braid, EquiRope is the only electric rope in the world that can be properly tensioned without compromising the quality of electrics. But is it right for your property? Is this the electric fence that will match the safety and aesthetics  you're looking for?  
At Stock & Noble, we are the exclusive supplier of EquiRope in the world. It's a successful product used across Australia, New Zealand and Europe. It's our product and the bias is obvious. So, while we think it's great, we also know it might not be the fence you're looking for and may not be suitable for your horse property. Based on our expertise in selling EquiRope, and on the experiences of our clients who're using it, we will give you an honest review of this electric braid.  
In this article, we will discuss:  
What is EquiRope? 

 

What is different about the design of EquiRope? 

 

What are the specifications of this Electric braid? 

 

What are the advantages of EquiRope? 

 

What are the disadvantages of EquiRope? 

 
At the end of your read, you will have an in-depth knowledge of Equirope and will be able to assess whether it's the right electric fencing for your horse property or not.  
What is Equi Rope? 
 EquiRope is a tensionable electric rope or braid designed specifically with horse safety in mind.   
 Created and stocked solely by Stock & Noble, Australia, this electric braid is manufactured in India.  
Simply put, EquiRope is 6 millimetres polyester rope that's created for equine properties. 8 annealed copper wires are woven around the outside of the rope to carry electricity along the rope and give a shock to horses whenever they touch it.  
What is unique about the design of EquiRope? 
In electric braids with metal wires, the most common problem is that the metal wires, sometimes known as conductors, break when pulled up or tensioned.  
Equi Rope has been designed akin to the rope used in yachts. It's a unique combination of very strong yet very soft rope and ensures that the sailors' hands don't get cut by the roughness.   
Specifications of EquiRope – the electric fence for horse properties. 
The most popular size of EquiRope is a 500-meter roll. 

 

This electric braid is made of polye

ster rope combined with

8 annealed copper wires. 

 

We recommend EquiRope to be tensioned up to 2%.  

Learn how to install Equirope.

 

A tinplating is applied to the copper conductors to keep the fence looking nice and reduce the chance of the rope 'greening', due to natural copper reaction.

 

EquiRope is available in 6 millimetres diameter in black and white. 

Has a warranty of 5 years and an expected life of over 10 years. 

 

It costs $0.96 per meter, including GST. 

 

It's available at Stock & Noble and all our stockists 

 
In the recent upgrade to the EquiRope, it has been sprayed with an anti-fungal solution, so it offers resistance against mould and keeps the fence looking nice and bright for as long as possible. Moreover, the copper conductors of the Equirope are 70% thicker now than they were previously. The result is increased strength, longer life, and better shock. 
Things to consider while installing EquiRope 
Use only copper-based connectors and joiners: 
To successfully install EquiRope you must use the correct connectors and joiners called Strikers, made from copper-based gun metal.  
If you use galvanised steel joiners, copper wires and steel will start reacting with each other. Since copper is the softer of the two metals, it will start breaking down with a process called electrolysis. This will make the electric braid weaker and problematic.  
Use roller post insulators for internal paddocks 
While installing EquiRope on any of the internal corners you should specifically use the roller post insulator. If a horse runs into the fence, a roller post insulator allows the EquiRope to stretch and accommodate the impact of the horse. Without the roller post insulator, the rope or conductors could tear and break.  
Advantages of using EquiRope at horse properties 
EquiRope can be tensioned well  
EquiRope is made up of strong polyester rope with inter-weaved annealed copper wires. The polyester rope provides the strength to help tension the fence tight while maintaining a strong line to keep your horses contained.   
During manufacture, annealed copper wires are loosely woven around the rope, and as the braid is tensioned, the copper conductors pull up tight as well. Also, since the copper has been annealed, it can flex and stretch naturally without breaking. 
What makes tension so important? 
If the fence is electrified, other braids that cannot be tensioned as tight as Equirope can tangle your horses or cause the rope to 'tourniquet' around their legs, which can lead to catastrophic results. 
EquiRope is highly safe for horses and unlike other ropes, your horses are much less likely to get tangled and suffer from tears and cuts.   
EquiRope is soft  
Unlike the abrasive and rough braids, which end up grazing or cutting the soft skin of horses, EquiRope is soft to the touch. 
This electric fencing is specially designed to be strong yet gentle for your animals' skin. If they happen to run into or through it, they are less likely to get tangled and grazed like other rougher ropes or braids. This helps protect them and also saves on vet bills.   
There have been clients who've often shared their experiences on  how horses ran into the fence but remained unscathed and safe, without a mark on their skin or body.  
EquiRope is available in black and white  
It seems like a small advantage, but very few manufacturers have an option of a black braid. Our high-end customers usually prefer black fencing, and this colour goes well with the fencing on the rest of their properties.  
This electric horse fence has a long warranty  
EquiRope comes with a 5-year-long warranty. It's more than most other ropes are offering currently in the market. However, for the warranty to stay valid, you need to follow all the instructions listed in the accompanying documents.  
Easy to install electric braid   
EquiRope is one of the easiest fences to install. You can easily install it yourself. It's also cost-effective as compared to post and rail electric fence options and safe for your animals. If you ever need to change the design of your paddocks, it's easy to remove and reinstall them.  
EquiRope maintains its looks, longer
When used outdoors, copper tends to turn green on exposure. To further protect the appearance of EquiRope, its copper wires are tin-plated. This prevents any corrosion and ensures Equirope continues to look as good as new. 
EquiRope conducts electricity more effectively
Thanks to its copper wires EquiRope conducts electricity well while travelling over a long distance. Standard steel wires have much higher resistance, resulting in less current flowing through the wire and a smaller shock, especially if the wire is travelling long distances.   
Equirope can maintain its electro conductivity over a longer stretch, depending on the kind of energiser used.   
Its high conductivity gives a strong shock, but safely. EquiRope is a great investment for pesky horses who do not respect fences, young horses who are still learning the boundaries, or those who've disregarded other electric fences in the past.   
Which properties EquiRope electric horse fence is most suitable for?  
EquiRope has been specifically designed for equine properties keeping horse safety in mind. It's suitable for almost all horse owners because it cost-effectively offers maximum safety. It's easier to install and is priced less than other fencing options like Buckley, Horserail or even mesh.   
In our experience from large horse studs to those who have a couple of paddocks for their daughter's pony and even on horse vet properties, EquiRope can be successfully used.  
Disadvantages of EquiRope on a horse property 
No room for error 
EquiRope is a specifically designed fencing system where each part has its fixed and pre-assigned place. It has to be installed and managed by following the right instructions and documents. If you fail to do this, the electric fence will not perform up to its standard. So, to get the best out of EquiRope make sure you stick to the guidelines.  
EquiRope has limitations around the coast  
Since this electric braid is made from a soft metal it typically doesn't survive the full length of its warranty around coastal areas. If you are within 5 kilometres of the coast, we wouldn't recommend using EquiRope. It's a better idea to choose braids with stainless steel wires, that will last longer than copper would.   
EquiRope is more expensive than other braids   
EquiRope is more expensive than turbo braid and other options available in the market. However, the higher price, in the beginning, proves to be a good investment with its benefits and warranty in the long run. But if you are looking for a cheaper rope for your horse property, EquiRope isn't the right option for you.  
New Fencing Contractors might find it different  
EquiRope is a fencing system that's different from regular electric ropes. If a Fencing Contractor hasn't installed EquiRope before, they might be unfamiliar with using the specific joiners and roller post insulators.   
Slightly Less visible than electric fences  
EquiRope is thinner as compared to HotCote or Legacy Line Electric which are 7 to 8 millimetres in diameter. If you want to know more about these electric fencing options speak to one of our fencing advisors.   
Horses might like to chew on copper   
If there's a copper deficiency in the soil of your area, horses would love to chew on the fence, to make up for the deficiency. However, they will only do it if the electricity has been turned off and there's no current running through it to give them a shock.  
Which properties EquiRope electric horse fence isn't suitable for? 
 While EquiRope is a great electric fencing option for every horse property, some properties are an exception.  
If you want a post and rail look on your dream property. Options like 

Buckley

, 

Horserail

 or 

Legacy Rail

 would be better suited. 

 

If you have a problem of small animals who can escape underneath the fencing, EquiRope isn't right for your property. Post and Rail with Mesh underneath would be a better option. 

 

If the aesthetics of your property is of prime importance and you want to make a great first impression, there are other options like Buckley Steel fencing System or Timber Post and Rail which would suit you better.  

 
Is EquiRope the right electric fence for my horse property? 
EquiRope is a high-functioning, cost-effective and safe electric fencing solution. You now know all its features, specifications, pros and cons in complete detail.   
While EquiRope is the most expensive option in the world of braids, it is cheaper as compared to other electric fencing options. It's easy to install and the maintenance required is similar to any other electric fencing solution.   
Now the decision is based on you, your vision and your budget. Are you looking for a more permanent and highly aesthetically pleasing solution for your forever property or a good electric fencing system that can be tensioned and protect your animals, without having a post and rail look?   
If you're intent on getting an electric fence for your property, it'll be worth your 5 minutes to go over a comparison of electric fences in Australia and New Zealand. You will be more informed and be able to make a better decision.   
If you have more questions on the cost, and suitability of EquiRope in your location or want to discuss other options for electric fences, speak to our fencing advisors. They will make sure you have all the answers to create a beautiful and well-functioning equine property.