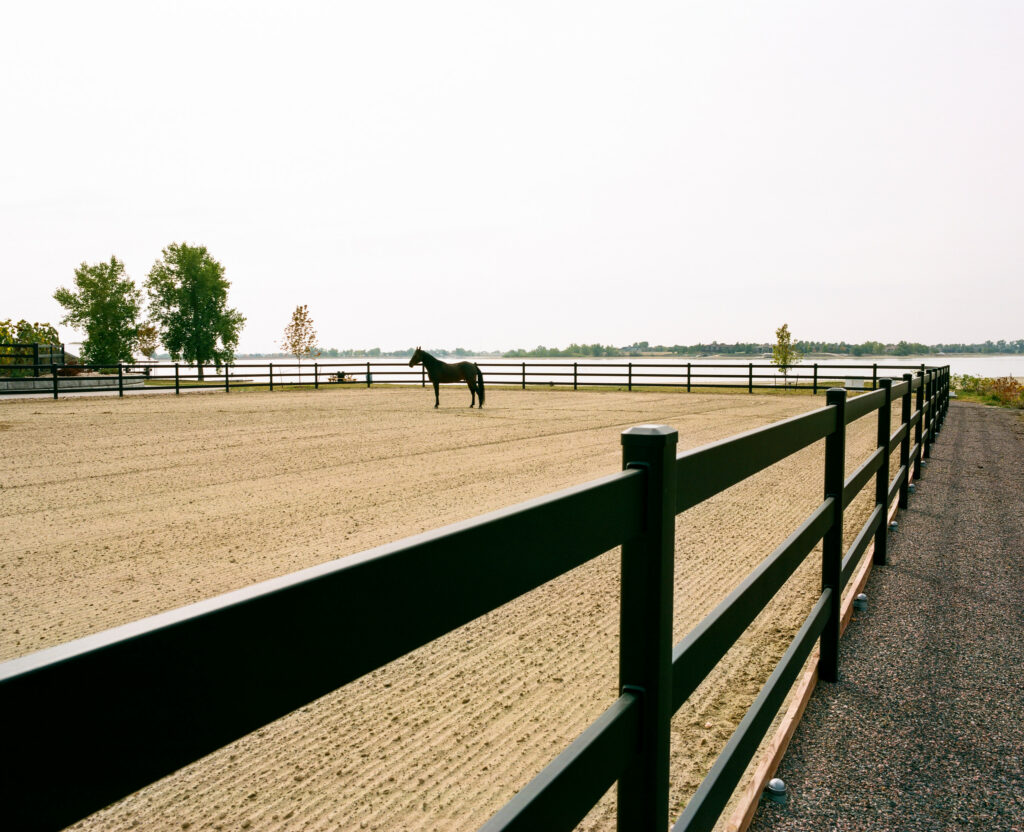 Is Steel Post and Rail Fencing suitable for Coastal areas?
Steel Post and Rail fencing is fast becoming a perfect alternative to wood across Australia and New Zealand. With newer and better options of Steel fencing now available in our region, we are seeing a considerable shift towards this strong and durable fencing.  
That's a lot of praise for Steel fencing, but in this article, we will help you find out if Steel Post and Rail fencing is as suited for coastal areas as it is for the rest of Australia and New Zealand. 
At Stock & Noble, we have a wide range of premium fencing solutions and are the exclusive supplier of Buckley Post and Rail fencing across Australia and New Zealand. With our experience in handling different fencing materials and serving clients across the region, we want to share with you the truth. 
We have been frequently asked this question, especially by horse property owners in coastal areas, so if you are on a similar boat, hop on. 
By the end of this article, you will know whether Steel Fencing is right for you and your coastal property or not. We will discuss the following points in detail: 
Conditions that affect different horse fencing in a coastal area. 
Biggest Problems that a Steel horse fence faces and their solutions. 
How Buckley Steel Post and Rail performs in coastal areas. 
Factors to consider before buying Steel fencing for a coastal property 
Conditions that affect horse fencing in a coastal area
Coastal conditions are harsh on any kind of fencing, be it timber, concrete, steel or PVC. 
The moisture content is extremely high that makes Timber difficult to maintain. 

 

The wind is forceful, which makes PVC a non-viable option.

 

Salt enters the pores of Concrete posts which

leads to corrosion.

 

Steel is prone to corrosion and rust, due to salt and moisture.

 
Stainless Steel is the only metal that's resistant to rust and seems to be the only option that would work smoothly in a coastal area. However, it's an extremely expensive one.  
Also, Aluminium might be considered for fencing a smaller area around the home, but we are yet to come across an Aluminium Post and Rail fencing option for a horse property. 
What are the biggest problems with Steel Fencing in coastal areas? What are the solutions?
If your property is on the coast and you are wondering if Steel fencing is a good option, the answer is "Yes". You can use Steel Fencing around coastal areas, however, like other fencing options Steel also finds the environment challenging.  
However, there are solutions that can make your Steel fencing work and help make your life easier. 
The biggest problems faced by Steel Posts and Rails on coastal properties are: 
Problem 1: Rust
We all know how rust is the biggest weakness of Steel Fencing. The areas highly prone to rust are – where water gets collected or where rails and posts are joined together.  
Typically, steel fences are welded together with posts or joined using screws. The truth is if there's any penetration in steel, rust will gladly make its way and it will be extremely tough to get rid of.  
Secondly, the water that tends to collect right under the posts or on the surface of the fence leads to rust and corrosion. In the coastal areas, with overall higher moisture content rust develops and spreads faster than normal.   
What's the solution to prevent Steel Posts and Rails from rusting?
The best ways to protect your Steel fencing are: 
Give your steel post and rails a heavy coat of zinc galvanisation, followed by an architectural grade powder coating. 

 

Make sure posts are neither welded nor screwed onto the rails. So, at no point steel should come in contact with steel and aid rust.

 

Use an epoxy layer on the bottom part of the posts to protect them from corrosion against lime and concrete. Or buy a fence that already has the coating applied to it. Like Buckley Steel fencing system. 

 
Problem 2: Strong Wind
Coastal areas are heavily affected by wind. If the fence is lighter, with shorter posts it will buckle under the pressure and come off the ground. The good thing about Steel Posts and Rails is that they are strong enough to withstand the force of the wind. Also, the structure of rails allows the wind to pass through easily and helps the fence in standing tall and straight for longer.  
However, if you choose Steel posts that are shorter in length, they might not be as stable against the forceful coastal wind.  
How to help Steel Fences face the force of the coastal wind?
Not all steel fences are built the same. You should be careful about choosing Steel fencing with longer posts. This is to make sure enough part of the post goes inside the ground giving your fence the stability and strength to stand straight. We recommend burying at least 1 metre of your post inside ground.  
Problem 3: Excessive Salt 
There is a high concentration of salt in coastal areas, which is highly corrosive and damaging for fixings and timber.  If your fence is made of steel, the fixings should be stainless steel, which offers the best level of protection and will last longer in salty conditions. Once steel starts corroding, the process is fast enough to ruin your entire fencing before you even get a chance to replace it. So, keep an eye out for salt-based corrosion. 
How to protect Steel fencing from salt?
Similar to the steps you'd take to prevent rusting on Steel fences, make sure your fencing has no opening for salt to settle down.  
Keep the fences free of moisture and minimise the contact of steel with steel. 
Also, while welding rails to the post, don't use carbon weld. Instead use stainless steel weld which is the most corrosion-resistant metal. This will cover all your joints without giving any opportunity to corrosion. 
How do Buckley Steel Posts and Rails perform in coastal areas?
While creating Buckley Steel fencing system, there are quite a few steps that are taken to ensure it works in all kinds of environments, including coastal areas. Buckley fence goes to great lengths to prevent rust from developing and offers stability against strong winds. 
In most cases, the coating and galvanized surface will protect against rust for over twenty years. Similar to a new car that has been parked for 20 years without any dents, cracks, or road salt exposure.  
Here are some of the reasons why Buckley is suitable for coastal areas. 
The surface
 is protected with architectural grade coating
Designed from two-sided zinc galvanized steel, the Buckley fencing system is primed, painted and powder coated at the factory. Like the body panels of a car, the powder coating adheres extremely well due to the primer and is applied uniformly. 
An extra layer of epoxy coating
The zinc galvanized coating protects the rails and posts from scratches with its self-healing properties. There is no way for water to get under the coating. This protects the bottom of the posts against lime and concrete. 
No penetration of steel
Buckley Steel fencing system does not have any fasteners that can rust or compromise the coating. All fixings are inside the post. The rails are posts are attached through a lock spacer inside the post and connected via rubber grommets. 
Stainless steel welding on gates
When you weld a piece of steel, there are tiny pinholes underneath which are waiting to rust. Even a power coat cannot cover all the pinholes. So while the common practice to weld gates is by using a carbon weld, Buckley Steel gates are welded by using stainless steel welds. It is the most corrosion-resistant metal and reduces the chances for steel to rust even more. 
Longest Steel posts for stability
Buckley posts are 2.54 metres long. They are the longest posts in its category making sure 1 metre is buried under the ground offering enough stability to the fencing against strong coastal winds.
5 Factors that you must consider before choosing a Steel fence for coastal property.
Factor 1: Check the type of Steel Post and Rail
In Australia, there are three kinds of Steel fencing options available currently – Cattle Rail, Pre-powdered Cattle Rail like TopRail or Post and Rail by Dunn and Farrugia and Steel fencing system like Buckley. It's important to learn the pros and cons of different options and choose the best Steel fencing for your horse property. 
Factor 2: Check the performance of Steel fencing in similar environments:
It's best to check with your supplier about other projects that have happened using the same Steel Post and Rail. If you can, drive down and take a look yourself. If not, you can always ask for the details and success rate. For example, Buckley Steel Post and rail has performed well and standing tall and beautiful in the coastal region of Mexico for the last several years. Without any need for maintenance or rust evident so far. 
Factor 3: Check the penetration of steel:
Before you sign on to buy the Steel Post and Rail, find out about the fixings and how posts and rails are connected to each other. No screws, no welding, and no penetration is the way to go. 
Factor 4: Check if the Steel Fencing is galvanised and coated: 
A heavy coating is important to protect your Steel fencing from rust. Additionally, a powder coating is highly recommended. In case your Steel Post and Rail is not powder coated, you should consider painting it using high quality steel paints. This will help prevent the fence from rusting. 
Factor 5: Check the warranty on the coating and fence:
The warranty gives you a good idea of how confident the supplier is about the performance of its Steel fencing. So, check the manufacturer's warranty on the fence you're looking to buy or if there's a separate warranty on the coating. We would advise you to look at the terms and conditions to confirm that the warranty also applies to the "coastal areas".
Should I buy Steel Post and Rail fencing for my coastal property?
In this article, you learnt about the conditions that affect fencing in a coastal area and the biggest problems that a Steel horse fence faces along with their solutions. You also became aware of how Buckley Steel fencing system is engineered to perform in coastal areas and the factors you should consider before buying any Steel fencing for a coastal property. 
You've always loved the looks and durability of Steel fencing, now you also know whether it's the right choice for your horse property or not.  
If you have more questions on the cost, durability or performance of Steel Fencing, speak to our fencing expert. We will help you find the right fencing solution for your property, be it on coast or anywhere in Australia and New Zealand. If you wish to explore options other than Steel, take a look at our wide range of premium fencing solutions. We will do our best to help you build the most beautiful equine property, just the way you envisioned.