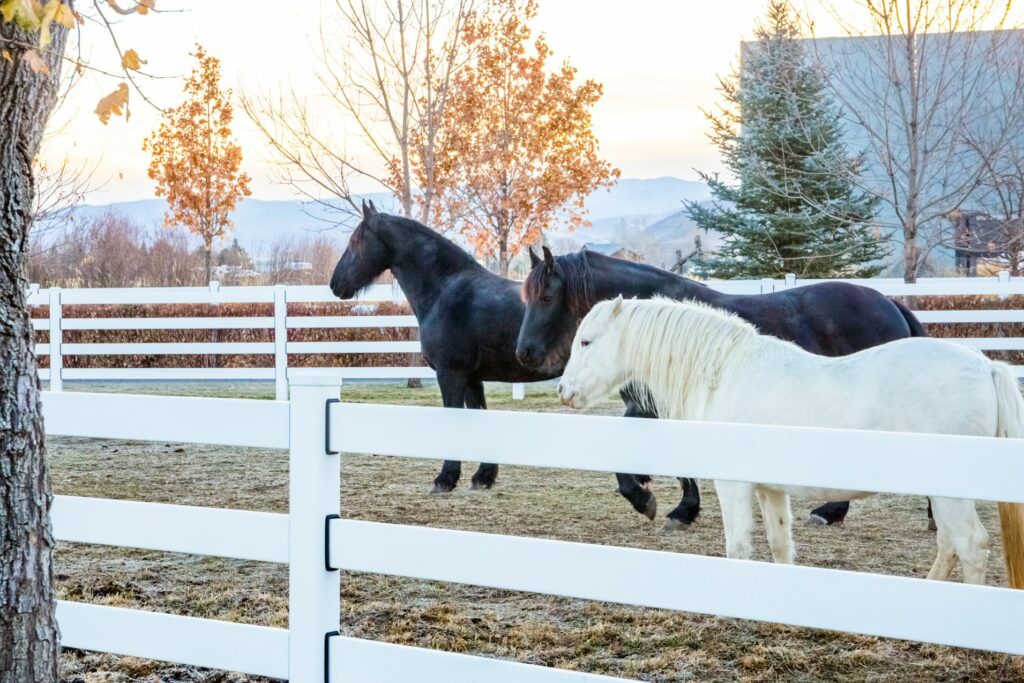 Steel fences for my horse property: What factors should I consider before buying? 
Like many, you've decided to purchase Steel Fencing for your horse property. After all, it's strong, looks great, and will last for years asking for little maintenance in return. While this is a dream, it can become a reality if you pick your supplier carefully and thoughtfully. 
People often collect quotes from different suppliers, look at the fence images, compare the costs and take their decision. However, it may not be that simple to arrive at the ideal Steel fencing solution for your horse property. While we wish all Steel Fences give you exactly what you expect them to and help you live happily ever after, there are crucial things and differences you should be aware of.  
At Stock & Noble, we provide engineered Steel Fencing solutions for high-end properties across Australia and New Zealand. In this article, we will cover the different kinds of Steel Post and Rail available in Australia, key factors every horse property owner should consider before choosing a Steel Post and Rail product, how would they affect the overall performance of your fence and finally the must-have features of a good Steel Fence. 
What are the different kinds of Steel Post and Rail fences available in Australia?
If you start looking at options for Steel fencing for horse properties, you will come across three types of Post and Rail prevalent currently: 
1. Cattle Rail or Steel Pipe Fences
This is a standard Cattle Rail fencing that you or your fencing contractors can purchase from a local steel store, your fencing supplier, or source it directly from a steel company. It will then be cut on site and installed by your fencing contractor. It's galvanised but not painted or powder coated. 
2. Powder-Coated Steel Pipe Fences
A couple of companies in Australia source Steel Pipe fences from local steel companies, pre-cut and powder coat them. They are Post and Rail from Dunn and Furrugia and TopRail from Blue Dog Fences. These Pipe steel fences are tubular in shape, pre-galvanised and are available with round and square posts. You can choose your shade of Steel Fences from a wide variety of colours. 
3. Engineered Fencing System
Buckley is the only brand that makes an engineered Steel Fencing System. Buckley Steel Fence is made with 2-side pre-galvanised steel, treated with a phosphate conversion coating for added protection and finished with an architectural grade polyester powder coat. It's dimensions are closer to a Timber board fence in looks with long wide rails. There are no screws, no welding, and it is available in only two high visibility colours of black and white. 
9 critical factors to consider before you choose the Steel fences for your horse property
Once your Steel Fencing is installed, you and your horses will live with it for years to come. It's good to make sure you love the looks, the strength, the safety and get fabulous fences that make a statement without too much maintenance.  
To achieve all of this it's critical to know what you're signing up for and can take a well-informed decision. 
1. Identify the three most important things to you 
It's your horse property, your dream, your project, so the fencing should also begin with you.  
It is an integral part of enjoying your life stress-free at your gorgeous horse property. So, think about what you want from your dream fence. List down three non-negotiable factors. They could be anything from great looks to easy maintenance, from super strength to horse safety, from timely delivery to a low cost or anything else that matters to you.  
Write down these three factors only and then begin your search.  
2. See the fence for yourself
Once you know what you desire the most from your fence, it's a good idea to actually see and evaluate the fence.  
Request your fencing supplier for a Free Sample of the fence. The flat images online can feel very different from the actual fence. Once you hold it, see it and feel it for real, you will be able to judge the look, quality, and finish of the Steel Fence so much better. It will also help you gain more confidence about the investment and lifelong commitment.  
If your supplier is not able to share a free sample, then, if possible, check out a project where the fencing has been installed. 
3. Connection of Rails and Posts 
When it comes to Steel Fencing, it's important to check how posts are attached to the rails.  
The connection system plays a big role in keeping your fence rust free and aesthetically pleasing. Use of screws, welding or open joints in the connection system will invite rust and you need to keep a regular check on your fence.  
If you want to minimise the risk of rust and desire a smooth looking fence with no protruding screws or visible joints then it's best to ask your supplier for a fence that's built with a closed connection system, with no penetration of finished powder coated steel.  
It should be smooth on both sides, has minimal or no usage of screws.  
4. Length of the posts 
It's important to note that as the ground expands and contracts, shorter post tends to lean over.  
Length of your posts play a significant role in ensuring your fence stays beautifully straight, standing in a seamless line as years go by without much need of straightening or maintenance. So, check with different Steel Fence suppliers about the length of the posts and compare all your options to take an informed decision. In our experience, you should have at least 1 metre of post buried in the ground as well as concrete. Another important factor that you must consider is width of the posts. Skinnier posts wouldn't look as nice, as long, broad and sturdy posts would. 
5. Matching Gate System 
Gates are probably the last things to be considered while purchasing a fence. However, they can impact the whole look of your property. An ideal Gate System is the one that's in sync with your Steel Fences, and matches their look, strength and finesse. Before you finalise your purchase, it's best to confirm with your supplier if they have matching Gate Systems that look good and are ideal to use with your preferred fencing. 
6. Good Latching System 
Just like equine gates, Latching System is also an integral component of your fencing project. It completes your fencing enclosure and keeps the horses and children safe inside. Check the availability of a good latching system from your fencing supplier. You'd be amazed at how clever horses can be when it comes to opening latches with their lips and tongues. All of a sudden, you might have a horse running loose! Good latches are padlockable in case you are away from the home for an extended period of time. 
7. Flexibility for horse safety 
When you buy Steel Fences, do check what safety measures have been included in the design of the fencing system. Is there any cushioning or movement in case a panicked horse runs into the Steel Rails? Typically, when Steel Fences are welded together, they become rigid and don't give way, even when hit forcefully. So, it's important to see how flexible and horse safe your rails are designed to be. Would they make way for your four-legged friend, or would they stand absolutely straight and end up injuring your horse.  
8. Replacement of fences 
When you purchase Steel Fences the idea is to have them fixed forever. However, like with any other investment it's better to plan for contingencies. If a rail does get damaged, check with your supplier how easy or tough is it to replace it. If it has been welded together, does the whole panel need to be replaced? Or if the fence is not welded and all you need to do is slide the new rail into the post? A common cause of rail damage is falling branches or trees during storms, which tend to happen most years. 
9. Shape of posts 
Whether you choose round or square posts, it's wise to check if their edges are sharp or rounded? You wouldn't want your horses to come in contact with any sharp or pointy edges of the fence that could hurt them accidentally.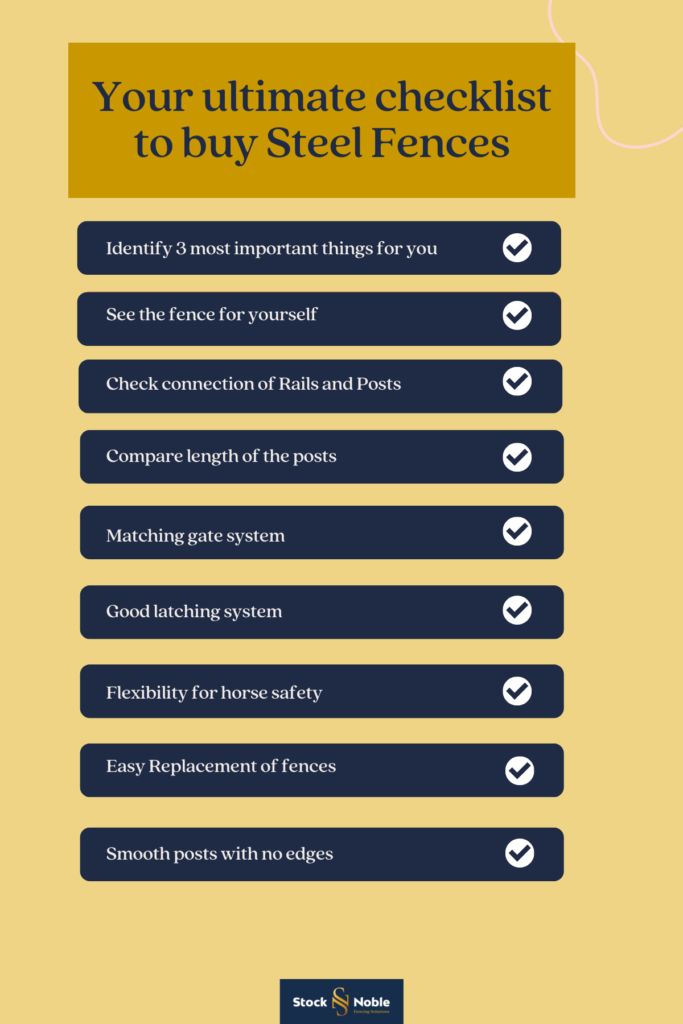 How can these factors affect the overall performance of your steel fence?
There is a significant financial and time investment involved with Steel Fencing.  
Looks, longevity, safety, maintenance, and lifetime cost are the most important characteristics that define the overall performance of your Steel Post and Rail.  
Learn how the checklist we shared with you is critical to follow and can impact the most important aspects of your fence over the years. 
Aesthetically Pleasing fence 
A steel fence lasts for a really long time. Invest some time in visualising how would you want your fence and your horse property to look. Information on fence gates, latching system, connection system, visible joints and dimension of the product, is needed to ensure your fence matches your vision. That's precisely the reason why asking your supplier for a Free Sample is a great way to evaluate your decision. 
Longevity of your fencing system 
A good connection system without protruding screws or welding on the joints will go a long way in ensuring your fence avoids rust or corrosion and lasts forever. Also choosing a fence that has a protective layer at the bottom of steel posts to keep it safe from concrete adds to the life of your fence considerably. 
Safety of your animals
The rails which can cushion the horse are important in maximising safety of your horses. In the case of a spooked or panicked horse, its energy is sufficient to cause the rails to bend, crease, and release from the posts with no breakage or splinters. This prevents serious injury to the horse, unlike with welded steel fence or masonry style systems. 
Maintenance of the fences 
Another factor that you can take care of by choosing the right steel fence is – maintenance. You definitely don't want to spend your time maintaining the property but enjoying it. Moving parts of your fence like gates and latches are the first pieces which might give you problems before the fence does. So, when you confirm their quality initially, your post installation stress reduces considerably.  
It's good to be aware of the fact that rails with open connection system and screws might be prone to rust and will need maintenance. Also, check with the supplier if they provide any solution to avoid rust in the posts which are concreted in.  
Lifetime cost 
Steel Fences with open connection system, poor horse safety measures, no powder coating, shorter, skinnier and sharp-edged posts will eventually prove to be costlier over their lifetime. 
What are the must-have features of a good Steel Fence?
Closed System

 

Steel posts and rails with no penetration of the powder coated steel, give you

maximum protection from rust and save time, effort and money over the years.

 

Longer posts

 

Steel fences will be with you forever, longer posts keep them fabulously straight,

maintaining the look of your horse property beautifully ever after.

 

Cushioning for horse safety

 

The most important asset on your property is of course horses. A good steel fencing

system is designed to keep them safe.

 
Are you ready to buy Steel Post and Rail Fences for your horse property?
While this may seem like a lot to take in, if you follow the steps one at a time, you will be ready to buy your steel fences with much more confidence and achieve the look you've always dreamt of. When we say you don't want to miss any of these factors, we mean it. Skipping any of these points could result in buyer's remorse later. 
We understand that at the end of everything you read, research, check, and confirm, the decision is also driven by budget. Learning about the cost of steel fences in Australia can further help you.  
You can also calculate an approximate cost of your fencing project by using our interactive tool. It's free to use. What's also free is your first consultation with our fencing expert who can answer any other questions you have related to Steel Fencing, send your free sample of Buckley Steel Fencing System and get a CAD design of your fencing plan ready on request.