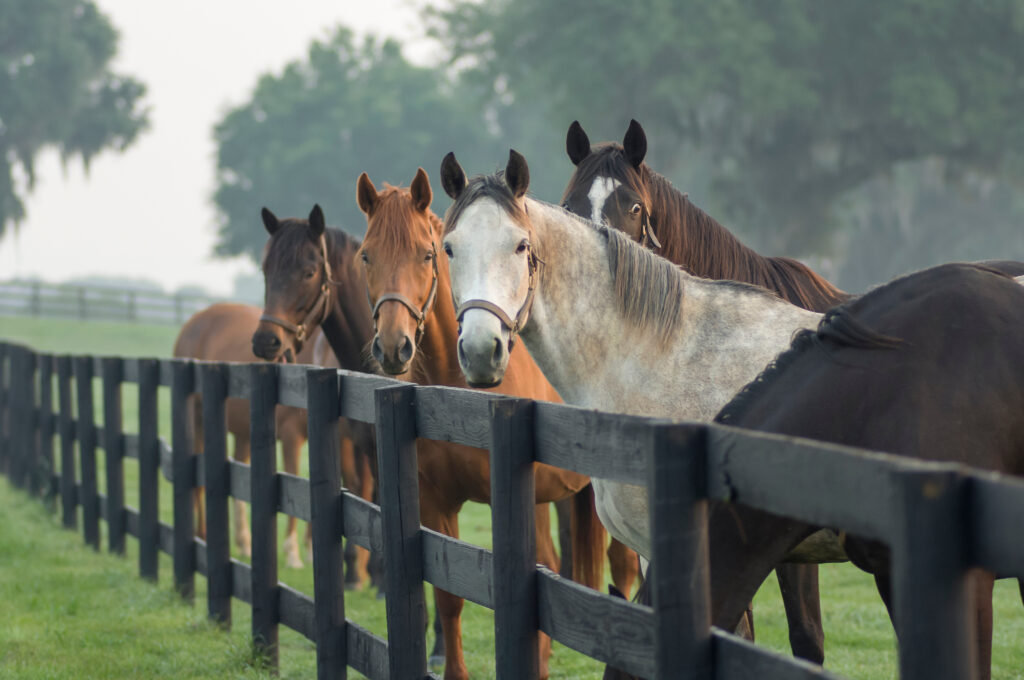 Best Places to Buy Timber Post and Rail Fencing in Australia.
If you've just moved from the city to the countryside, bought a brand-new property, or simply want to re-do your existing horse farm to match your new vision, and are looking for the best Timber Horse Fencing solution, keep reading.  
At Stock & Noble, we are driven to provide our partners with the finest fencing solutions that help them turn their dreams into a reality. While we are primarily geared towards long-lasting and premium quality fencing, we understand that sometimes this might not be the answer you're looking for. The reason could be price or a penchant for some other type of wood. Nevertheless, our mission is to help you achieve the most stunning horse property and so we have put together the best suppliers for Timber Post and Rail Fencing across Australia.
This article will help you learn where to buy the best Timber Fencing for your horse property, how to start the process of purchase and what are the topmost things to remember before saying yes to Timber.   
Best Timber Post and Rail Fences suppliers in Australia.
As you begin your research, here are some stores you can check out. As per our experts, they are the places you can begin your journey to buy the best Timber Post and Rail Fences from:  
This store supplies local cypress post and rail fencing that's milled and morticed to order. So, you can create an attractive fence for your property whilst being 100% sustainable. The Wood Project sources and salvages local Victorian Cypress which would otherwise be wasted and chipped away.  
Check out their pricing here.
They custom make post and rail fencing on site.  All posts are professionally pre-morticed right at Mika Timber to make installation easy. With options of between 1, 2, or 3 rail fence-kits, post sizes and rough sawn or dressed timber they work with you to create the look you're after. 
Check out their pricing here.  
They are specialists in post and rail fence kits that improve the aesthetics of your property. Their post and rail fence kits come pre-mortised and ready for an easy install! Each piece is carefully manufactured to a perfect fit so that you can put everything together with ease. Set the posts, slide the rails into the mortised joints, and you're finished; no fasteners are necessary. They can also offer fully installed post and rail fence solutions if needed. 
Check out their pricing here. 
How to buy the best Timber fencing for my horse property?
If you've recently moved to a new location and bought a horse property or want to change your existing fencing, we have laid out the best process to follow.
1. Call your fencing contractor 
Start the project by reaching out to the fencing contractor in your area. Request him or her for a site visit and ask about the best options basis the ground and weather conditions prevalent in your region. The fencing contractors are usually the experts in the location. They will suggest some options for post and rail fences basis their experience and might also provide you with a broad quote. It's always recommended to take their opinion before moving forward since some parts of the country are easier to dig and installation will not take too much time, other locations might have a history of rocks underneath and lesser-known factors that might affect your overall fencing project.  
2. Visit your local timber store 
Now that you already have some idea of the options you can choose from, head to your local timber store and enquire further about the cost and availability of timber post and rail fences for your horse property. The owners of such local stores hold a wealth of information and would be able to guide you about the different options of timber available or unavailable, at the time. Also, they usually have contacts of other fencing contractors if you're interested. They can source timber in pre-cut sizes as per your choice from a sawmill. 
3. Do your research online 
While the local timber store and your fencing contractor can guide and source the required timber directly from the sawmill, dig deeper and do your own research as well. So that you're able to ask the relevant questions, visualise the renovated property and get the required fencing solution. 
5 Things to remember before buying Timber Post and Rail fences
Before you book your order of Timber Post and Rail fences here are some important things to consider regarding wood, its features, and your contractor. 
 While finalising your contractor, ask him about his experience and if he is comfortable in installing materials other than timber posts and rail fences. Wood fence is a widely chosen option, looks great and is recommended by most fencing contractors, largely because of familiarity and comfort. However, there are other options available today like Premium Steel post and rail fencing for lifestyle equine properties, and PVC post and rail solutions for those looking for cheaper alternatives. Check them out so you can make a well-informed decision.
Timber is customisable, so make sure you clearly express your desired post and rail design to a vendor that you choose to go with. However, at times the outcome of installed wood could be different than your vision since it's a natural product and consistency isn't its stronghold. 
Looking at the constantly changing climatic landscape, the choice of wood is currently limited. For example, the recent heavy rainfalls and other extreme weather conditions in Australia halted the sourcing of new timber from the forest – so people had to wait up to half a year or even more for the installation. The reality of today is – wood is harder to get, is more expensive, and will continue to be so. 
If you don't opt for the best quality hardwood, the choice you are able to afford, and source at the moment might leave you with softer wood that will over time lose its outer appeal and inner strength. 
Timber is a natural product, so its life, look and need for maintenance depends upon moulds, moisture, termites, temperature, and other unknown variables. There is no way to ensure or guarantee how your timber post and fence will look in some time or how long will it last. 
We are sure this article gave you clarity in choosing the best place to buy timber fencing for your horse property and critical things to consider before giving a final go-ahead. Timber fencing has led the conversation for so long, majorly because of the unavailability of another premium option in Australia and New Zealand. The wood looks absolutely great. There's no denying it, but the times are changing. 
Premium Steel Post and Rail Fences. A new option for high-end equine properties.
If you are interested in learning more about why another high-quality fencing option is being swiftly adopted by equine properties across Australia then look at a 
comparison between Timber and Steel
 Post and Rail fences.
To know more about designing your horse property using premium Post and Rail Fences speak to our fencing expert. We are available through pre-booked appointments and following our conversation we will send you a piece of our fence, to give you a feel of the actual quality and finesse, and help you realise the difference of Stock & Noble.