The hidden costs of Timber Post and Rail Fences after installation.
 When you buy your horse property, getting it ready with the right kind of fencing and painting it ultimately is a long-drawn process. You want something that ensures all the time, effort and money are worth it.  
 If you've chosen the wooden path, congratulations! Your horses pacing along with the Timber Post and Rail fences are definitely going to be a sight to behold. The question is what costs happen after you've installed the horse fencing. You must know the twists and turns before you start the journey. 
 In this article, you will find out if Timber is going to be easy on your weekend and wallet or demand more investment over the years? You will also learn the best practices to avoid these costs and alternate solutions available in the market today. 
Costs you can expect after installing Timber Post and Rail Fences
Once you've got your property ready with the best Hardwood, Cypress or easily available Pine, got it painted with premium quality paints and you feel you're done for years, hold on. Don't go galloping around as Wood Horse Fencing is full of surprises. On average, the hidden costs of Timber Horse Fencing start showing after 1-3 years of installation or sometimes even sooner than that. 
There's a constant need for repair and management through its lifetime that amounts to an additional
 10-30% cost of the whole fencing investment. 
These are some of the key additional costs to be aware of with Timber Post and Rail fences. 
1.   Cost of Paint
To maintain the look and ensure its protection, Timber needs to be regularly painted. While budgeting for the cost of Timber Horse Fencing, you must include how many times you need to recoat the fence during its expected lifetime.  
The average cost of Timber Paint and its application by a professional in Australia and New Zealand is 
$7 – $12 per metre. 
All prices are approximate, exclude GST, and are based on a standard 3 Rail fence. 
The cost and frequency depend on the kind of paint you've used and the quality of wood. For example, Pine is known to last for almost 10 years. If coated with Classic Black your horse fence needs to be painted in another 2 years. So, you need around 5 rounds of painting over the lifetime of the fence. However, if you choose Forever Black, you might only need to recoat in 6 years or so. So, you need to paint your Horse fencing twice. 
You also need to consider the time involved, which is a cost. The cost of painting also involves time spent preparing your fence and applying the new paint. This article can further help you calculate the approximate cost of painting your timber fence.   
2.   Cost of maintaining chewed Timber Post and Rail fences 
 It's a known fact that horses love to chew on Timber fencing. If you have a windsucker horse then your post and rail might be chewed on pretty intensely. This results in chipping, flaking, and at times even breaking off chunks of rail. Sometimes, you might even need to add an electric Horse Fencing System like Equirope to keep horses off the fence.  
The average cost of adding Electric Horse Fencing is $1 – $5 per metre, depending on how many runs of electric are included. 
While putting up a timber post and rail fence, keep in mind that you'll have costs down the road stemming from repainting these chipped off parts, installing an additional electric system and time involved in managing the property and making it look presentable. 
3.   Cost of keeping a horse healthy and safe
 The worst thing that can happen at your horse property is when horses get sick or hurt. If horses accidentally chew off large chunks of rail and end up swallowing the wood, it could pose a huge health risk and might result in an unplanned VET visit.  Do account for the time, money and stress involved in getting your horse back to health.  
 The average cost of a VET visit is $300 – $500 
Also, if timber isn't strong enough, and a horse runs into it with force, he might get impaled on the broken shards or post. It's impossible to put a price on losing your best friend.  
4.   Cost of the unknown
 Since timber is a natural product, it comes with its own set of surprises. The horse fencing might be subjected to heavy rains or an onslaught of termites, grow on mould, start to rot or might get chewed on, the list goes on and on.  
The biggest hidden cost is the stress involved in the management of these unknown elements. You need to keep a constant check on the property, find out the problem areas before they grow on to become much larger issues and then hire someone to treat them on a regular basis. So other than money, factor in the weekends you need to spend on maintenance of your timber post and rail fences.  
Time is truly priceless. Wouldn't you love to spend it riding your horses, enjoying your property or being with your friends and family, rather than managing fences? 
5.   Cost of repair or replacement
 The unpredictability attached to Timber Post and Rail fences have also led to some unpleasant incidents in the past. There have been cases due to fire, rotting and chewing which have forced the owner to completely replace the whole fence or a considerable part of it.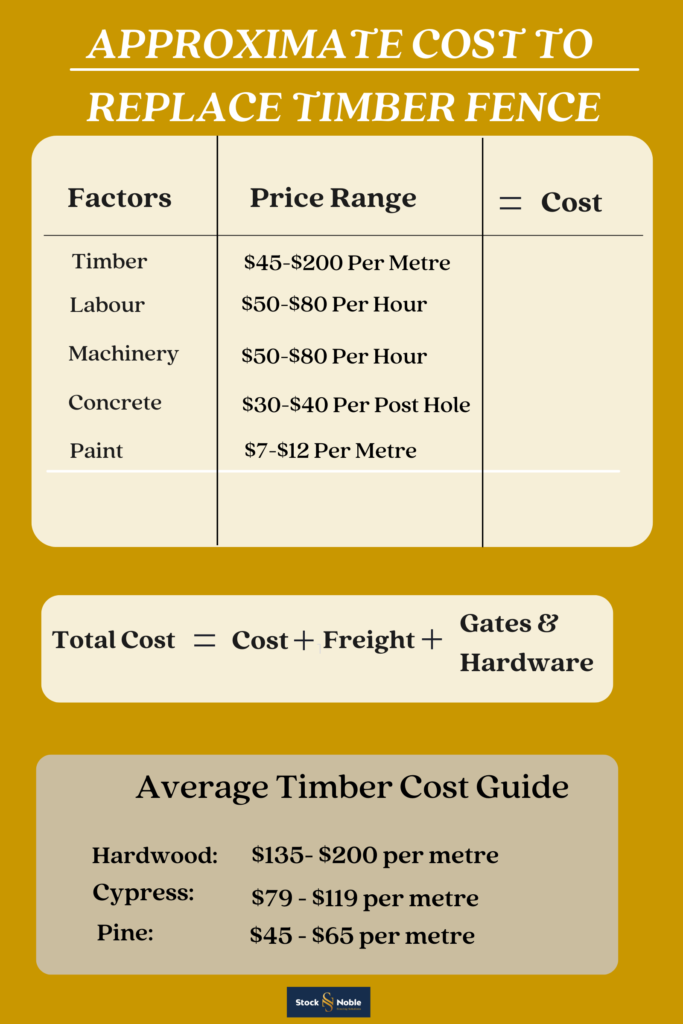 The cost of Timber depends on the size of the Posts and Rails and what class of timber is used (class ratings refer to the natural durability of the timber) 
Repairs are expensive too. On average, any replacement of timber fence which involves buying only a few rails is at least 30% more expensive than buying the full fence. So, for repair, when you're buying smaller quantities be prepared to pay a lot more than what you first paid at the time of complete installation. 
Best ways to save on the cost of maintaining Timber Horse Fencing 
How to save on the cost of painting Horse Fences?
The best way to avoid this cost is not to paint your Timber fences at all. Let them keep their original look. The downside is that this might lead to you having an average looking property with timber that won't last as long.  
If you do want to paint your timber horse fences, opt for premium paints that last longer and will minimise the need for recoating over the years.  The other option is to choose from either Plastic or PVC horse fencing solutions which do not require painting at all. The only problem is that PVC is mostly available in white and painting it in black might result in absorption of heat and twisting of PVC. 
You can also explore premium steel fence systems which have been quite successful in America and are fast getting adopted in the Australian market. They are pre-galvanised Steel Post and Rail fences that usually come with a powder-coated paint finish. They are available in both white and black, where the finish is guaranteed to last for 15 years, with an expected lifetime of over 30 years.  
How to stop horses from chewing Timber Fences?
If you are looking for a solution to help stop horses nibbling on the fences, you can either get a premium timber paint that comes with an additive called "Never Crib" pre-mixed in the paint solids. Or you can buy it separately and add it to the paint you're applying to the fence. "Never crib" acts as a deterrent and is only a barrier.  

It is safe to use around horses and holds a certification that proves it won't be picked in swab tests done by horse racing events. It's important to note that this additive is only a deterrent and not a guaranteed solution to stop horses from chewing off the wood. However, it has been successful at many properties which have applied it to their fences.  
The other option is to use an Electric fence system like Horserail or Equirope. The horses can still chew on it but can't break the fencing system down, especially if plastic posts are being used. However, the horses who are too keen to chew often find the wooden posts attached to the electric fence and continue to crib. 
PVC and Steel horse fencing are also great alternatives. While PVC cannot be chewed by horses, they can keep licking the steel, which would take off the layer of paint, but they definitely cannot get their teeth into it and take the chunks off to swallow and harm themselves. Both PVC and Steel are manufactured in such a way that they are too hard for horses to chew. They don't get the same satisfaction that they get by chewing timber and eventually give up.
How to reduce the cost of repairing Timber Post and Rails?
 If you're buying wood, the best idea is to go for native Hardwood sourced from your area. Grown in your local climate, it's perfectly suited to withstand the typical weather, and is therefore likely to last longer. It has tannins that for a limited period would naturally deter termites. Also, Hardwood will not rot as quickly as pine; it is better equipped to handle harsh environments like hot dry weather, where Pine would tend to buckle and crack.  
Also, the perfect way to avoid all repairing costs of Timber Horse Fences is to go for the new age fencing solutions, specially created to give you the best of both worlds – beautiful look and easy maintenance. 
What is the cheapest and the easiest Horse Fencing to maintain?
Timber Horse Fencing has approximately 70% more hidden costs than alternate solutions like Powder Coated Steel Post and Rail or PVC. Think of the bigger picture if you're looking to replace the wooden fencing system or buy new Post and Rail fences for your horse property. Choose an option that requires no painting, needs the least maintenance, looks great, lasts longer and most importantly ensures the safety of your horses.  
In the initial phase, PVC needs little maintenance. However, it is largely available in white and starts leaning over in a few years. The white PVC tends to get dirty, develop mould and require water blasting to keep it all clean and nice. As time goes by, it takes an effort to make PVC look presentable. Also, if a horse runs into PVC fencing with all his force, the brittle shards from a broken post or rail might end up in a serious horse injury. 
With a Plastic Fencing system like Horserail, the maintenance and investment post-installation is low but since it's electrified you do need to check the system from time to time.  
Premium Steel Fencing needs zero maintenance for at least 15 years and is available in both black and white. It looks stunning, cannot be chewed on and if your horse tries to force its way through, it's flexible enough to never injure your friend. If you'd like to know more about how a powder-coated Steel fence fairs against Timber in looks and durability, check out the detailed comparison between Timber vs. Steel Post and Rail Fences. 
To discuss your options for a Horse Fencing that's right for you, needs the least maintenance and gives you enough time to enjoy your property, your horses and your family get in touch with our fencing expert.