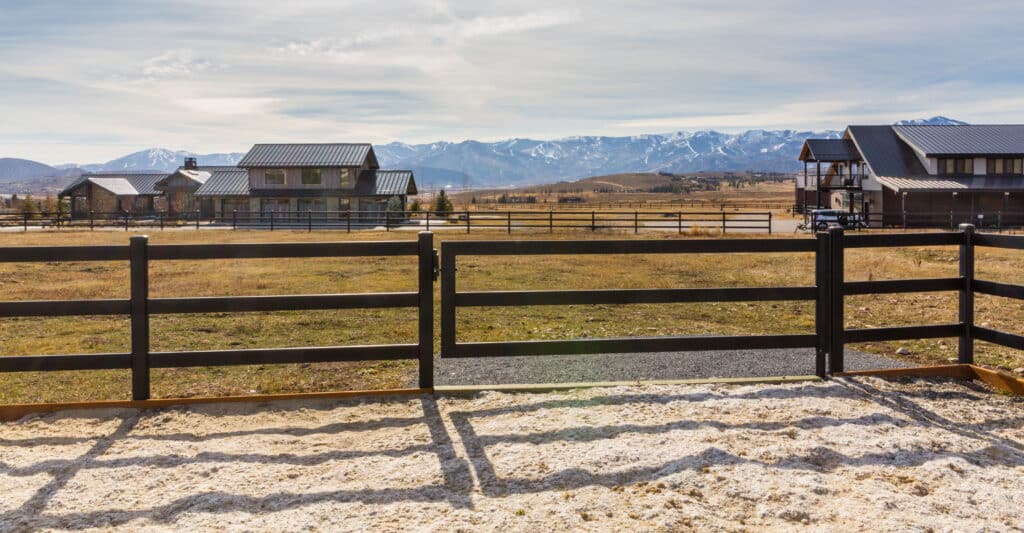 While designing your forever property or upgrading your old horse property there are several components involved to make your dream come alive. One of the critical features is fencing. It makes the first impression of your equine property and of course, you want it to be beautiful and everlasting. 
Congratulations if you've already visualised, researched and found the fencing that matches your vision. The question is does the fencing match your budget as well? If it does, then awesome! If it doesn't then read on to find out how much you should spend on your horse fencing. 
At Stock & Noble, we provide the finest fencing solutions to high-end horse properties across Australia and New Zealand. Over the years, we have learnt how different properties have different requirements and what should the fencing budget be to match those.
Based on our experience and expertise in helping our clients build their dream properties within a budget, we will share key insights that will guide you in your decision-making process.  
In this article, we will discuss 6 questions that will help you decide how much budget to allocate to fencing when you design your property.  
What's the value of your property?

 

Are you looking for an ROI on the property?

 

What's the budget you are comfortable with?

 

What are the non-negotiable factors?

 

Have you thought about future costs?

 

Can you plan the fencing in multiple stages?

 
Ultimately, you will be able to determine if the budget you assigned is appropriate for achieving your goals. 
QUESTION #1 
What's the value of your property? 
In our experience, most of our customers who choose to create a forever property with the finest fencing solutions spend about 10% of the property's purchase value on fencing materials. This number may move up to 13% if you plan to engage a Fencing contractor. While deciding the budget for your fencing you can use this number as a rule of thumb. This includes fencing across the property and using premium solutions like Buckley Steel Fencing System.  
If you are unsure about the value of your property we would advise speaking to a Property Valuer or Real Estate Agent. Also, they will be able to comment on what value planned improvements will add to the property.  
QUESTION#2 
Are you looking for a Return on Investment (ROI)? 
Whether you are giving your existing property a makeover with new fencing or enhancing the looks of your forever property, the question is what's the purpose?
Do you intend to create a beautiful equine property to fulfil your forever dream and want to enjoy it with your family? Or are you creating this property as a commercial venture and expecting a good return on investment post-fencing? 
If your main motive behind investing in fencing is a good ROI, then choose to fence based on your location. Typically, equine properties in sought-after areas would yield a good ROI with a premium fencing solution like Buckley Steel Post and Rail, while if your property is away from the equine buzz, then you are not likely to get a return by installing high-end fencing. 
QUESTION #3 
What's the budget you're comfortable with? 
It's an important filter that's dependent on what you have and are ready to play with. Is budget a big constraint and you are strictly not going to go beyond a point or do you have room depending on which fencing meets your vision?  
Depending on your situation, it's a good idea to give your supplier a broad range or refer to an exact one you are working with. This will help you and the supplier both reach the best solution within your budget. 
Before connecting with your supplier, if you want you can get an estimate of your chosen fencing based on the area you wish to cover. 
QUESTION #4 
What are the non-negotiable features? 
The cost of fencing is driven by the quality of material, life expectancy, aesthetics, safety and ease of maintenance. The more features you want, the higher your budget has to be.  
It also depends on what are your non-negotiable features. For example, if you want horse fencing with great looks, longevity and low maintenance, then expect to pay more than a functional fence with regular need of maintenance and average life.  
Your budget will be governed by your demands, expectations and the choice of non-negotiable features. 
QUESTION #5 
Have you thought about the future costs? 
While choosing your fence and budgeting for it, an important thing to consider is the cost you will be spending in the future on maintenance, replacement, vet bills and more.
A cheaper fence such as Treated Pine Post and Rail may be cost-effective initially but will be more expensive when it comes to the additional costs. A safer and premium horse fencing solution like Buckley or Legacy Rail is a good choice if you don't intend to spend a lot of time, money and effort on maintenance and preventing horse injuries. 
QUESTION #6 
Can you plan your fencing in multiple stages? 
If fencing is an extensive project on your property, you might consider doing it in multiple stages and setting the budget accordingly.  
You can choose the fencing you want and create a beautiful equine property without the outlay of paying a large sum all at once.  
Ready to set the budget for your horse fencing? 
 You are designing your horse property and wanted to know the right fencing budget to keep in mind for the project. 
Now you know 10% of your property value is a rule of thumb to get you started. Post that, go ahead and base the budget on the purpose of your investment, non-negotiable factors and future costs. Once done, you will have an estimate of how much you should be spending on your fencing and can convey it to the fencing supplier. 
However, if your fencing quote exceeds your budget, there are always more solutions you can explore to make sure you get your dream fencing. Eventually, it's all about creating a horse property you would be proud of for generations to come.  
We understand that cost is a really important factor, and the fencing must be achieved within a set budget. If you want to discuss how to manage finances for your fencing project book a free personalised consultation. One of our fencing experts will listen to all your needs, learn about your property, your requirements and would help you make the best decision to create a beautiful equine property.