Cattle Rail: Understanding the product and why cheapest might not be the best.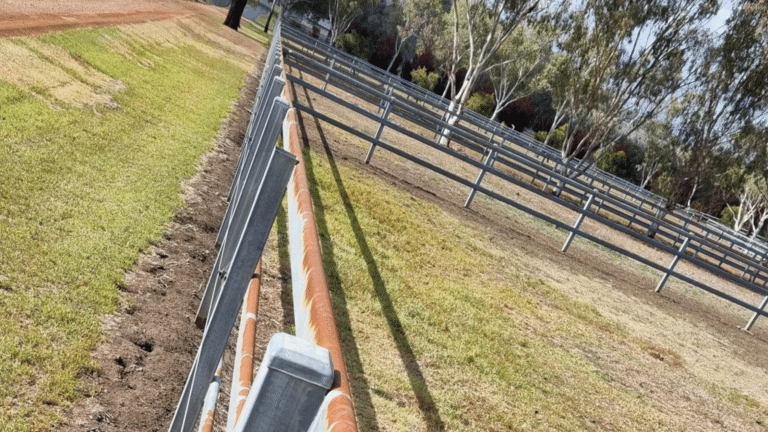 When it comes to sturdy and reliable fencing options for your horse property, Cattle Rail, also known as Steel Pipe or Tubular fence, stands out as a popular choice. With its pipe-like appearance and durable construction, Cattle Rail provides excellent containment and security for livestock.  
Have you already explored the various options for Steel post and rail fencing available in Australia and chosen Cattle Rail for your property? 
If yes, then keep reading as this next step is critical to find the best quality Cattle Rail for your fencing project in Australia. 
This guide is here to help you navigate through the process of how and where to find reputable Cattle Rail suppliers.  
At Stock & Noble, we provide the finest fencing solutions to high-end properties. We are the exclusive supplier of Premium Post and Rail fencing system called Buckley across Australia and New Zealand. 
Based on our years of experience and expertise in creating properties with Steel post and rail fencing, we will help you find the right supplier for your Cattle Rail and make an informed decision. 
So let's dive in! 
Understanding Cattle Rail
Cattle Rail is a pre-galvanised steel rail commonly used for fencing purposes. It typically measures 115 mm x 42 mm and has a 2 mm wall thickness. 
 The standard length available is 6.1 meters, but it can also be obtained in 8-meter sections. Unlike painted or powder-coated options, Cattle Rail comes without any additional coloured coating, emphasising its raw, utilitarian appeal. 
Availability of Cattle Rail
Cattle Rail is widely available throughout Australia, making it easily accessible for your fencing needs.  
Bluescope and AustubeMills are two major steel companies that produce the raw materials for Cattle Rail. Due to its popularity, this type of steel fencing is considered a commodity, offering uniformity in size and reasonable quality. 
To acquire Cattle Rail, fencing contractors typically source it from local steel suppliers. These suppliers can modify the rail according to your specific requirements for your horse property.  
Australian-made or imported Cattle Rail?
Since Cattle Rail is a volume product, local steel suppliers offer competitive pricing, providing a cost-effective and logistically sound solution.  
However, it's worth noting that imported options may occasionally offer cheaper alternatives, but quality and longevity could be compromised. 
One of our clients opted for an Australian-made cattle rail when they constructed their yards, and it has remained in excellent condition to this day.  
However, during the next phase, they decided to switch to a supplier offering a cheaper imported alternative. Unfortunately, this decision led to rusting issues due to the poor quality of steel and galvanisation. 
Therefore, it is highly recommended to choose an Australian supplier who adheres to quality standards and follows proper galvanisation processes. By doing so, you can ensure the longevity and durability of your cattle rail fencing.  
While the price may be a factor to consider, if it becomes the sole criterion, you might end up with imported products that may not meet the same level of quality and reliability as Australian-made options.  
Prioritising quality over price is essential to ensure your investment in cattle rail fencing stands the test of time. 
Standard that should be followed to buy Cattle Rail
For optimal results, it is advisable to choose an Australian supplier that adheres to industry standards, such as: 
AS/NZS 1163:2009 – Cold-formed Structural Steel Hollow Sections. 
AS/NZS 4792:2006 – Hot-dip galvanized (zinc) coatings on ferrous hollow sections, applied by a continuous or specialized process. 
Reputable Suppliers of Cattle Rail 
To assist you in finding trusted Cattle Rail suppliers, here are a few notable options: 
InfraBuild  – Providing Cattle Rail across Australia
InfraBuild is a reputable company with extensive distribution capabilities. They are likely to have local distribution centres, ensuring convenient access to Cattle Rail and reliable service. 
Surdex Steel – Supplier of Cattle Rail for Projects in Victoria
Surdex Steel is another popular supplier, particularly in the Eastern states of Australia. With a strong presence in the steel industry, they offer a range of steel products, including Cattle Rail. 
Muswell brook Steel – Cattle Rail supplier For Hunter Valley and NSW
Serving the Hunter Valley area, which is home to numerous horse studs, Muswellbrook Steel is a reliable supplier of Cattle Rail. Their localized focus ensures personalized service and prompt delivery. 
Beaudesert Gates & Steel – Distributor of Cattle Rail in Southern QLD 
Beaudesert Gates & Steel is a trusted name and renowned distributor for clients who require Cattle Rail for their fencing projects in Southern Queensland. 
Additionally, connecting with local steel suppliers in your area can also yield positive results. Consider reaching out to suppliers that specialize in fencing materials or inquire with fencing contractors for their recommended sources. 
While we have previously supplied customers with Cattle Rail due to Stock & Noble's buying capacity, it is important to note that we do not primarily focus on this product. Our expertise lies in premium steel post and rail fencing, but we will be glad to provide you with the necessary guidance to meet your specific needs and ensure the best possible outcome for your fencing projects. 
Ready to buy Cattle Rail for your property?
You wanted to buy Cattle Rail for your property and were keen to know the best places to source it from.  
Now you know when purchasing Cattle Rail in Australia, it's important to consider factors such as quality, compliance with industry standards, and reliable suppliers.  
By understanding the availability of Cattle Rail and the differences between Australian-made and imported options, you can prioritize quality over price.  
Opting for Australian suppliers who follow industry standards for structural steel and galvanization ensures the longevity and reliability of your fencing. 
Some reputable suppliers, such as InfraBuild, Surdex Steel, and Muswellbrook Steel, can provide you with reliable access to Cattle Rail. Additionally, exploring local steel suppliers and seeking recommendations from fencing contractors can further enhance your options. 
In conclusion, by prioritizing quality, compliance with standards, and reputable suppliers, you can acquire top-quality Cattle Rail that will stand the test of time for your horse property.  
Before you connect with your chosen supplier, it will be worth checking out answers to the most frequently asked questions on Cattle Rail, so you are well prepared for your conversation listing all your requirements to create a safe and beautiful property.  
While Stock & Noble does not primarily stock Cattle Rail, however, we are more than willing to offer guidance and assistance in finding the right supplier and product for your specific needs. So reach out to our fencing experts and learn all about steel post and rail fencing solutions in a free personalised consultation.  
(Note: This blog post is for informational purposes only and does not constitute an endorsement of specific suppliers or products. It is recommended to conduct thorough research and due diligence before making any purchasing decisions.)