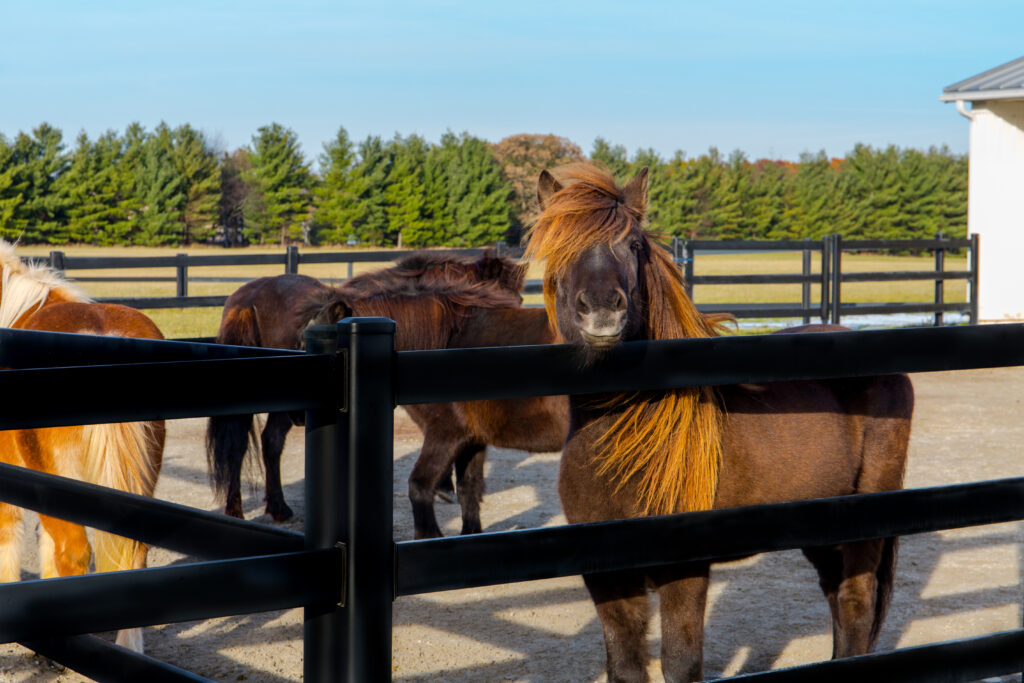 What is the cost of Post and Rail horse fencing in 2022? 
When it comes to choosing the best Post and Rail fences for a horse property, we all want fencing that is safe for horses, that's strong enough to last forever and stunning to look at and live with. While we wish for the best of all worlds, the cost is a major factor that ultimately influences our every decision, fencing being no exception.  
At Stock & Noble, we offer the finest and the most premium fencing solutions which might be perfect for some of you, but not so much preferred by others.   
We understand that it all depends on your budget, the animal's value and your priorities. Some owners look at fencing as a long-term investment in their dream property and therefore want a solution that elevates the overall look and ensures horses' safety. While for others the goal of Post and Rail fences might be to give a quick and inexpensive makeover to their property temporarily.  
In this article: 
We will list out the costs of the most popular Post and Rail fencing options in 2022.  
Lay out expected lifetime and factors that add to their initial costs. 
Discuss the best long-term and short-term investment for your horse property. 
We want to make sure you have enough information to choose the Posts and Rails that align with your budget and vision before you call in your fencing contractor for installation. 
Cost of Post and Rail Fencing across Australia and New Zealand.
For all the options cost is calculated for a sample of a 100-metre area with 3 Rail fencing. 
Treated Pine Post and Rail Fences
The cost of Treated Pine Post and Rail Fences is $2700 to $3300. 
Pine Posts often have a spacing of 2.7 metres. So, a 100-metre area will have around 37 posts with three rail fencing.
Pine fencing can be seen across many horse properties in NSW, Victoria and New Zealand. What makes it a great option is the easy availability if you're specifically looking for Timber.  
However, it doesn't last as long as some of your other options. With a life expectancy of anywhere from 1 to 10 years, Pine demands high maintenance and comes loaded with its own set of natural problems like extreme cracking, unreliable life expectancy and rotting. As compared to Hardwood, Pine rails also tends to buckle and twist making your fence lose its charm, sooner than you'd expect.  
Before you make an investment in Treated Pine, make sure you also look at the hidden costs of Timber Post and Rail Fencing. 
If you are really keen on Timber, then here are some of the best places you can buy Timber Post and Rail Fences from. 
Fencing with Pine Posts and Plastic Rails
The cost of Pine Posts with Plastic Rails is $3000 to $3500. 
In a Plastic Rail option of 3 Rails over 100 metres, you will use around 26 posts in total. 
There are two main Plastic Rail options currently available across Australia and New Zealand – Stallion and Horserail.  While buying Horserail®, do thorough research to ensure you get the original product with a trademark. It's the genuine USA fencing preferred and recommended by major farms internationally. 
Pine Posts with Plastic Rail fences are a great option for someone who is on a limited budget and is looking for an option that maximises the safety of horses. 
The installation of Horserail® is very easy, thus saving you stress, time and money. It won't break, splinter, or warp. Horserail® which is typically kept in stock in Australia and New Zealand in white and black is almost maintenance-free, has a 10-year warranty and does not require painting. 
This railing offers a number of distinct advantages, including preventing horse and rider injuries caused by conventional railings, as well as a fence that is easy to maintain and can last for decades. Horserail® can be easily attached, joined and tensioned, using a patented procedure. It eliminates the need for stripping, crimping, or notching and the result is an easy-to-install fence with no exposed wires. 
While Horserail® will keep its nice, tensioned appearance for a long time, the Pine posts might not be able to match its looks or durability. There is cost involved in painting and maintaining them. 
Additional costs and time needed with this option is if it's an electric rail, the system needs to be installed and managed well to ensure it runs efficiently.  
Fences with Plastic Rails and Plastic Posts
The cost of Plastic Rails with Plastic Posts is $3400 to $4000. 
In a Plastic Rail option of 3 Rails over 100 metres, you will require around 26 plastic posts in total. 
Ask anyone and you would get the same answer, Horserail and Stallion look much better with Plastic Posts. While the Pine posts have to be painted black, Plastic posts are all black and make for a great view alongside long stretches of Horserail®. 
The life of Plastic Posts is up to 50 years. This proves to be a great advantage as they can continue to support Horserail® for a longer time as compared to Pine. 
Hardwood Post and Rail Fences
The cost of Hardwood Post and Rail Fences is $13,500 to $20,000.  
Hardwood Posts often have a spacing of 2.7 metres. So, a 100-metre area has around 37 posts with three rail fencing.    
Hardwood is the best option if you want the natural look of Timber for your fences. Choose the one that's accustomed to your location, and it will be ready to face the challenges of termites and mould, with an existing immunity. With a life expectancy of 10 to 30 years, it's sometimes known to last even more. The problem is the availability. Hardwood is scarce and the increasing imbalance in demand and supply is making the price soar every day. 
Additional costs of Hardwood include painting and maintaining it against natural and horse-led decay. 
PVC Fencing
The cost of PVC Fencing is $3300 to $5100.
The posts of PVC are placed at 2.4 metres spacing. So over 100 metres, 3 Rail fences, you will get approximately 42 posts. 
Available primarily in white, PVC fencing is durable and has a life expectancy of 20 to 30 years. It is comparatively low on maintenance but still requires water-blasting to remove dirt and mould off its white surface. It's a good option if you're looking for long-lasting bright fences, but they often tend to look decrepit over a period of time.
Most importantly owners aren't usually impressed by the performance of PVC fencing in the critical aspect of horse safety. They lack the strength needed to contain large forceful animals. If a horse breaks a PVC fence, the pointy shards might end up injuring him. It's a situation we don't even want to imagine but is likely to happen since PVC Post and Rails are inherently difficult to stabilise for UV. As the heat exposure continues, they eventually become brittle and break easily. 
Branded Steel Fencing
The cost of Branded Steel Fencing is $15000. 
Buckley Steel Posts have a spacing of 2.94 metres, so over a 100-metre fence, you'll get 34 posts. 
When it comes to Steel Fencing, there are two major options available, first is Cattle Rail, which is fencing made from material sourced by your fencing contractors from local steel merchants, fencing supply stores or local steel companies. 
The second option is Steel fencing solutions made by brands and available only from specific suppliers like Buckley Steel Fence from Stock & Noble, Post and Rail from Dunn and Furrugia and TopRail from Blue Dog Fences. 
For ease of comparison, in this article, we will only discuss the cost of Steel Fencing based on Buckley Post and Rail, which is a branded Steel Fencing solution. However, if you like to know more, you can deep dive into the cost of different Steel Fencing options in Australia and New Zealand. 
Buckley Post and Rail Fencing is a durable maintenance-free system with a life expectancy of well over 30 years. It's a beautifully engineered solution with horse safety being of the utmost importance and safeguards your horses with 130mm wide posts and rails that have smooth, rounded edges without fasteners or nails. Although the rails are strong, they flex to cushion the impact of your horse.  
Made of pre-galvanised steel, they are powder coated and do not require painting. Buckley Steel horse fence is thermally independent, accommodating any slight expansions or contractions that may occur due to the physical properties of metal. It doesn't matter what the temperature is, the rails remain straight, and the posts are perfectly aligned. The rails will not warp or sag over time like wood or PVC. They will also not be destroyed by cribbing. These Posts and Rails are fireproof, floodproof, and horseproof.  
Buckley Steel Post and Rail fencing doesn't ask for any additional time or money over the years. You get to spend your precious time doing what you love, rather than maintaining the property.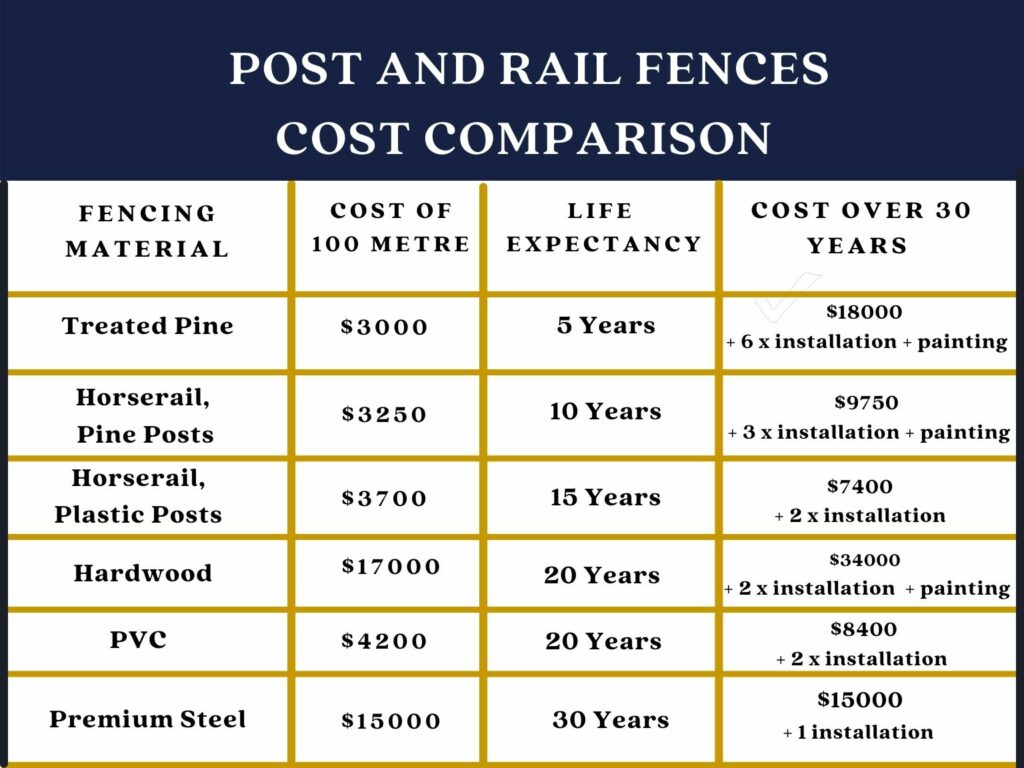 Which Post and Rail Fence is best for my horse property?
Each of the Post and Rail options we discussed could be right for you. It all depends on your need, priorities, time you want to invest in maintaining the horse fences, look you fall in love with and of course the budget.  
Pine Post and Rail 
If you take a quick look at all the costs, Pine comes out to be the cheapest. So, is that right for you? Well, it is, if you're looking for exclusively an option in Timber Post and Rail but do not want something expensive at the moment. Some owners pick Pine when they are getting the property ready for sale, or if they want to test the landscaping of their property and fence plan with a cheaper option, before making the big investment. 
Hardwood Post and Rail 
If you are committed to a natural wood look and have money by your side, we recommend you invest in Hardwood. It will last longer and look great over the years with lesser maintenance required as compared to Pine. Hardwood fencing is quite popular amidst upper-end properties. 
Plastic Rails 
Plastic Rails with Pine Posts or Plastic Rails with Plastic Posts, both are great options to go with. Especially if you're looking for durability and horse safety on a limited budget. We recommend choosing the Plastic Rails with Plastic Posts since they look better and live longer. 
PVC Fencing
PVC Post and Rail Fences would work for you if you are keen on using white, are low on a budget currently and are confident to keep horses from running into the fences or forcing their way through. This fencing is usually spotted on not-so-high-end horse properties where owners want durability and aren't too driven by looks. 
Branded Steel Fencing
Branded Steel Post and Rail is for people building a property they want to spend their forever in. If you want to invest more time in enjoying what you love and less on maintaining the property, then this option is perfect for you. With stunning looks and best-in-class horse safety, this new-age modular system seems to be an expensive option at first but proves to be a wiser investment over the years.  
It's swiftly making its way through high-end horse properties across Australia and New Zealand. The latest trend seen at these properties is a mix of Horserail and Premium Steel Post and Rail fences. Horserail is used in the back paddocks and Steel fences adorn the front of the property to give it a stunning and cohesive look overall. 
Which is the best horse fence for the long term?
If you wish to build and invest for a long term in the property of your dreams, making it look fantastic with the least time and money then Steel or Hardwood is the way to go. We would say choose Steel if you aren't completely bent on owning the traditional look of Timber. You can also learn more about the difference between Timber and Steel Post and Rail Fences to make an informed decision. 
Which is the best horse fence for the short term?
If you want a low-budget option that works temporarily, then Pine or Plastic Post and Rail fences are your best options. Pine if you are a timber lover, and Horserail if you want safety and looks combined.   
We are sure by now you must be clear and confident about the fence you're going to invest in. However, if you still need the specifics and want to know exactly how much Posts and Rails would cost for your property, then speak to our expert. You can also go ahead, map your fence using our interactive fencing tool and calculate an approximate price.   
In your pre-booked appointment, we will guide you to take the decision based on your need, location, budget and vision. Our aim is to help our partners build the finest and the safest horse properties across Australia and New Zealand. We offer this appointment free of cost and free of any obligation of purchase.