Cost of Treated Pine Post and Rail (Front Facing Fence) – Buying and Installing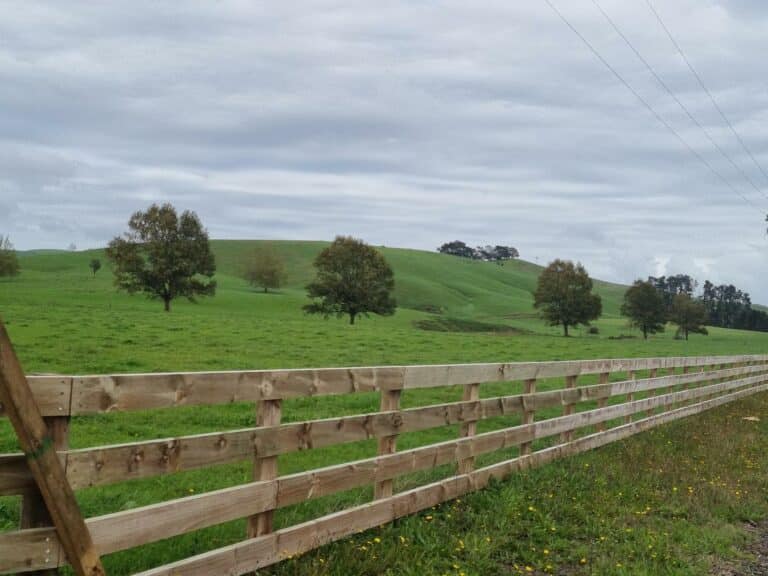 Timber Post and Rail fencing is one of the most popular and traditional post and rail fencing options available in Australia and New Zealand. With the advent of premium fencing solutions like Buckley Steel Post and Rail fencing, the market is witnessing a shift towards alternate fencing which is better for the environment, overall aesthetics as well as is easy to maintain. 
However, Timber is still sought after by rural and equine properties who want a traditional post and rail look. If you've already considered the problems with Timber post and Rail Fencing, but still wish to go ahead with this option this article will help you with the next step – cost. 
While it's easy to source the cost of rails, getting information on all the costs involved in the fencing project is tough.
Like the cost of fixings, posts, preparation, delivery, gates, installation and more. At Stock & Noble, we provide the finest fencing solutions to high-end properties across Australia and New Zealand. Buckley Steel Post and Rail fencing is our flagship product, and we don't feature a Timber fencing solution. In our portfolio.
However, based on years of fencing experience, helping clients with multiple live projects and our constant interaction with Fencing Contractors across the country we are well-versed in every aspect of Timber Post and Rail Fencing.  
In this article, we will give you a detailed breakup of the different factors involved in calculating the cost of buying and installing Timber posts and rail fences on your property. It's worth noting that while a lot of different types of timber fences are available in our region, we will focus on – Treated Pine Front facing fences. 
Factors involved in the cost of Treated Pine Post and Rail Fencing – Front facing 
Cost of Preparation

 

Cost of Post and Rail

 

Cost of Gates

 

Cost of Installation

 

Cost of Delivery 

 

Cost of Painting

 
For ease of calculation, we will take fencing over a 100-metre area.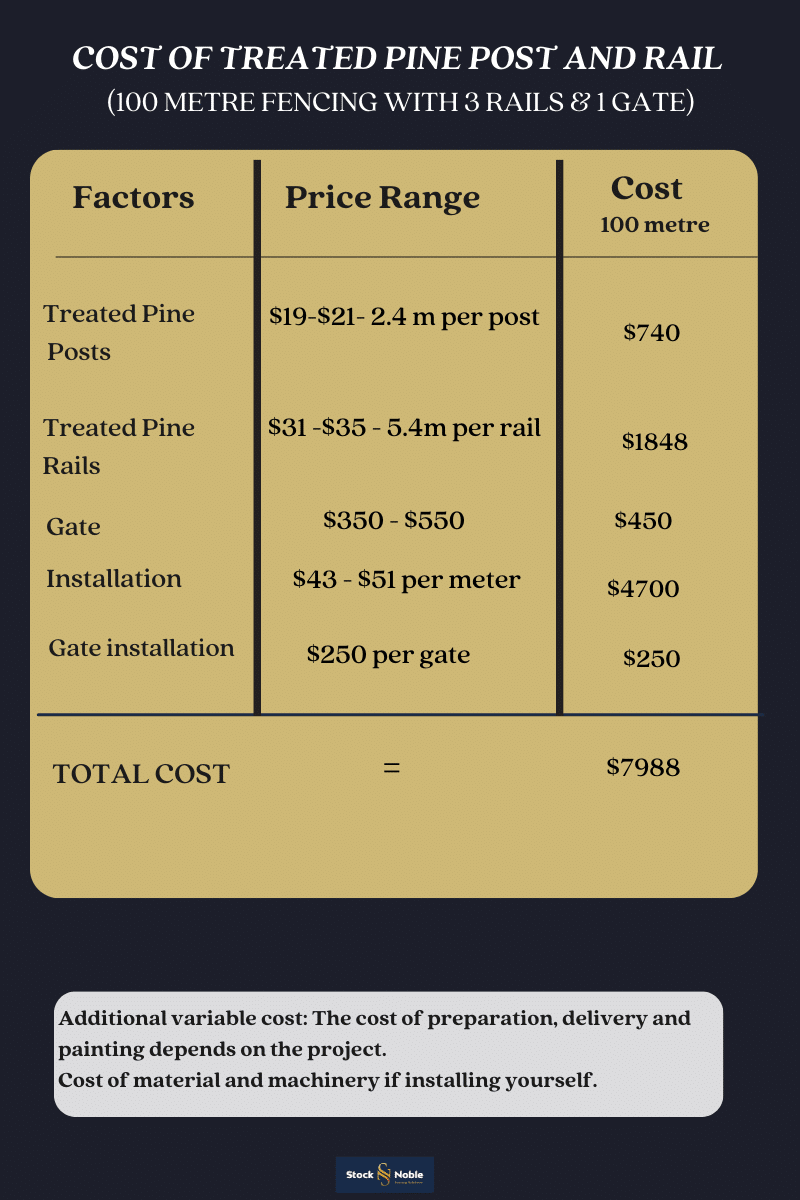 Cost of Preparation for Treated Pine Post and Rail – front facing fence
Usually, preparation for installation involves the removal of old fences, shrubs, rocks and undergrowth. If there's extensive work involved, it'll be worth learning about the best practices and services to connect for clearing overgrown fence lines. (Will link the article when published) 
Cost of preparation: On average $2.50 a meter to pull down the fence
 It largely depends on the project and a Fencing Contractor would be able to give you a customised quote. 
Cost of Treated Pine Post and Rail – front-facing fence materials 
 You would typically use round poles for the fence posts, these would be approximately 110mm in diameter and 2.4 metres long.  
The approximate price for 2.4 metres Treated Pine posts is $19.00-21.00.
For the rails, typically 150mm x 40mm is used. These come in 5.4-metre lengths so can be joined at every second post and joins can be staggered on each row.  
The approximate price for these Treated Pine rails is $31.00 – $35.00 per length.
With Pine Posts typically spaced at 2.7 metres, a 100-metre area would require around 37 posts with three rail fencing.  
The cost of Treated Pine Post and Rail Fences cost including fixings and other associated costs for a 100-metre area :
The total cost of the posts would be: 37 posts x ($19.00 – $21.00) = $703.00 – $777.00 
The total cost of the rails would be: 56 lengths x ($31.00 – $35.00) =  $1,736.00 – $1,960.00 
Adding up the costs of the posts and rails, the approximate price for 100 meters of fencing would be = $2,439.00 – $2,737.00 
Average price = $2588 
Pine fencing is commonly used in horse properties in NSW, Victoria and New Zealand due to its easy availability as a timber option. However, it has a relatively short lifespan of 1 to 10 years and requires high maintenance.  
Treated Pine is prone to natural problems like extreme cracking, rotting, and an unreliable lifespan. Compared to Hardwood, Pine rails tend to buckle and twist, making the fence lose its charm earlier than expected. Before investing in Treated Pine, it's crucial to consider the hidden costs of Timber Post and Rail Fencing.  
Cost of additional fixings for Treated Pine Post and Rail – Front facing fence
Cost of gates 
Every property needs a gate. While they come in many sizes the most common sizes are 2.4 and 3.6 metres.  
The average cost of gates varies based on the design and supplier. 
The approximate cost of Treated Pine gates is:
$350 – $550 
Average cost: $450 
Cost of installing Treated Pine Post and Rail – Front facing fence
If you have prior experience in building post and rail fences, you can take it up as a DIY project or hire a Fencing contractor. The choice is yours. Treated Pine posts are usually rammed in but as an option, you can concrete in the post.  
Cost of Installation by concreting in the post.
Contractor Installation
Traditionally when Contractors put in the fence they charge per meter. We have also been told it works out similarly if you charge per post or by the meter. 
For ease of understanding, in this article, we will use a per-meter cost. 
Hiring a contractor costs around $43 – $51 per meter
Average cost: $47 
This should cover most of the costs. However, you should ask the contractor for a detailed quoted so you are well-informed as to what work is being done and quoted for. 
Extra charges may apply for gate posts, with a typical cost of $250 for one gate installation. 
For a 100-meter 3-rail fence with a gate, the total cost for installation is $4700 + $250 = $4950
. 
DIY Installation
If you choose to install the fences yourself, there are two ways to purchase the required material.  
1. You can purchase 20 kg concrete mix bags, which retail for around $12.
The price varies from different garden suppliers.  
You will need 2 bags of concrete per post  
For 100 metre fencing, you will need concrete for 37 posts 
2 bags of concrete x $12 x 37 posts = $888 
Also, while the concrete comes in premixed bags you still need to add water and mix it together. For this, you will need a portable concrete mixer: $73 per day hire. 
2. Another way is to buy materials in bulk.
You can purchase sand, rock, and general-purpose cement and mix your own concrete. Your local sand and soil shop will tell you the best materials to use. 
  To mix the sand, gravel and cement together you can either mix it by hand in a wheelbarrow or hire a portable concrete mixer.  
It will cost approximately $466.00 to mix your own concrete for 37 posts.
If you want, you can dig deeper and learn how to mix concrete for your post and rail fencing.  
Hiring an excavator with a post-hole and auger attachment costs around $545 per day. 
On a 100-meter fence, you need 37 holes, which a good operator should be able to drill in one day. 
Cost of Delivery 
The delivery cost varies depending on your project's location and size. The longer the distance is from your chosen fencing supplier, the more the cost of freight will be. 
Once the material arrives at your property do you have a forklift or tractor with fork attachment to unload the material? 
Forklift can be arranged to assist in unloading this comes as an additional cost of approximately $550.00 
Cost of Painting 
Once your post and rail fences are installed, you might choose to paint or stain them to elevate the looks of the fencing as well as your entire property.  
Cost of painting = Cost of Preparation + Cost of Paint + Cost of application 
Preparing the surface of the fence for painting is a crucial and time-consuming task. One of the methods to clean the surface before painting is water blasting, which removes dirt and debris. 
If you hire a contractor to do the water blasting, the cost will depend on the length of time needed to clean the fence and the total meters it covers. 
Price to pay a contractor to water blast a timber fence: $1.37 to $2.50 per metre 
 The paints for Timber post and rail fencing are typically available in 20-litre pails, for larger projects 200-litre pails can also be used. The prices differ based on the colour and quality of the paint. You can order the paint depending on the coverage you need. Any extra paint can be safely stored in a cool dark place to be used later.  
Classic Black $3.05/metre 
Forever Black $4.65/metre 
Forever White $6.71/metre 
All prices are approximate, including GST, and are based on a standard 3 Rail fence. 
The final step is the application of paint, which can be done by brushing, rolling, or spraying. While all methods can be effective, spraying is often the most efficient. However, it's recommended to hire a professional to do the spraying for the best results, as it's a critical step in ensuring the consistency and durability of the paint. 
If you do choose to hire a contractor for this task, the cost will typically range from $2.45 to $3.50 per metre for a standard 3 Rail Fence. 
 The exact price may vary depending on the contractor you choose. 
It'll be worth learning about how to paint your Timber post and rail fences in detail.  
Are you ready to calculate the cost of buying and installing a Treated Pine Post and Rail fence on your property?
You wish to install Timber Post and Rail fence on your property and wanted to know how much the project will cost you. Now you know in order to calculate the final cost of buying and installing a Treated Pine Post and Rail fence that's front-facing, you need to add the cost of 7 factors as listed above.  
Once you add the cost of preparation, materials, fixings, gates, installation, delivery and painting you will arrive at the final figure. For example, the cost of owning a Treated Pine Post and Rail fence with one 3.6 metre gate over a 100-metre area will be approximately $8000.
You can now evaluate if the Treated Pine post and Rail fence fit your budget or not. Before you go ahead and order your timber fencing, we would advise digging deeper into the difference between Steel and Timber posts and Rail fences. It will help you be aware of your options in the fencing world today and make a well-informed decision. 
If you have more questions on the cost, installation or availability of fencing for your property, feel free to connect with our fencing experts. Have all your queries answered over a detailed discussion and get prepared to create a safe and beautiful property that matches your vision.