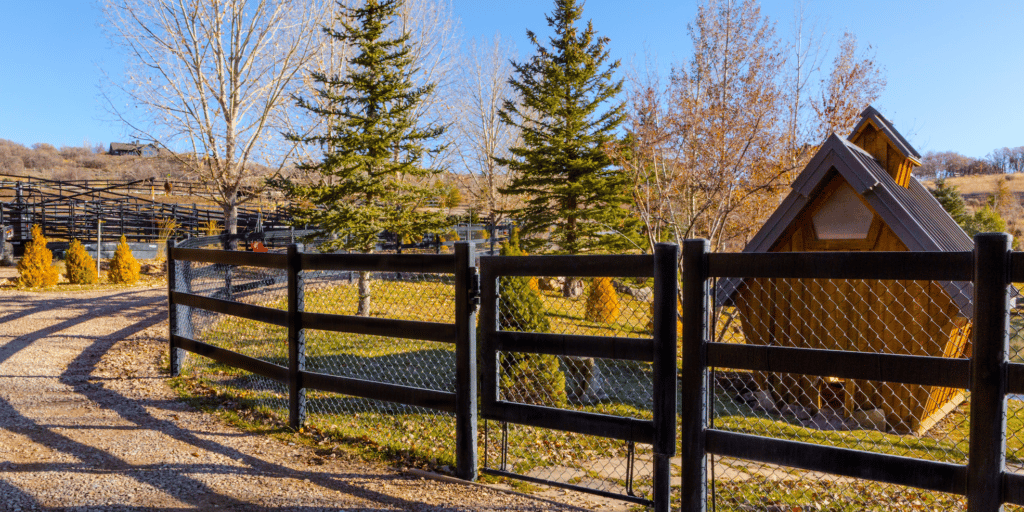 How to plan the lead time for my new Horse Fence? 
Building your forever property is one of the most exciting times of your life. Filled with moments where you'll be busy dreaming about the finest fences, imagining them installed on your property and visualising the beautiful property you will create. The whole experience should be as enjoyable as possible.  
However, if you don't plan well at every step, the fabulous could very soon turn into frustrating, tiring and exasperating. Once you have a deadline set for your project, it's important to know the lead times of your fencing so you can plan better. The problem is if you fail to enquire about the lead times and do not take timely decisions, stress and pressure will start building.  
When things are rushed, you can often end up paying more for faster freight of goods. The unavailability of your required fencing product might lead the Fencing Contractor to change his installation strategy and add up to the cost as well as frustration. Also, your horses' health may take a toll and you might even have to pay for horse agistment. So, to avoid the whole experience of creating your forever property turning sour, you need to consider your lead time and make some decisions. 
At Stock & Noble, we provide our clients across Australia and New Zealand with the finest fencing solutions. All our products are globally acclaimed and mostly sourced from international manufacturers. Our usual practice of importing the goods has taught us to be extremely watchful of our lead times and given us enough experience to guide our clients well as they manage their project timelines and achieve the desired results.  
In this article, we will lay out the lead times of the most common horse fencing solutions across our country. So, when you begin your project, you are armed with the knowledge of a probable lead time for your chosen horse fencing, and factor it into your plan.  
Factors that affect the lead time of your horse fencing
Sometimes owners tend to invest the majority of their time in researching and finding the right product. Of course, research is important, but what's also important is to assign a time to it, depending on your final date and take your decision within that prefixed timeline. Once the decision has been made, there are 4 factors you'll want to consider as you plan for your lead time. 
Factor #1: Your Product 
Check with your fencing supplier if your chosen horse fencing product is in stock. If not, then the unavailability might elongate your lead time.  
Have an honest conversation what's the worst-case scenario of your fencing being available. 
Ask the question as early as possible so that if the dates don't work for you, you have enough time to either look for another fencing product or another fencing supplier who might have something similar.  
Factor #2: The Fencing Contractor 
Most good Fencing Contractors typically have 6 to 12 months of work already lined up for them. Check with your Fencing Contractor early on about the availability and when they will be able to start the fencing project. If the wait is too long, your project might get delayed. However, if you want to finish your project faster you can also look for another Fencing Contractor.  
There might be younger good contractors available too, so ask around or check with your fencing supplier. However, be cautious about the Fencing Contractors who are not sought after and have too much time at hand since their workmanship might not be great. 
Factor #3: Weather
In Australia, weather plays a critical role in the completion of fencing projects. Since there is a huge demand and less supply of good Fencing Contractors, if the weather worsens and they get stuck with their previous installation, your project might get delayed.  
Factor #4: Size of your project
It's obvious that smaller projects have a shorter lead time. Fencing Contractors often like to have smaller projects which can be finished faster and can be managed in the gaps they usually take between bigger projects.  
Typically, on large projects, clients expect the Fencing Contractor to stay on the site and finish the project, however, the reality is they take breaks in between and it tends to increase the lead time. So, you should plan accordingly. 
 What are the lead times of different types of horse fencing?
Knowing the availability of different fencing solutions in Australia and New Zealand is the first place to start. As you begin planning for your project, the overview below will help you in assigning an approximate lead time for your fencing materials to arrive.  
Black is the most preferred colour of horse fencing and is usually in stock across suppliers and manufacturers. However, the best way to know the lead time of your desired fencing is to speak to your fencing supplier. 
Buckley Steel Fencing System
If you want to get the only engineered steel Post and Rail Fencing System for your horse property, 3 and 4 Rail of black Buckley fencing is typically held in stock and can be arranged for you within a week. 
For Buckley 1, 2 Rails in black and all white Buckley fencing you need to place a customised order and it will reach you in approximately 3-6 months. 
Flexible Plastic Rails
The black colour of Horserail and Legacy Rail is mostly in stock. If they do run out, you might have to wait for up to 5 or 6 months. 
Diamond Mesh
This highly sought-after steel mesh is mostly in stock. However, if it's not, you need to wait for at least 6 months for your order. 
Borderline 
This high-quality nylon sighter wire used to create simple, effective boundaries is always in stock. 
Equirope
This electric braid is one of the finest electric fencing solutions that can be used as both temporary and permanent fencing and is always in stock. 
Hard Wood Fencing
The best quality Timber Post and Rail, especially for fencing projects on larger horse properties can have a lead time of up to 6 months. 
Treated Pine Post and Rail Fencing
Treated Pine fencing is typically stocked by local Timber suppliers and can be made available in approximately 4 weeks. 
TopRail 
The black pre-powdered Cattle Rail from Blue Dog Fences is available off the shelf. While the non-stocked colours will typically have a 4-8 week lead time. However, it's best to check with the manufacturer and know the exact timelines. 
Post and Rail by Dunn and Farrugia 
If it's a non-stocked colour, this Post and Rail fencing can have a lead time of 4-6 weeks.  
Cattle Rail
Steel Pipe fencing is typically in stock with a local steel supplier. For larger projects, you might have a lead time of up to 3 months for goods to become available.  
PVC
If you're buying PVC Fencing from a local supplier or manufacturer, the lead time is usually between 4 to 8 weeks. 
However, for imported PVC Fencing you should check with the fencing supplier if it's in stock. If not, you might need to wait for more than 3 months.  
Stallion Rail
These flexible plastic rails are mostly in stock, in black colour. If you want white, it's best to check with the supplier for availability. If it's not in stock getting it imported from China will typically have a lead time of up to 3 months.  
Steel mesh 
The steel fencing from Waratah Fencing is typically in stock and readily available for your horse property.  
Black No climb mesh
There is such a huge demand for this black mesh that we are not able to keep up with the supply. There is a 12–18-month lead time for the black No climb mesh.
Don't let lead times hold back your horse fencing installation.
 If your lead times aren't managed well, it's not just the frustration and cost that piles up, but your horses' health also takes a toll. As your project gets delayed, you may even have to pay for horse agistment. 
You now know the factors which play a role in estimating the lead time and the availability of different types of horse fencing solutions. Knowing how critical lead times are for the success of your project, your next step is communicating with your fencing supplier and contractor. Get as much information as possible and ask as many questions as you need to. 
If you want to further strengthen your fencing plan and make sure you achieve your dream look within your time and budget, invest some time in learning how to plan your horse fencing and avoid 6-12 months of delay. 
If you have more questions on the lead times of specific products, or are just beginning your project and need some help planning and choosing the perfect fencing solution for your property speak to one of our fencing advisors.  
Plan well and communicate with suppliers and contractors to get the best results. A job well planned is a job half done, so put a lot of effort into planning and communication.