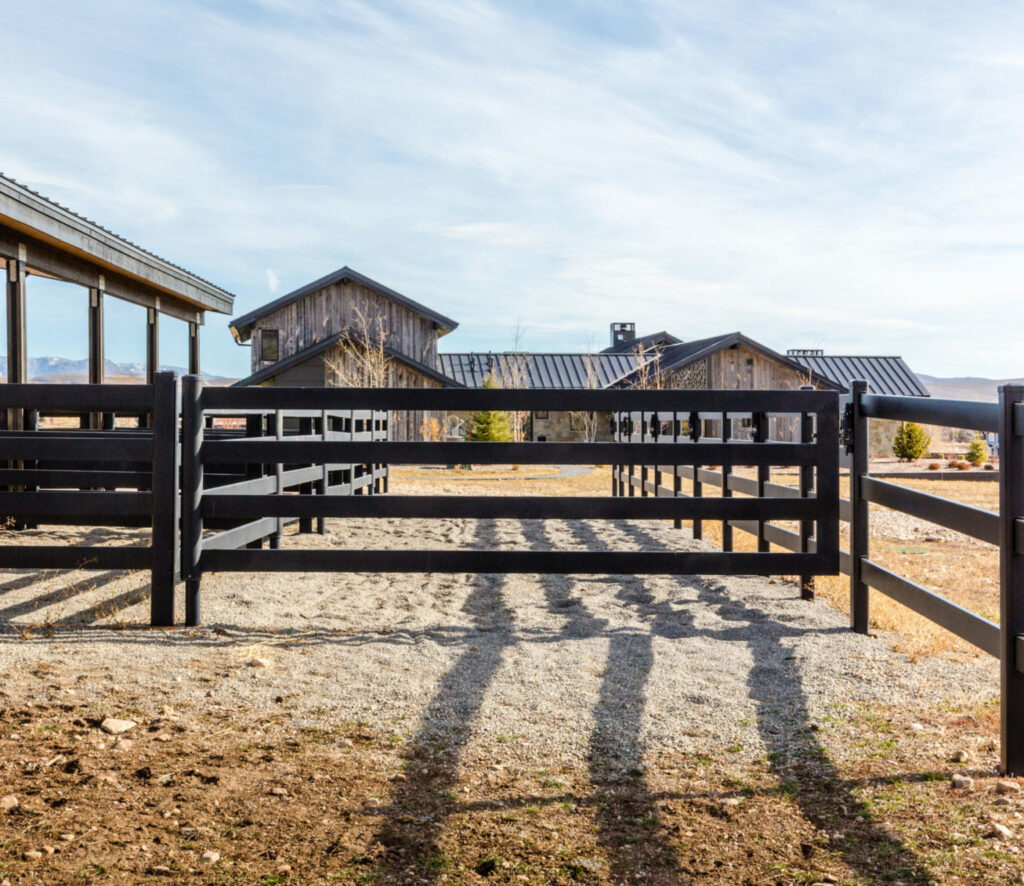 Buckley Steel Post and Rail FAQ
If you're looking to learn more about the Buckley Steel Fencing system, we know one thing for sure: you have a flair for the finer things in life and a great taste in fencing.  
So, congratulations on that. 
At Stock & Noble, Buckley Steel Post and Rail Fence is our flagship product, and we are proud of providing it to high-end properties across Australia and New Zealand.  
You might already know this, but we'd love to reiterate that it's a beautifully engineered Steel Fence, that's designed to bring your dream property to life. In fact, safe for horses and good for the planet, Buckley Steel Fence is the only engineered Steel Fencing System. It is made with 2-side pre-galvanised steel, treated with a phosphate conversion coating for added protection and finished with an architectural grade polyester powder coat. 
To help you decide whether the Buckley Steel Fencing system is right for you or not, we are answering some of the most frequently asked questions in this article.  
Ready for the ride? 
What's the gap between the Buckley Steel Rails?
The dimensions of the Buckley Steel fencing system are similar to Timber board fences. Buckley Posts are pre-cut with holes and the rails can simply slide into the posts. They come in the options of 2, 3 or 4 rails. The spacing between these rails is: 
2 Rail – 32 cm

 

3 Rail – 34 cm

 

4 Rail – 18 cm

 
The bottom spacing on 3 and 4 Rails is 30 cm from the ground to the bottom rail.  
Can I electrify my Buckley Steel Post and Rail fence?
Yes, absolutely. Electric systems can be added to the Buckley Fence using the Buckley Insulator Assembly.  
You can choose to have an electric wire go around your Buckley fence. The specially designed Insulator Assembly works to hold the electric wire in place. You can easily learn how to install a Wire mesh clip and Hot-wire installation.
The key objective of electrifying your fence is to keep the horses from leaning or chewing on the fences. In our experience, get your Buckley Steel Fence installed first, observe your horses and then assess if there's still a need for an electric fence.  
Can I attach the mesh to my Buckley Steel Post and Rail fence?
Yes, you can attach the mesh to the Buckley Post and Rail fence all by yourself.  
Whenever and if you need a mesh, it can be easily attached to Buckley fences using our specially designed mesh clip.  
Once your fence has been installed, decide whether you want your mesh to be full height or just a portion of the fence height. 
Drill a 1/2 " (12mm) hole in the post to suit the height you want the mesh to be at. 
Insert the rubber end of the mesh clip into the hole. 
Attach the mesh between the two washers and, using a #2 Phillips driver screw the clip tight  
 It's that simple.  
If you have 2-rail fences, you can put the mesh all over for an added barrier. It will also prevent the horse's hooves from poking through the rail. However, some horse property owners choose to use mesh only at the bottom to keep other small animals out of the paddock or property. 
What size horse gates are available with the Buckley system, and can they be automated?
Buckley Steel gates are available in three sizes and yes, they can be automated. The sizes are: 
1.2 metre 
2.4 metre 
3.6 metre 
They are sold in 3 and 4 rail options.  
Buckley gate is a standalone system, with its own post which is longer than a fence post and a lot of it is buried underground to give it extra strength and stability. The gate is the only moving part of the fencing system and is specifically designed with your convenience and your horses' safety in mind. Buckley gate can swing both ways, can be opened off horseback, and has no hinges or sharp edges.  
We recommend choosing a 3-rail gate with a 3-rail fence and a 4-rail gate if you have a 4-rail fence, to maintain the premium and seamless aesthetics of your horse property.  
If you like you can learn more about how to choose a horse gate. 
The Buckley gates can be automated using an external motor. In our experience, it's a better idea to attach the motor to a concrete pad rather than the post which is hollow.  
Should I get a Buckley Steel fence with 2, 3, or 4 rails?
The choice depends on what kind of look and barrier you want to achieve for your horse property.  
4 Rail Buckley Steel Fence creates a more visible barrier, is aesthetically pleasing and is the best way to "let your fence do the talking." On premium horse properties, owners often choose 4-rail steel fencing to be installed around their house for an added visual impact. 
3-Rail is the most popular option of Buckley Steel Fences that is chosen by property owners across Australia and New Zealand.  
2-Rail works well if budget is a constraint, and you need a good option for external areas of your horse property. Down the road, you can add a steel mesh or a hot wire for extra protection.   
The Buckley Steel Posts come with pre-cut holes so if you chose a 2-Rail or 3-Rail fence there is no way to add another rail later. While finalising the rails, do keep in mind that it's much easier to install an extra rail now than to live with the regret of wishing you had. 
What's the spacing between the Buckley Steel Posts?
Buckley Post and Rail fencing is a well-engineered system with fixed dimensions. 
The distance from one Buckley Steel post to another is 2.8 metres.

 

The space from Buckley Post centre to post centre is 2.94 metres.

 
This space between posts is standard across all rails which come in pre-cut sizes.  
The length of Buckley Steel Post is 2.54 metres long, out of which 1.1 metres is buried into the ground and 1.45 metres stay sticking out to give it added strength and stability. This is where the difference between the Buckley Steel Fencing system and other steel fences becomes obvious. No other brand offers such long posts as standard.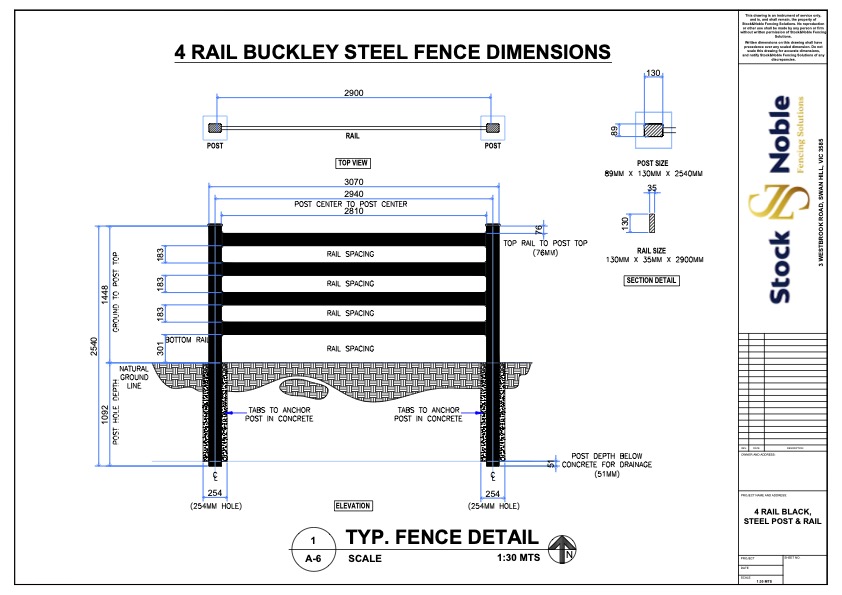 Have you found your answer on Buckley Steel Fences?
In this article, you learnt answers to some of the questions our fencing experts have been asked time and again. If you're interested in Steel Post and Rail, there are more resources available on how to buy Steel Fences for your horse property and also on the cost of Steel Fences in Australia. 
To help you finalise your fencing and answer any more questions you may have, we would love to chat with you. So, feel free to book an appointment and have a one-on-one consultation with our fencing expert.  It's free and we definitely won't try to convince you to buy Buckley Steel Fence. If it's not right for you, we have a wide range of other horse fencing options to choose from.