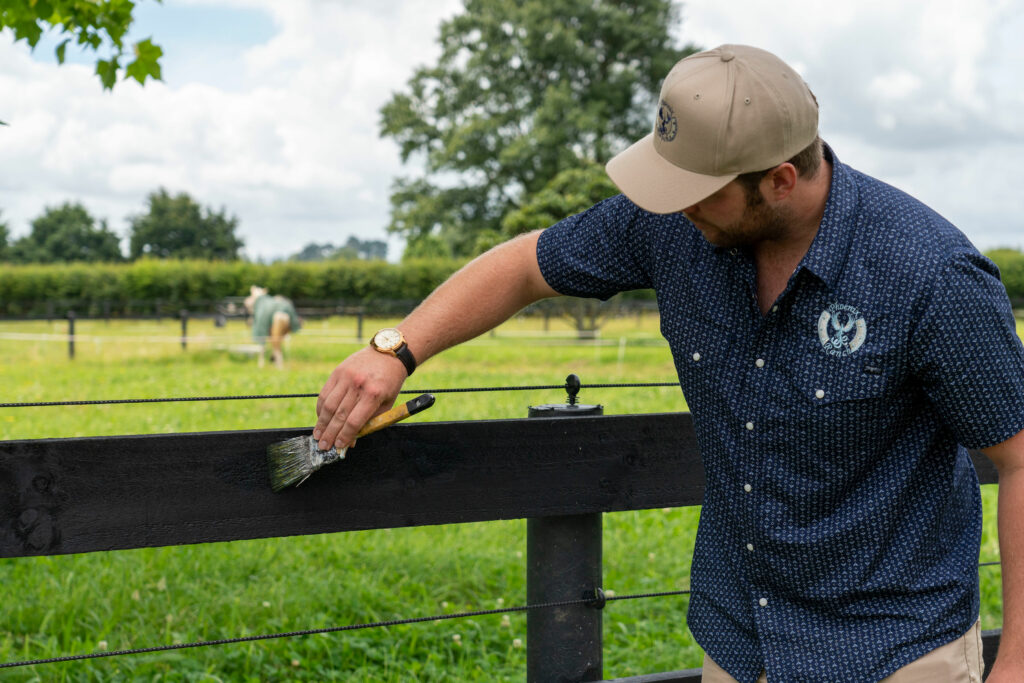 What is the cost of painting Timber Post and Rail Fences?
There is something strikingly beautiful about a Timber post and rail fence surrounded by lush greenery. It is your choice whether you want raw wood on your land or if you want it painted brown, black, or white. However, painting wood isn't just about aesthetics, but also about protection. 
At Stock and Noble, we pride ourselves in providing our customers across Australia and New Zealand with premium quality paints for their fencing projects. These paints are specially manufactured to last longer and shine brighter than any other product available in the market today.  
By the end of this article, you'll be able to calculate the approximate cost of painting your equestrian property's post and rail fences.  
What is the price of painting my Timber Post and Rail Fences?
While horse properties across Australia and New Zealand might use different types of timber – from Pine to Cyprus to Hardwood, the average price of painting post and rail fences range from   
$7 to $12 per metre. Plus, the cost of freight. 
What are the key factors that influence the cost of painting Wooden Post and Rail Fences?
When you finally decide to take on the challenge of painting or repainting your timber rail and post fences, there are several things apart from the cost of paint that you must take into consideration. 
Preparation 
This is the toughest and the most time-consuming task of the entire painting process. To get your new fence ready for paint, water blasting is needed to ensure the surface is free of any dirt or debris. If you choose to have a contractor do this work, the cost will vary according to the length of time it takes to clean the fence and how many meters it covers. 
For larger properties with a high metre coverage the per metre price will likely be lower, while for smaller properties it will often be higher. 
To repaint the fence that has already been painted previously, it first needs to be cleaned and prepared too. Along with water blasting, in some cases, the paint may be cracking or peeling off the wood. In these areas, it is especially important to ensure the surface is sound before applying new paint. This is done either with a steel brush or by rubbing sandpaper over the affected areas. 
Price to pay a contractor to water blast a timber fence:  $1.37 to $2.50 per metre 
Cost of paint 
The paints for Timber post and rail fencing are typically available in 20-litre pails, for larger projects 200-litre pails can also be used. The prices differ based on the colour and quality of the paint. You can order the paint depending on the coverage you need. Any extra paint can be safely stored in a cool dark place to be used later. 
All prices are approximate, exclude GST, and are based on a standard 3 Rail fence. 
Cost of freight 
If you want the paint to be delivered to your doorstep, the convenience comes with a cost. For larger horse properties, the weight of the package will be higher resulting in higher charges. The same is the case with horse properties located in rural areas.  
The farther they are, the higher the freight is. A great option could be to pick up the paint directly from a stockist. Before you order online, check the location of paint dealers and decide if it's close and convenient enough for you. 
Cost of Application 
The last part of painting your timber fence is application. You can either choose to brush, roll or spray on the paint. However, our experts recommend spraying as the most time-efficient method of all. Also, you should consider getting a professional to do this part. It plays a critical role in ensuring the overall consistency and longevity of the paint. 
Price to pay a contractor for painting timber fence via spray painting:  $2.45 to $3.50 per metre 
This price is based on a standard 3 Rail Fence and might vary from contractor to contractor. 
How can I calculate the price of painting Wooden Post and Rail fences on my horse property?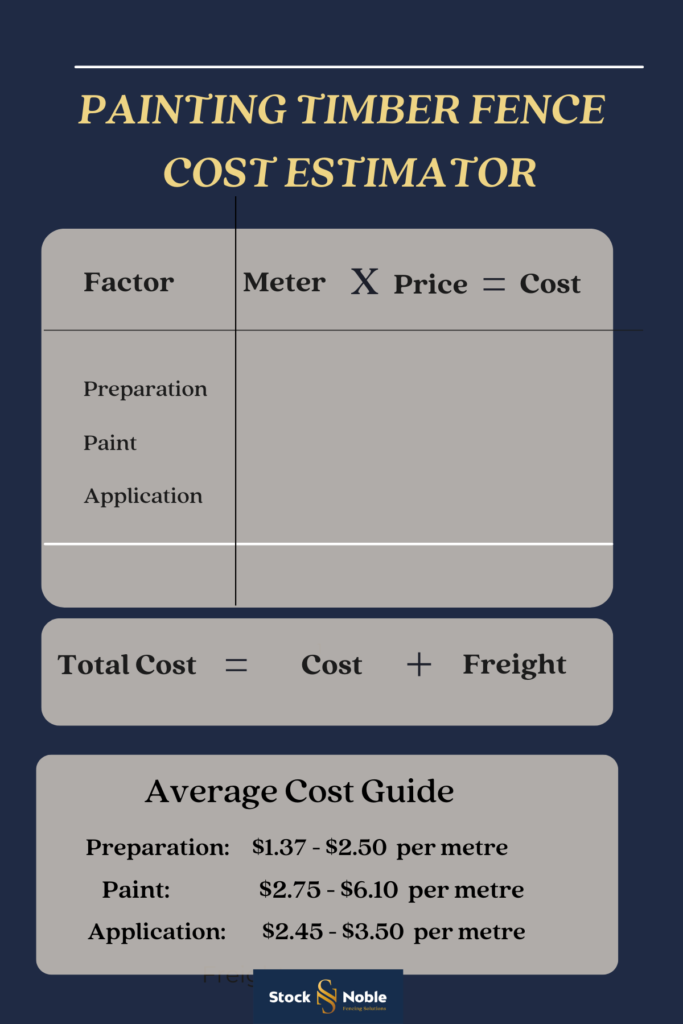 We are sure at this point, you have a better idea of which paint to choose and how to turn your dream property into a reality. You can estimate the cost of painting your horse property by adding the number of metres to be painted, the cost of paint, freight, and application. 
If you still need any more help in calculating the cost of painting your Timber post and rail fences, our experts are there to guide you. We have a strict policy against following up with unnecessary emails and phone calls. So, feel free to ask any questions and clear all your doubts before painting your horse property. Connect with our fencing expert today.