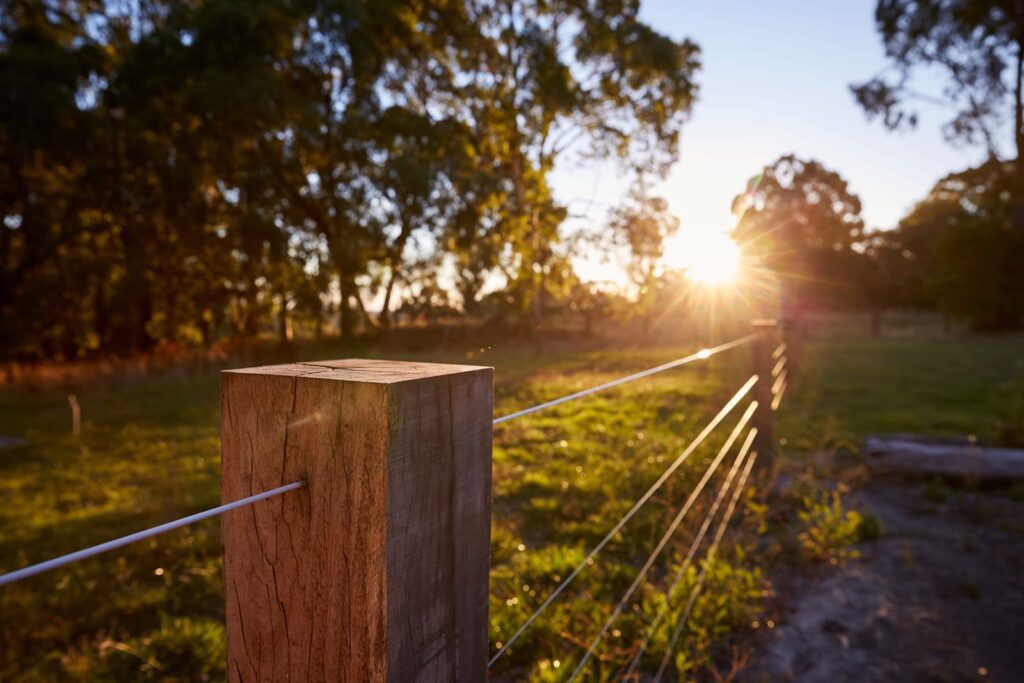 If you are looking for a simple and functional fence for your horse property, you might have come across Sighter Wires.  As the term suggests, "Sighter Wire" is a fencing wire that is specially made to be easily seen by animals. Thus, creating a cost-effective yet clear boundary for them to see and respect.  
Borderline Sighter Wire is a nylon wire, designed specifically for fencing around horses. It is soft, visible, flexible, highly safe, functional and cost-effective.  
The question is whether Border Line is the right horse fence for your property. 
At Stock & Noble, we are the exclusive supplier of Border Line in the world. It's a successful product used across Australia, New Zealand and Europe. It's our product and the bias is obvious. So, while we think it's great, we also know it might not be the fence you're looking for and may not be suitable for your horse property. Based on our expertise in selling Border Line, and on the experiences of our clients who're using it, we will give you an honest review of this sighter wire.  
In this article, we will discuss:   
1.    What is Border Line Sighter Wire?   
2.    What is different about the design of the Border Line Sighter Wire?   
3.    What are the advantages of Border Line Sighter Wire?   
4.    What are the disadvantages of Border Line Sighter Wire?   
In the end, you will have an in-depth knowledge of Border Line and will be able to assess whether it's the right fencing for your horse property or not.  
What is Border Line Sighter Wire?
Border Line Sighter Wire is a nylon wire with a 4 mm diameter. It has no steel in it and is pre-stretched for extra strength resulting in fencing that's even more flexible than Hotcote from Horserail.  
For the last 15 years, it has been successfully used at horse properties across Australia and New Zealand and is best suited for horse owners that simply want a safe, functional and cost-effective fence.  
What is different about the design of the Border Line? 
Originally Border Line was manufactured in Australia, but currently, we get it made in India to our specifications.  
There are three key differences in the design and manufacturing process of Border Line which make it superior to other Sighter Wires available in the market. 
1. Anti-mould additive
 In the manufacturing stage, an anti-mould additive is added to Border Line. It makes sure the white colour stays stark white and visible for years ahead. In comparison, other sighter wires might get mouldy and won't look as nice. 
2. Pre-stretched
 Border Line is a pre-stretched nylon wire. The difference is most evident in installation, where Border Line stays well tensioned while other Sighter Wires continuously stretch, making it difficult to pull the wire up nice and tight. The main benefit is for horses as there are fewer chances of getting tangled in tightly installed sighter wires, thus preventing any injury. 
3. A c
omplete fencing system
Border Line is not just a wire, but a fencing system complete with anchors, joiners and tensioning tools. 
Specifications of Border Line Sighter Wire 
Border Line is 4mm wide.

 

Made only of nylon.

 

Infused with Anti-mould additive.

 

Pre-stretched Sighter Wire.

 

Available in both black and white colours.

 

Warranty of 20 years.

 

Cost 69 cents per metre.

 

Can be installed with any post type – additional fittings may be required for steel posts.

 

Comes in a 600 Metre roll and is usually available in stock.

 
To check current availability for large projects, it's best to connect with our expert. 
Advantages of Border Line Sighter Wire.
Simple, effective and low cost 
The biggest advantage is that with Border Line you can build a safe fence for your horses that is functional, high on impact and low on cost. 
Long life 
Border Line has a 20-year warranty and typically maintains its stark white colours throughout its life. Compared to other Sighter Wires in its category like Thunderbird Sighter Wire which has a 1-year Warranty or Gallagher Sighter Wire which comes with a 10-year warranty and has an off-white appearance. 
Easy to install 
Border Line Sighter Wire is comparatively easier to install. If you want to DIY, there are resources available to help and guide you through the installation process. Or you can choose to hire a Fencing Contractor. Border Line is a well-known and well-established product they are usually familiar with. 
Great for coastal properties 
Border Line specially performs well at coastal properties where steel wires cannot be used. It has no steel in it and is made of pure nylon, thus there is no risk of rust.  
Extremely flexible and safe
 Border Line is made of pre-stretched nylon wire, thus is highly flexible, soft and forgiving. The flexibility aids in reducing the likelihood of horses getting entangled in this sighter wire. 
Disadvantages of Border Line Sighter Wire 
Cannot be electrified 
Compared to Hotcote, or Legacy Line Electric Border Line doesn't have the option of an electric wire or of adding electrics to it.  
Smaller wire diameter 
The Border Line is 4 mm in diameter. It is thinner than premium products like Legacy Line which has a thickness of 7 to 8 mm and is more visible than Border Line. However, Legacy Line is also priced higher.  
Steel edges could wear out nylon 
If Border Line is used in conjunction with star pickets or steel posts, sharp steel edges could deteriorate the nylon wire. Unless a protective sleeve is used like our G8 clip sleeves. 
Aesthetically not as pleasing as post and rail 
Border Line is a functional fence that cannot compete with the high-end aesthetics and traditional look of Timber or Steel Post and Rail fences like Buckley. 
Is Border Line the right horse fence for my property?
You were looking for a safe, functional and cost-effective horse fence for your property and wondered if Border Line would work for you.  
Now you know what Border Line is, the differences that peg it higher than competitors and the advantages and disadvantages of using this Sighter Wire. You can easily and confidently decide whether Border Line is right for your property based on your budget and vision.   
Choose Border Line 
If you are a horse owner and want a highly safe, flexible and practical fencing option for your property within a fixed budget then Border Line would suit you well. It's the ideal horse fence if you don't desire a traditional post and rail look and aesthetics aren't your priority. That being said, Border Line is still the brightest sighter wire and offers the best look in its category. 
Don't Choose Border Line 
If you are looking for an extraordinarily beautiful entryway and gateway and want to make a fabulous first impression with your fence then Buckley Steel fencing System would be better suited for your needs. Or if you want electric fencing to keep more pushy horses from escaping, then you have to either use Border Line in conjunction with Equi Rope or choose Hotcote or Legacy Line Electric.  
There's a lot to learn about a horse fence before you purchase it. Do you know the important factors to consider before buying a horse fence? Ultimately, we want you to make an informed decision based on the most accurate and relevant information available to you.  
So, if you have any more questions on Border Line or any other horse fencing solution, we are there to help and guide you with as much information as you need to make the right decision. Simply book a personalised consultation and we will get in touch with you.