Why Stock & Noble Premium Steel Gates Are the One of the Most Expensive Equine Gates?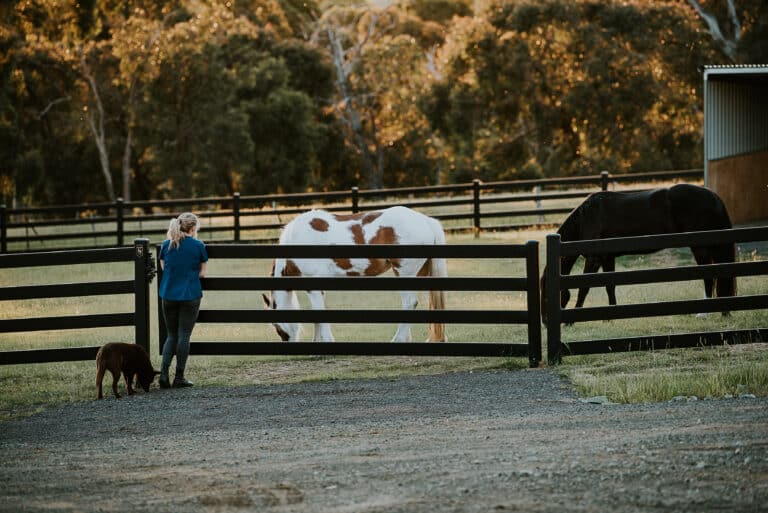 In the world of property gates, there's a wide spectrum of options to choose from, each varying in price, quality, and functionality. 
Whether you're envisioning your property as your forever home or simply seeking low-maintenance premium functionality, gates play a pivotal role. They are responsible for keeping your animals safely enclosed, experiencing high traffic and serving as the entry and exit points for vehicles. 
They need to look good, complement your current fencing, and work efficiently and effectively. If a gate fails to function correctly, it can cast a shadow of negativity over your property as well as impact your animals' well-being. It'll be worth learning about the factors to consider and how to choose the perfect gate for your equine property, 
Among the wide choices of gates, Stock & Noble Premium Steel Gates consistently stand out as some of the most expensive. If you already know all about the Buckley Steel gates but are still confused about what makes these gates worth their premium price, then this article is for you. It'll help you evaluate your gate needs against the value Buckley offers and make the right decision. 
At Stock & Noble, we provide the finest fencing solutions to high-end property owners. Buckley Steel Post and Rail Fencing and Gates is a globally successful and proven product that's exclusively supplied by us across Australia and New Zealand. 
In this in-depth article, we'll explore the intricacies of these gates, from their design and engineering to their safety features and longevity. By the end, you'll understand why they're the go-to choice for discerning property owners and if their price justifies their value. 
Buckley Steel Gates and Their Distinct Feature
The Saga of Sagging Gates
To truly appreciate the significance of Buckley gates and why they stand out, we need to start with a common problem faced by property owners – sagging gates. When designing these gates, the focus was squarely on addressing the challenges that property owners encountered with traditional paddock gates. 
Over time, traditional gates inevitably droop due to the relentless wear and tear they endure. This issue is particularly prominent in high-traffic areas where horses exert force on the gates, causing them to lose their shape and functionality. The result? Frustration and inconvenience, especially when a gate becomes difficult to open and close. 
Imagine you're on horseback, trying to navigate through your property. A gate that doesn't cooperate can disrupt your plans and even pose safety risks. It forces you to dismount, open the gate, remount, and then proceed. For equine properties, where efficiency and low maintenance are crucial, gate-related problems can be significant. 
Stock & Noble Premium Steel Gates are thoughtfully designed to address this issue head-on. These gates are uniquely designed to never sag, making them an ideal choice for properties where functionality and minimal upkeep are essential. Their ability to operate smoothly, even under high-traffic conditions, is a game-changer for equine facilities and beyond. 
In short, we can confidently assert that our Premium Steel gates will never sag.  
6 Reasons Why Buckley Steel Gates are One of the Most Expensive
Reason#1: Designed and Engineered for Excellence
The primary reason behind the premium price tag of Stock & Noble Steel Gates lies in their meticulous design and engineering. These gates are constructed entirely from galvanised steel and coated with a top-quality architectural-grade powder finish.  
This ensures they remain well-protected from rust and corrosion, guaranteeing long-lasting durability. The powder coating not only enhances their appearance but also adds an extra layer of strength. 
What truly sets these gates apart is their hingeless design. Unlike traditional gates that rely on hinges, Stock & Noble Gates utilise a sophisticated bearing system. This innovation combines the robustness of solid steel gates with the smooth, effortless swinging motion of a bearing system. While this design feature increases the cost, its unparalleled performance and longevity make it an investment worth every penny. 
Overall, these steel gates are uniquely designed; they have no hinges, ensuring safety around horses. You can open them single-handedly from either side. They remain stable, without twisting, sagging, or warping. They offer all the strength of steel without the rust problems typical of most steel gates. 
Reason#2: EZ Latch: A Latch Above the Rest
Stock & Noble Premium Steel Gates are designed to work seamlessly with the EZ Latch, one of the most expensive latches available. 
Crafted from heat-treated chrome-moly steel, EZ Latch offers reliable gate security with a standard padlock and a "horse-proof" mechanism for added peace of mind. It also allows easy one-handed operation, even while riding. 
If you want you can dig deeper and find out all about the specifications and features of EZ Latch.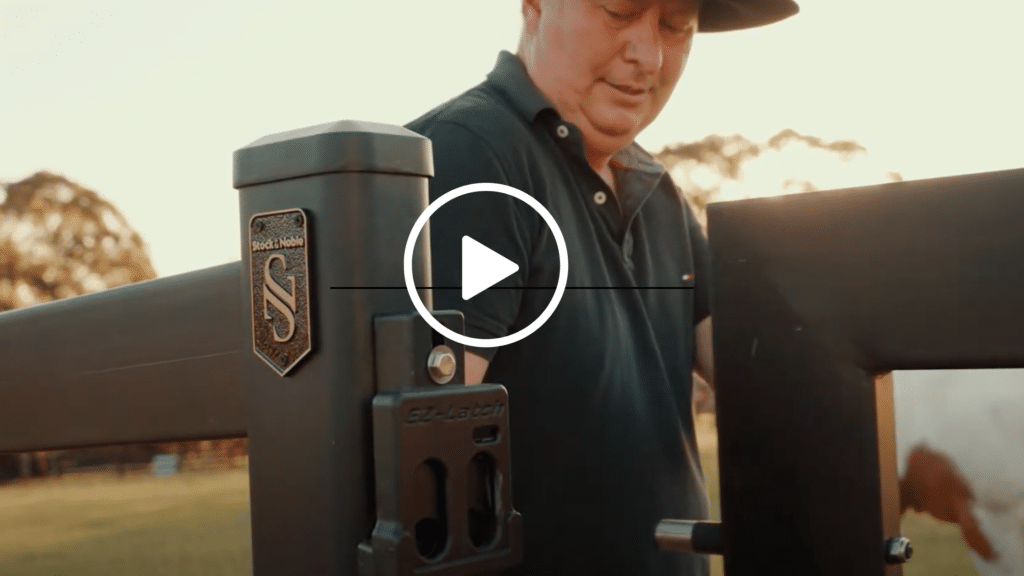 Interestingly, what we've felt over time is that customers who have conducted thorough research for gates and latches consistently express their satisfaction with this decision. Once they experience the functionality, beauty, and ease of use that EZ Latch offer, the initial price becomes a mere footnote in their appreciation. 
Reason #3: Size Matters – Beyond the Numbers 
The Premium Steel Gates are available in three different sizes: 1.2 meters, 2.4 meters, and 3.6 meters. 
While these steel gates are often described by a specific length (e.g., 3.6 meters), it's essential to understand that this measurement refers to the gap the gate creates. 
In reality, the gate itself is more extensive than what people assume from the description. This factor should also be noted as you consider the price. 
This distinction is crucial, as the absence of sagging and the ease of use, particularly when mounted on horseback, is the primary reason behind their premium price. 
Reason #4: Aesthetic Excellence and Safety
Similar to our beautiful Steel Post and Rail fencing, these Premium Steel Gates are also designed to look fabulous. 
They seamlessly integrate with Buckley fencing as well as many other fencing systems. As seen in the image the gates are installed with black Horserail® and lend a premium look to the entire property.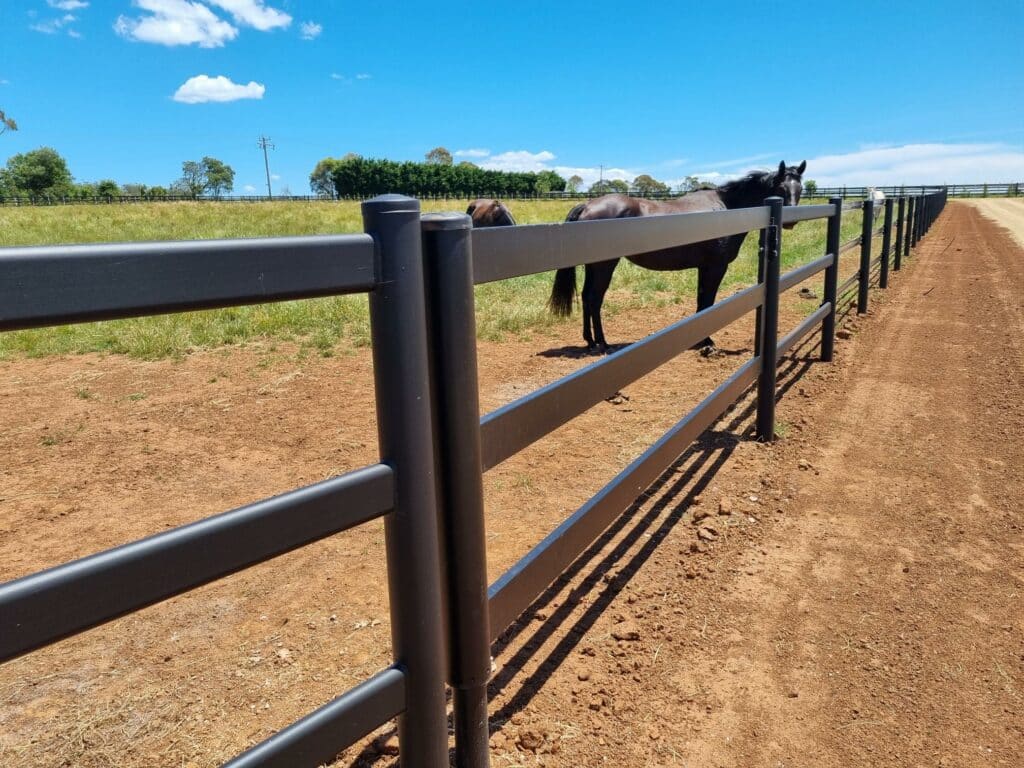 They come with associated brackets that allow for the addition of a drop bolt to secure the gate in position while swinging. Also, there are mesh brackets allowing you to fit mesh to the gate for keeping dogs and other animals in/out of your property.  
Reason #5: Horse-Safe Design
Equine properties often see horses interacting with gates, leaning and loitering around them out of habit, leading to additional wear and tear. Unlike other gates with exposed welds and sharp edges, Stock & Noble Premium Steel Gates prioritise safety for both horses and humans. They have no sharp edges and are hingeless. 
We understand that for every horse owner, safety is of paramount concern. In a recent incident in Ballarat, a horse landed on top of the gate but stayed unharmed. As shared by our client, he believed that any other type of gate could have resulted in a fatality highlighting the safety aspects of these gates. 
Reason #6: Longevity Guaranteed
These premium steel gates are built to last as long as your fence does. 
Thanks to their sturdy construction with galvanised steel, rust-free surface and sag-free design, they are less prone to damage and typically offer a longer lifespan compared to other types of gates 
The Price of Premium Steel Gates from Stock & Noble
Now, let's address the elephant in the room – the price. While Stock & Noble Premium Steel Gates are undeniably the most expensive option, it's essential to consider what you're getting for your investment. Most gates are designed to hang on strainer posts, but these gates come with their mounting post, on which the gate swings. So, the cost includes not just the gate itself but also its dedicated post. 
Cost of Stock & Noble Premium Steel gates including gate mounting post, gate cap and GST 
Cost of 3 rail 1.2-meter gate: 1293.60  
Cost of 3 rail 2.4-meter gate: $1835.90 
Cost of 3 rail 3.6-meter gate: $2183.50  
Cost of 4 rail 1.2-meter gate: $1395.90  
Cost of 4 rail 2.4-meter gate: $1998.70 
Cost of 4 rail 3.6-meter gate: $2526.70  
Cost of gate latch (EZ Latch): $317.90 including GST 
Are Premium Steel Gates from Stock & Noble the Right Investment for Your Property? 
You love the look, feel and features of our Premium Steel Gates, but weren't able to decide whether they are worth the price. Now you know the distinct qualities and design that set these steel gates apart. The question is whether these requirements are on your checklist for the perfect gate or not. 
You also learnt that these Premium Steel Gates represent the best of quality, functionality, and safety. Yes, they come with a premium price tag, but they also deliver premium performance. With their innovative design, sag-free operation, and horse-friendly features, they provide exceptional value for property owners who prioritise durability and peace of mind. 
In the end, we understand that budget is an important factor, and the decision is yours. These gates may not be the perfect fit for every scenario; however, their design and features add tremendous value, particularly in equine applications where ease, security, and longevity are paramount. If you'd like to get the whole picture of your investment, check out the cost of buying and installing premium steel gates. 
Overall, when it comes to choosing the right gate for your equine facility or acreage property, investing in excellence may be the wisest decision you'll ever make. Consider it not just an expense but an investment in the long-term convenience, low maintenance and high aesthetics of your property.
If you have more questions on the installation, application, cost or availability of steel gates connect with our fencing experts. They will help and guide you at every step to create a safe and beautiful property.