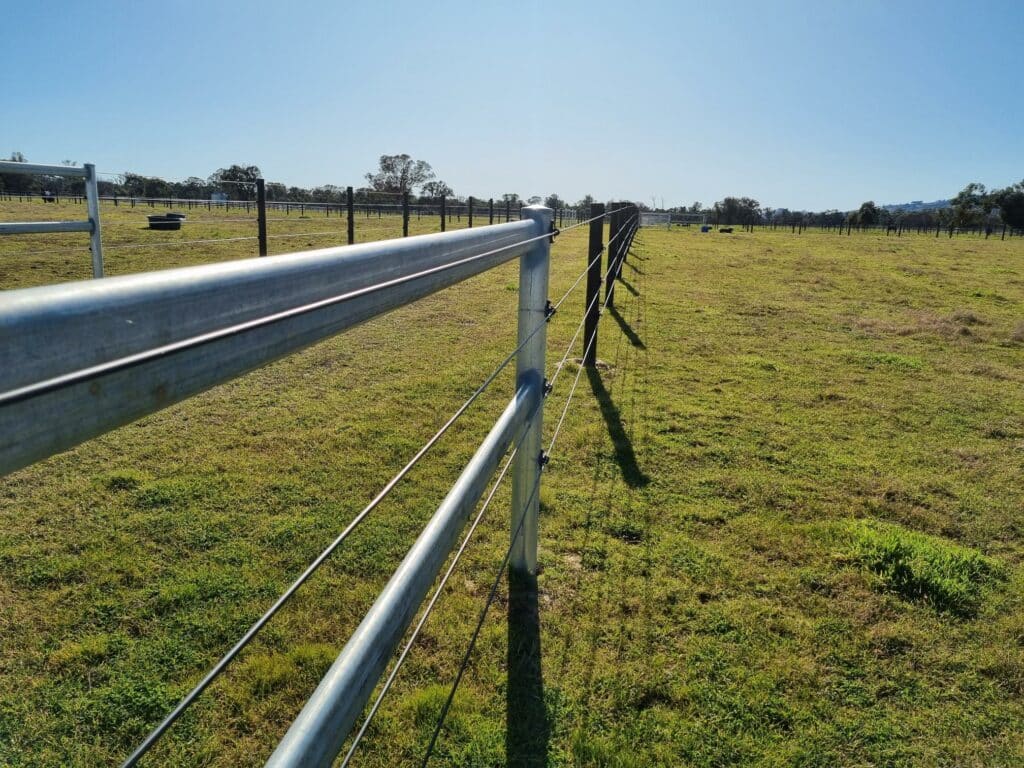 Which is the best fence paint for my Steel post and rail fences? 
Steel Post and Rail fencing is a great option if you are looking for strong and long-lasting fences. However, the problem is if you have steel fencing on your property, which isn't pre-powdered like Buckley Steel Fencing System, then painting it is imperative to give it a barrier of protection. And elevate it from the steel grey appearance.  
The original look of the Cattle rail is rather dull and drab. If you want to create a beautiful equine property, it's recommended to paint the steel post and rail fences with superior-quality paint. It will give your fences a refined look and will enhance the aesthetics of your entire property.  
The question is with different Steel Paints in the market, which one should you choose for Steel fencing on your property? Given how saturated the paint industry is, it is easy to make a misguided purchase and encounter the pitfalls of choosing the wrong paint just a few weeks down the line. To avoid such a costly mistake, read on. 
At Stock & Noble, we provide the finest fencing solutions to high-end property owners across Australia and New Zealand. We are particularly proud of our premium range of paints which have been developed by experts after years of market research and consumer feedback.  
We also feature high-quality Steel Paint in our paint portfolio and think it's the best paint for steel fences. However, we also know it might not be right for your property.  
Based on our learnings, the experience of clients and the knowledge of experts we will honestly share key insights about choosing the right paint for your steel post and rail fences. 
In this article, you will learn the differences between oil-based and water-based paints for steel fences. We'll also dive into the must-have features of the best steel paint, the different types of Steel Fence Paints available in the market and how to choose the right one that matches your vision and the need of your property.  
In the end, you will be clear and confident about the look, quality and kind of paint you want for your metal fences. 
Oil-based Vs Water based Steel Paint
In the case of Timber fence paints, oil-based and water-based paints give similar performance, however, when it comes to metal fencing, things are pretty different. 
Oil-based steel paints are more durable than Water-based steel paints
As per the experts who create paint solutions if you want a strong and durable finish oil-based paints are the best bet. They are superior in strength and durability to other paints.  They form a hard-wearing film that locks out moisture and air from the metal surface.  
Oil-based steel paints offer higher protection against rust
Oil-based paints indeed have better rust protection as they have a lower vapour transfer rate.  However, some water-based metal paints like Forever Black Steel have a rust inhibitor added during manufacture. 
Oil-based steel paints are high
er
in VOCs than water-based steel paints
 So while oil-based paints are better for your fences, the same cannot be said for those inhaling the fumes of oil-based paint.  The biggest drawback of oil-based paints is that they are solvent-borne and not the healthiest for the user or the environment. 
Water-based coatings are very low in VOCs and have come a long way. They are now used extensively to coat metal in the building industry.  
Oil-based paints are tough to apply and clean-up
Oil-based paints need protective gear and masks to apply and the tools need to be cleaned up with specific chemicals. Water-based paints only need water to clean up and no additional gear for application. They are not only a pleasure to work with but also dry much faster. However, all the good qualities require sacrificing durability. They don't last as long as oil-based paints on metal. 
5
Things
to consider before buying fence paint for your Steel post and Rail fences
Your Steel fences need a finish that can bear the challenges posed by different elements. Here are 5 things you should tick off your checklist while buying Steel paint. 
 1. Anti-Corrosion and rust
Corrosion and rust are undeniably the biggest enemies of steel. The best paint for Steel fences should form a tough exterior that is durable and gives robust protection against these.  
2. Specially formulated for metal
Not every water-based or oil-based paint would adhere to the steel. So, no matter which brand or type of paint you choose, make sure that it is precisely formulated for metal fencing. 
3. Durable Finish
Akin to any other product, you want your beautiful-looking fences to consistently look gorgeous after so much hard work. Choose a paint that makes sure the paint doesn't lose its sheen, chip or crack.  
4. Environmentally friendly
It's high time that we choose products responsibly. A good Steel fence paint should be low in VOCs, and safe for the user as well as for the world. 
5. UV stable
If you are painting Steel fences in Australia or New Zealand, your fences will get constantly get exposed to high UV rays over the years. For paint to maintain its look and durability, it should have UV Stability. 
Types of Steel paints available for your metal fences
Here is an honest comparison of 4 major steel paints available in Australia and New Zealand. Let's see how each of them performs based on the scale of – rust prevention, durability, fast drying, ease of application and clean up, formulated for metal, environmental safety, UV Stability and cost. 
Please note that while choosing paint for metal, you also have to select a primer to go with it. A primer acts as a shield. It is usually applied before painting to enhance the staying power of the paints. It also protects the metal surface from oxidation and corrosion from exposure to paint or other chemical elements. 
Primers are always recommended for the best results, although you can self-prime with premium-quality paints. 
OIL-BASED PAINTS FOR STEEL FENCES 
1. Wattyl – Kill Rust Epoxy Enamel 
Killrust Epoxy Gloss Enamel is a superior-performing, anti-corrosive topcoat specifically designed for metal surfaces. 
Features: 
Anti-corrosive epoxy formula.

 

Can be directly applied to suitably prepared steel

 

Available in gloss finish colours or a matt black finish.

Recoat time 16 hours

 
The cost of a 4 Litre pail is $124.40 
2. Dulux – Metal Shield 
Dulux Metalshield Epoxy Enamel is made for protecting and decorating metal surfaces. It's recommended to be used in combination with Metashield primers for industrial-strength metal protection. 
Features: 
Durability and protection

 

No primer is required for new bare steel, wrought iron or pre-painted metal 

 

Tintable to colours across the Dulux range

 

Protects against rust and corrosion

 

Recoat time: 24 hours

 
The cost of a 4-litre pail is $129.00 
WATER-BASED PAINTS FOR STEEL FENCES
1. White Knight Rust Guard 
 White Knight Rust Guard® Quick Dry Advanced Enamel is a fast-drying water-based topcoat. 
Features: 
UV resistance

Durability and opacity

Rust protection 

 

Non-yellowing colour finish 

 

Eight-year guarantee

Recoat time: 2 hours

 
The cost of a 4-litre pail is $179.00 
2. Forever Black Steel Paint 
Stock & Noble premium Steel Fence paint is specially formulated to be used on both Timber and galvanised metal fences. For ungalvanised steel fences, a primer must be used first. 
Features: 
Rust preventative 

 

Hot weather additive

 

Anti-mould technology

 

Odourless and harmless to horses

 

Satin/ low-sheen finish

 

10 yea

rs of Life expectancy

 

Recoat time: 2 hours

 
The cost of a 10-litre pail is $179.00 – this amounts to $71.60 for 4 litres however only a 10 litre size is available for sale.
Which Fence paint is right for the Steel Post and Rail fences on my property?
Like all property owners, you too want to create a beautiful equine property with a Steel fence paint that's strong, long-lasting and smooth.  
Now you know the differences between oil-based and water-based paints, so the first step is to decide which paint you would like to go ahead with. All steel paints are good and have their benefits. But whether you want an environmentally friendly water-based paint, or a durable oil-based paint is your choice.  
The next step is to judge your choice against the must-have features of the best steel paint. There are 4 types of Steel Fence Paints we have covered in this article. They all protect against rust and corrosion, have different times of recoating, the final finish of matt or gloss and vary in cost. 
While we've laid out a plan for you to choose the finest fence paint for your property, the final choice is yours. What kind of look do you want and the dollars do you wish to spend on transforming your fences?  
Once you've made up your mind on the paint, the final step is to gain the right knowledge of how to paint your steel post and rail fences. Learn the best practices and methods to coat your steel fences and make sure your painting project is smooth, efficient and give your fences a dream makeover, just the way you imagined. 
If you have more questions on the paint for your Steel Post and Rail fences or need help in deciding the right finish for your property, book a personalised consultation with one of our fencing experts. We will answer all your questions and make sure you have all the information to take the right decision.