Premium Steel Post and Rail Fencing – 7 biggest problems and solutions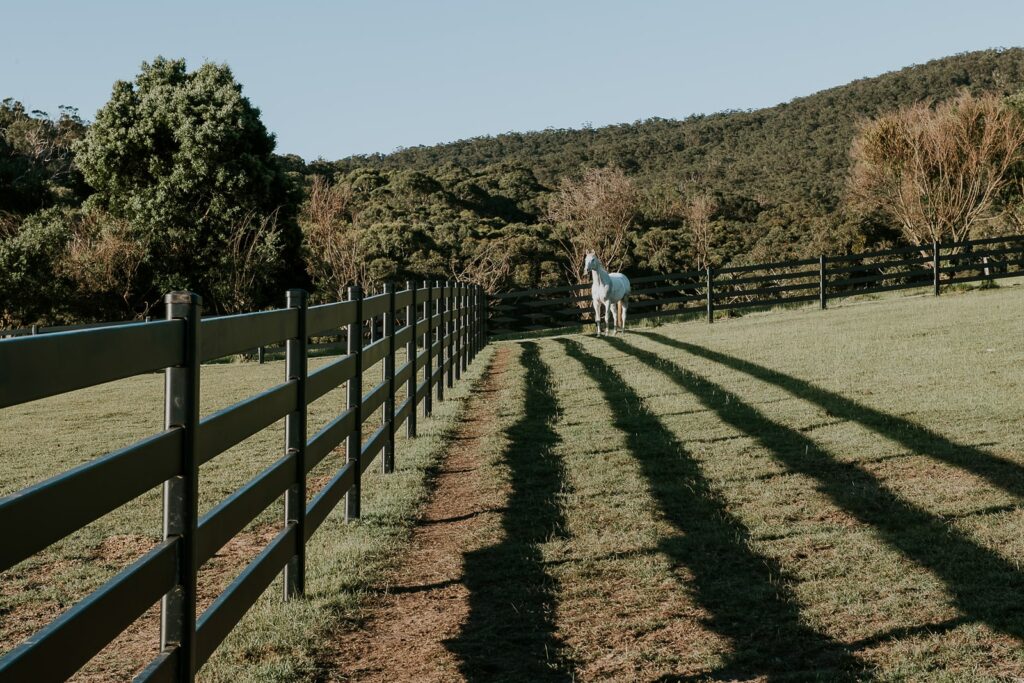 Are you building a forever equine property and your research for the best Steel post and rail fencing has led you to our exclusive Buckley Steel Fencing System? 
We are thrilled to know that you are considering the only engineered Steel Post and Rail Fencing system in the world. You have fine taste in fencing! Designed for signature equine properties, it's not only safe for horses but also good for the planet. 
Originally developed in America over 15 years ago, this highly successful steel fencing is exclusively supplied by Stock & Noble in Australia and New Zealand. While we love our Premium Steel Post and Rail fencing for its beauty, safety and longevity, we understand that it has its drawbacks. 
At Stock & Noble, we provide the finest and globally acclaimed fencing solutions to high-end properties across Australia and New Zealand. While Buckley is our flagship product and we believe it's the finest steel fencing you can get in the world, we are aware of its problems.
Your trust is extremely valuable and before you say yes to our Premium Steel Post and Rail fencing, we want to share its 7 biggest problems and the probable solutions so you can take a well-informed decision. 
In the end, you will have all the knowledge to tackle the problems and decide whether Premium Steel Post and Rail fencing is the right product for you. 
Problem 1: Shorter life in coastal areas  
In coastal areas where the moisture and salt content in the air are extremely high, steel fencing can face the issue of corrosion. Over time, exposure to moisture and other environmental factors can cause the steel to rust and weaken, compromising the integrity of the fence.  
To address this issue, our Premium Steel Post and Rail fences are typically coated with an architectural grade coating and the whole system has no penetration of steel. However, the harsh environmental factors can wear away this coating over time, leaving the steel vulnerable to rust. 
So, while Buckley Steel post and rail fencing typically lasts for more than 30 years in other locations, at coastal properties the life is up to 20 years or so. 
Solution 
Regular maintenance, including cleaning and repainting, can help to prolong the life of your Buckley steel fence and prevent corrosion from taking hold. 
Problem 2: Limited design options 
While Buckley steel fences are known for their strength and durability, they offer limited design options compared to other fencing materials like wood or vinyl.  
It's an engineered system and to work efficiently and effectively the steel panels are typically uniform in size and shape. So customising post sizes or upgrading to larger fence posts is not possible. 
Solution 
You can use brick pillars or other products to create a grand entryway and make a statement along with the premium steel post and rail fence. It is also possible to incorporate other materials, like wood or glass, into your steel fence design to add some visual interest. 
Problem 3: Spider infestation 
As Buckley is a hollow fencing system, spiders tend to build their webs inside, especially if the latching system or gates are not frequently used. However, this problem is not widespread and depends on the location of the property and the prevalence of spiders in the area. 
Solution 
To eliminate spiders, you can hire pest control services to spray the fencing line, which should resolve the issue. 
Problem 4: Limited colour options 
Our Premium Steel Post and Rail Fencing is only available in two colours, black and white. Unfortunately, custom tones are not available with this high-end product. 
Solution 
There's no solution. The colours of Premium Post and rail fencing are chosen based on the fact that maximum high-end horse fencing at signature equine properties is either white or black.  If you want another colour you may have to choose a different product 
Problem 5: Precise installation requirements  
Installing the engineered fencing system requires following the installation documents meticulously. An installation error may not yield the desired results. For instance, if the post spacing is too far apart, it's difficult to fix as you cannot increase the length of the rails.  
Also, the post spacing and rail positions are pre-manufactured. As a result, achieving a low fence is not possible since the bottom rail has a fixed place and will hit the ground if pushed further down. 
Most importantly, failing to follow the installation instructions may void the warranty. 
Solution 
All you've to do is follow the instructions if you're installing yourself or hire a good fencing contractor. Once the Premium steel post and rail fencing is installed accurately you will have the satisfaction of realising the property of your dreams. 
Problem 6: Aesthetic concerns on slopes 
If the gate location is on a sloping fence line, the pre-welded gates may not look aesthetically pleasing as they swing on the bearings of a vertically installed mounting post. It does not follow the same gradient as the fencing. 
On a steep slope, the fencing may have a slight visual step as the rails enter the posts at an angle, while the mortices on either side of the post are levelled. Consequently, the fence rails are visually at an angle, and the width of the posts is flat, creating a stepped effect. 
Solution  
These issues can be resolved with good fence planning, and our fencing consultants can guide you through them. 
Problem 7: High cost 
Finally, one of the biggest problems with Buckley steel fences is the cost. Steel is a more expensive fencing material compared to other options like wood or vinyl. 
Solution 
It is important to remember that while the upfront cost of a Buckley steel fence may be higher, the long-term benefits, including durability, security, and low maintenance, can make it a wise deal. Dig deeper and find out despite the cost why is it worth investing in Premium Steel Post and Rail fencing. 
Are you ready to tackle the problems of Premium Steel Post and Rail fencing? 
You are considering our Premium Steel post and rail fencing to build your dream property and wanted to know if there are any problems that you should be aware of before making the final decision. 
Now you know that while our Premium Steel Post and Rail Fencing is one of the most beautiful and high-end solutions with long-term benefits, it has a few limitations, such as customisation options, colour choices, and precise installation requirements. However, with proper planning, accurate installation and consultation with our fencing experts, most of these issues can be overcome. 
To gain further clarity on whether Buckley is the right fencing solution for your forever equine property, it's a good idea to check out the review of Premium Steel Post and Rail fencing. 
We believe you should take as much time as you want and do thorough research before finalising your horse fencing. After all your signature equine property deserves the perfect fencing solution based on your budget, your animals and your vision. If you have more questions about the cost, installation or availability of our Premium Steel Post and Rail fencing, book a personalised consultation with one of our fencing experts. Discuss your project in detail and get a piece of professional advice to create a safe and beautiful equine property.