What's the Cost of Fence Posts in Australia?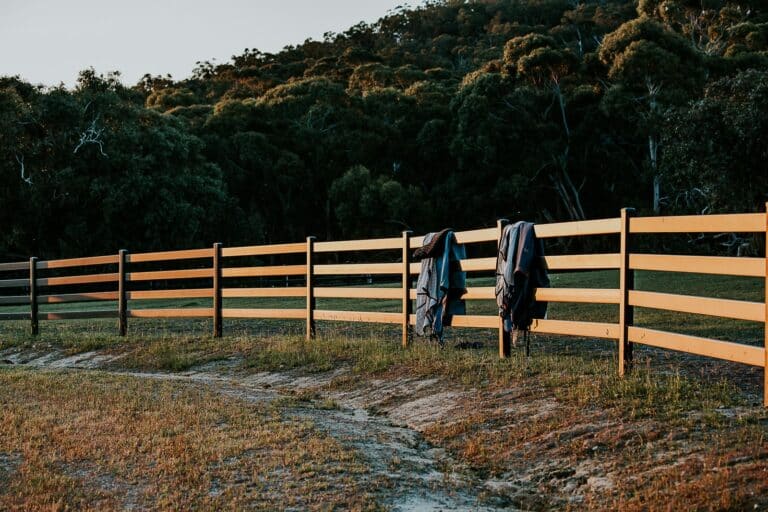 Fence posts have varied usage across Australia. From commercial properties like horse studs to acreage properties, fence posts are the backbone of any and every fencing providing stability and support. 
If you are looking for ideal fence posts for your fencing, the first step would be to acquaint yourself with different types of fence posts. Once you've made up your mind learning about the cost can further help you narrow down your choices based on your budget and make the right decision. 
At Stock & Noble, we provide the finest fencing solutions to high-end horse properties across Australia and New Zealand. Fence Posts are an integral part of our portfolio which comprises globally successful and animal-safe fencing products. Based on our expertise and experience of the fencing landscape in Australia, we will share the costs associated with different types of fence posts. 
In this blog, we will discuss the material and installation costs of 3 main types of fence posts including timber, steel and composite. We aim to provide you with a comprehensive understanding of the expenses involved, including additional elements like necessary equipment, maintenance, and more. 
Once you're through with this blog, you will have a good understanding of the cost of the following fence posts: 
Timber Fence Posts 
Treated Pine Fence

 

Australian Hardwood
Composite Fence Posts 
Plastic

 

PVC

 

WoodShield (a blend of plastic and timber)

 
Steel Fence Posts 
Galvanised Steel Posts (Cattle Rail)

 

Powder-Coated Premium Steel Posts (Buckley)

 
Cost of Timber Fence Posts
Cost of Treated Pine Fence Posts: $20 to $40 per post
Treated pine fence posts come in a broad price range and are widely available for most fencing needs. 
Cost of Australian Hardwood Fence Posts: $80 to $120 per post 
Australian hardwood posts are a durable and higher-end option for fencing projects. 
These cost estimates apply to fence posts measuring 1.8m in length and shorter than 3 meters, with a diameter of 80mm and less than 200mm. 
For a better and deeper understanding of this product, check out the problems with timber fence posts and their probable solutions. It will help you be prepared to tackle the challenges. 
Cost of Composite Fence Posts 
There are different types of plastic fence posts available in Australia. We will share the cost of the three most popular options here: 
Cost of PVC Fence Posts: $35 to $65 per post 
Cost of Plastic Fence Posts: $30 to $60 per post
Cost of Composite Fence Posts: $20 to $60 per post
The huge variation in prices across the Composite category is because there are varying types of posts offered by different suppliers based on their shape, size, quality and usage. 
If you're considering this option, it'll be worth digging deeper into the problems with plastic fence posts and their probable solutions. 
Cost of Steel Fence Posts
There are two main types of steel fence posts available in the market – galvanised steel also called Cattle Rail and powder-coated premium steel fence posts from Buckley. 
A detailed comparison between Cattle Rail and Premium Steel Post and Rail Fencing is the first step towards understanding the main differences between the two and finding out which would be a better fit for your property. 
Cost of Galvanised Steel Fence Post: $97 to $125 per post 
Cost of Powder-Coated Premium Steel Fence Post: $135 to $175 per fence post. 
It'll be worth learning the reasons why Premium Steel Post and Rail Fencing is one of the most expensive fencing solutions in Australia. 
Additional Materials to Be Considered While Calculating the Cost of Fence Posts
The required additional materials can differ significantly based on the following factors: 
1. Attachment Requirements:
Consider the need for screws, welding equipment, post caps, or labour for cutting or drilling holes into the posts, depending on what you are attaching to the posts. 
2. Installation Methods:
Some posts may need to be rammed into the ground, while others might require drilling and concreting. In the latter case, concrete becomes an essential additional material. 
In addition, the fencing material you intend to attach also contributes to the overall cost. 
Factors That Can Affect the Pricing of Fence Posts
Availability:
The availability of fence posts can affect pricing. When posts are in high demand and supply is limited, prices tend to rise. Conversely, during periods of ample supply, prices may be more competitive. 
Geographic Location:
The location where you're purchasing fence posts can influence prices. Different regions may have varying production costs, and transportation expenses can also differ, leading to price disparities. 
Freight Expenses: 
The cost of shipping or freight is a crucial factor in determining the overall price. Longer distances or the use of specialised transportation methods can increase the total expenses associated with obtaining fence posts. 
Quantity: 
Buying fence posts in larger quantities can often lead to cost savings. Suppliers frequently more favourable rates for bulk orders, making it cost-effective to purchase posts in significant quantities. 
Installation Costs of Fence Posts in Australia
There's a notable variance in installation costs due to the multitude of factors involved. 
Factors affecting the cost of fence post installation 
Location and Availability of Installer:
Depending on where you're located and the availability of installers, the cost of installing fence posts can vary. 
Quantity and Ground Conditions:
The number of posts needed and the ground conditions, such as rocky terrain, underground obstacles, or soft ground, can impact the overall installation cost. The type of posts and the machinery required are also determining factors. 
Costs of Installation by Fencing Contractors
The costs below are to help you gain a broad idea of what your fence post could cost and prepare a rough estimate. It's recommended to get a final and detailed quote from your installer or supplier. 
Hourly Rate: Ranges between $150 and $200
This price is inclusive of tools and machinery. 
For instance, if you request the contractor to ram 40 posts in a straight line, it might take them approximately 3 hours to complete the task. 
Per Post Rate for Ramming: Steel or plastic posts can cost between $20 and $30 per post. 
Considering the specific ground conditions and other relevant factors. 
Concrete Post Installation: Price can range from $135 to as high as $200 per post.
The fencing contractor is required to dig holes and concrete in the posts, where typically the concrete costing $30 per post is supplied by the installer and included in the overall expense. 
Securing a Quote and Local Contractors
Ultimately, the best approach to estimate the installation costs accurately is to obtain a detailed quote from a reputable fencing contractor in your area. 
If you require assistance in connecting with a reliable contractor, let us know and we can introduce you to fencing installers around your location. 
Reasons for Huge Variation in Cost of Fence Posts
The fencing market in Australia offers a wide variety of options to cater to diverse scenarios, applications, and requirements. Different properties such as acreage, commercial properties, or equine facilities, may require different fencing options to meet specific needs. 
Within this array of options, you'll find cost-effective solutions that may not guarantee long-lasting durability. There are also functional choices tailored to specific needs and aesthetically pleasing designs crafted to stand the test of time. This variety within each category is the reason for the extreme price variations we've highlighted through the blog. 
There are further differences in fence posts based on quality, performance, aesthetics, longevity and strength. 
While pricing is essential, investing in products that offer longevity and enhance property value is also a crucial consideration, and these factors are central to our recommendations at Stock and Noble. 
Ready to Buy the Best Fence Post for Your Property?
You wanted to find out the cost of different fence posts available in Australia. 
Now you are well-versed with the material and installation costs for various fence posts, including treated pine, Australian hardwood, PVC, plastic, composite materials, galvanised steel and Buckley. 
With numerous price points to consider, it's crucial to identify your top three priorities for your fencing project. This can help narrow down your options for posts and fencing types. Consulting a fencing expert or a local contractor can provide clarity and guidance for making informed decisions. 
While at Stock and Noble, we primarily specialise in premium, long-lasting properties, our knowledge of the fence post industry enables us to offer valuable insights and guidance for more budget-friendly solutions as well. 
One advantage of working with us is our ability to provide various fencing options and offer accurate estimates for installation costs, factoring in variables like travel and ground conditions. This streamlined approach allows you to make crucial decisions earlier in the process, saving time and effort on products or installers that may not fully meet your needs. 
Early consultations with experts can aid your research, providing you with a comprehensive understanding of available options and their suitability for your specific requirements. 
In conclusion, Australia's fencing market is diverse and versatile, offering options for a wide range of needs and preferences. By prioritising your specific requirements and seeking expert guidance, you can navigate the multitude of options to select the most suitable fencing solution for your project.