Exploring the 5 Most Popular Fence Colours for Rural Properties in Australia.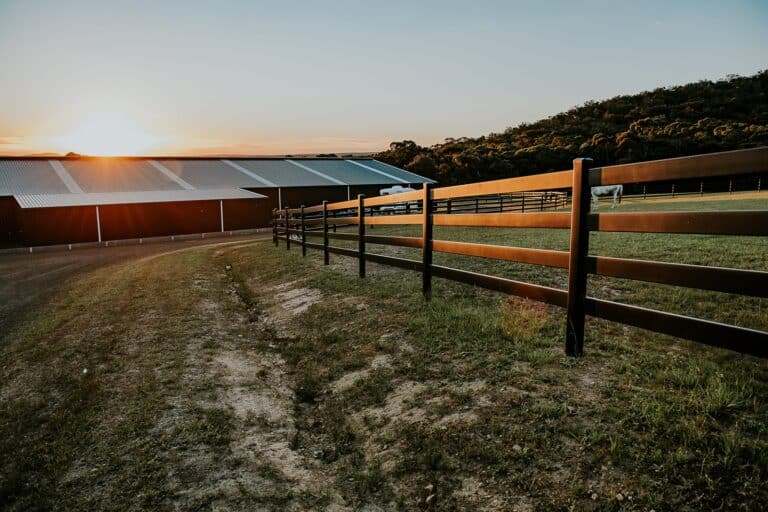 Choosing the right colour for your rural property's fence is like finding the perfect blend of beauty and practicality. It's the most exciting part of designing your dream property and this decision not only impacts the immediate visual appeal of your property but also resonates deeply with the essence of your style and the character of the land itself. 
At Stock & Noble, we provide the finest fencing solutions to signature properties across Australia and New Zealand. Post and Rail fencing is our most loved fencing – then be it the Premium Steel, finest hardwood or Horserail. Over the years we've helped our clients create beautiful properties that match their vision and style. From advising on design to the final execution we've been there every step of the way. We've learnt that choosing the right colour for your fence can significantly impact the overall appeal of your property. 
Based on our extensive experience and observations across various regions in Australia, we've identified the five most favoured fence colours. Join us as we find out the reasons behind their popularity and why they remain a preferred choice for equine, lifestyle, and rural acreage properties. 
You'll uncover key insights and reasons behind the popularity of these colours along with a percentage break-up for an easy overview. In the end, you will have enough information and confidence to choose the right fence colour for your signature property. 
Fence Colour 1: Black Fence – The Timeless Favourite (50%)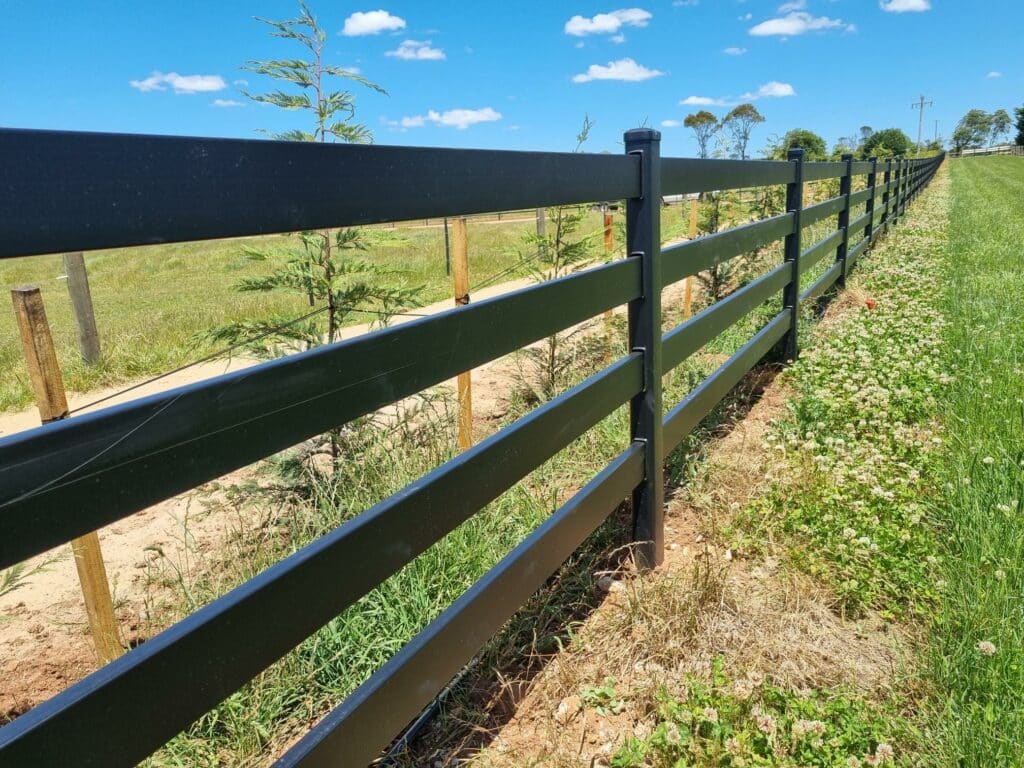 In our extensive travels across all regions of Australia, where we've had the pleasure of visiting clients with premium acreage and equine properties, one colour stands out as the overwhelming favourite, making up nearly 50% of the fences we've encountered. 
Aesthetic Appeal and Versatility
Whether it's crafted from steel, timber, or a flexible material, the colour of choice is black. But why, you might wonder, do so many people opt for black? It all comes down to aesthetics. 
Everlasting Elegance and Practicality
Black fences are timeless, and beautiful and can be used to render a traditional as well as a modern and minimalistic look. They do provide safety for horses but are primarily chosen for their visual appeal. Black fences also possess a unique quality – they blend seamlessly into the landscape, making them an excellent fit for large acreage properties. 
In contrast, the stark whiteness of some fences can become overwhelming, especially on vast estates. So, while white might be a charming choice for a smaller house, it's a different story on a sprawling rural property. 
Overall, the classic beauty of black fences complements large properties without overwhelming the landscape. Also, the presence of social proof and proven return on investment instils confidence, leading many to opt for black fencing. 
Fence Colour 2: White Fence – Reflecting Elegance (15%)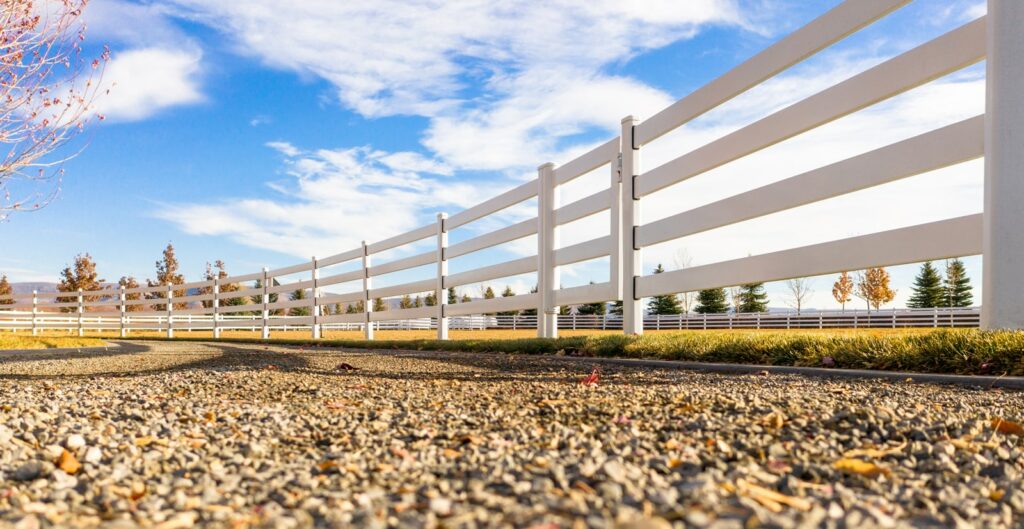 While white fencing constitutes a smaller percentage of rural fences, it finds a special place in certain regions such as Northern Queensland and Adelaide Hills, where it accounts for around 15%.
The charm of white fences lies in their ability to exude elegance and sophistication. This is particularly evident in areas like Adelaide Hills, known for its German heritage and charming white fences that beautifully complement the local architecture. 
Considerations and Maintenance
However, it's worth noting that if not designed carefully, white fences might look heavier when used in abundance on acreage properties. Also, maintaining white fences might require a bit more effort compared to other colours. 
Aesthetic Impact
Nonetheless, when white fences are incorporated into the right property with the appropriate fencing design, they can look amazing. 
When executed correctly, white fences provide a touch of timeless class to any rural property. 
Fence Colour 3: Natural Timber – Embracing the Organic Charm (20%)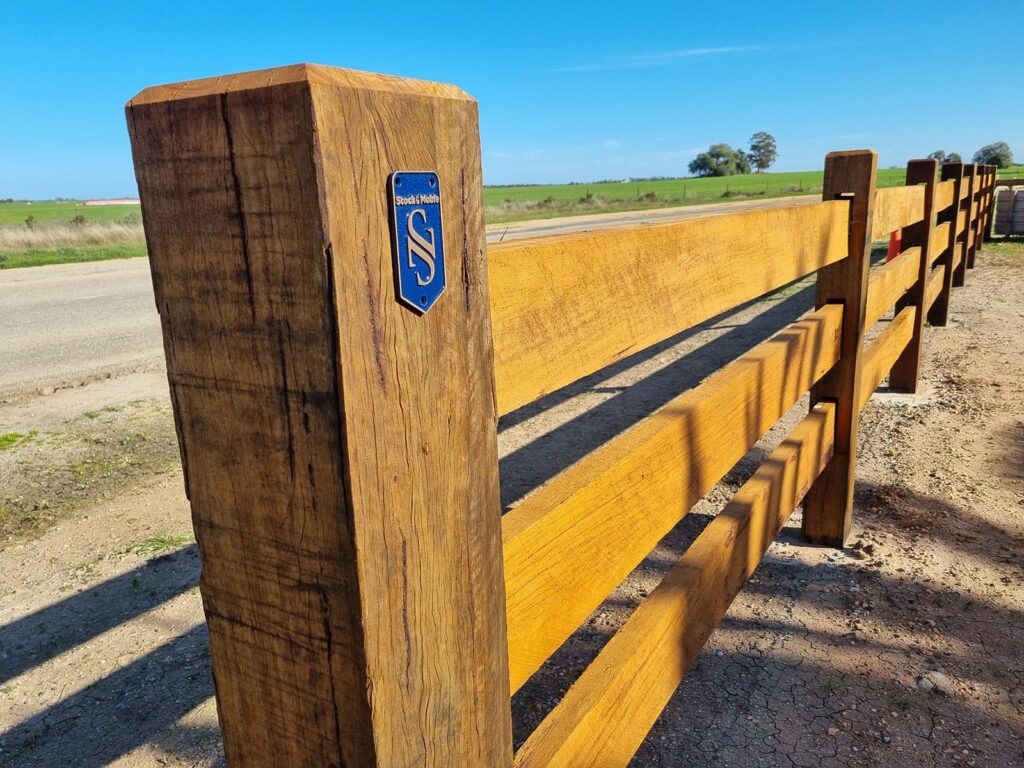 The earthy, organic charm of timber or treated pine accounts for a significant portion of rural fences, roughly 20%. These fences are left in their natural state, as supplied by the vendor, without staining or painting, creating a rustic and real feel that resonates with the country surroundings 
Functional Approach
Property owners who follow this approach typically intend to install the fence for practical reasons. They believe that if they ever wish to enhance the property's appearance, they can easily do so by painting the fencing at a later date. This approach offers them the flexibility to add a personal touch to their property when the time is right or when their priorities change. 
Colour 4: Custom Fence Colours – Reflecting Personal Style (5%)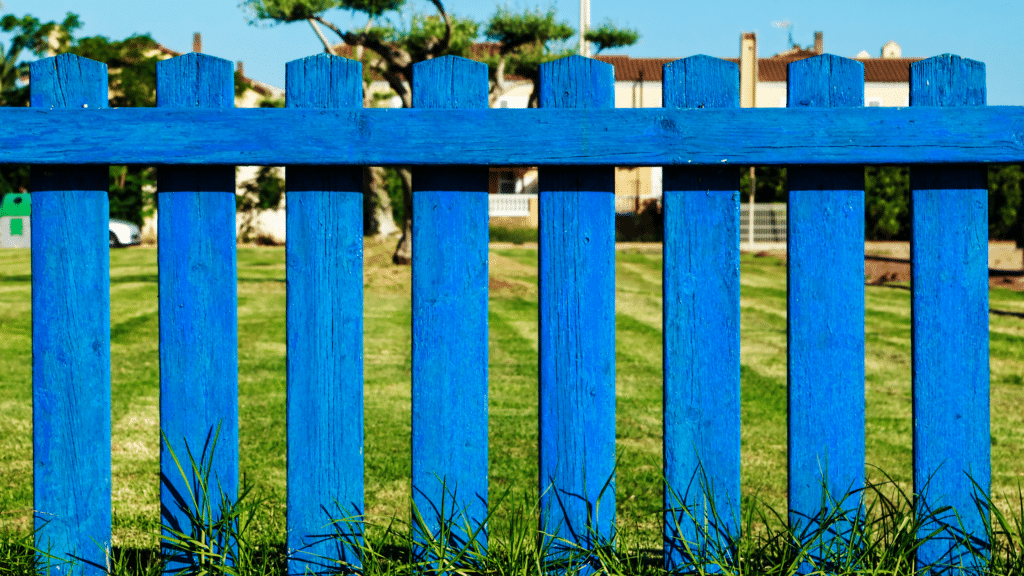 Opting for custom colours such as wooden hues, grey, or classic cream accounts for about 5% of property owners' choices. These colour preferences often complement the house's cladding or reflect a specific aesthetic or theme they wish to achieve for their property. 
Fear of going out of fashion
Over the years it's been interesting to see not many individuals deviating from the norm, steering away from the conventional colour schemes. One reason for this is that non-neutral colours tend to cycle in and out of fashion. Black and white, on the other hand, remain timeless, enduring for a century, and are still favoured for premium properties. 
Challenges in Colour Choice
Obtaining post and rail fencing in anything other than black or white from a supplier can pose a considerable challenge. Most suppliers seem to exclusively offer black or white options, with many PVC suppliers solely providing white fencing. Securing a non-traditional colour might require taking matters into your own hands and painting the fencing yourself. 
In our experience, although many fencing suppliers offer brown, we have yet to come across a single prestigious property featuring a brown-coloured fence. 
Diverse Options with Steel Post and Rail Fencing
Fencing suppliers like Dunn and Farrugia and Blue Dog Fences do offer a variety of colours for steel posts and rail fencing. Local manufacturers are better equipped to cater to custom colour requests. However, the availability of inspiration for custom colours might be relatively limited.  
Fence Colour #5: Galvanised Steel Grey Fence– The Functional Choice (10%)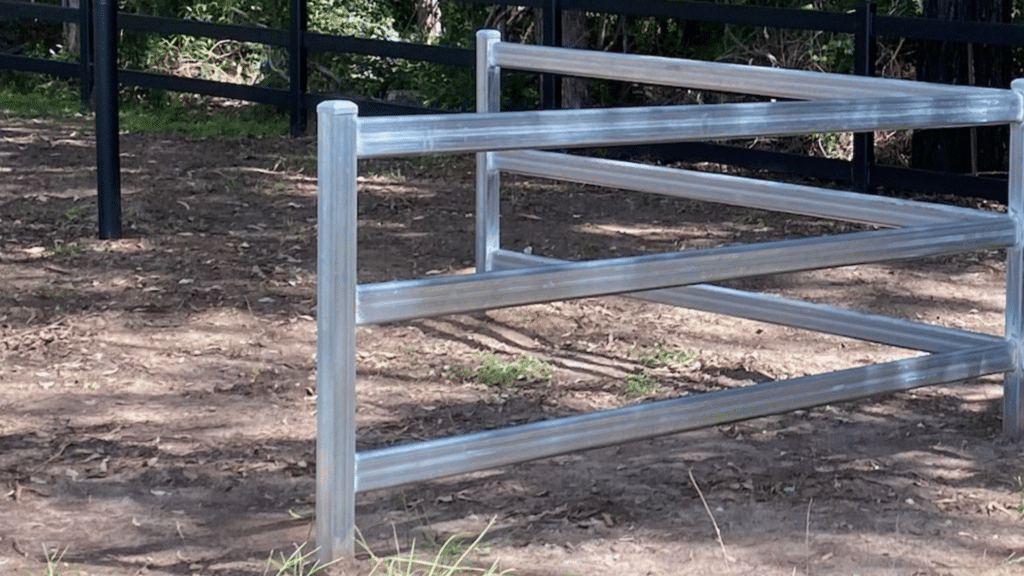 Galvanised steel fencing, often resembling the colour steel grey, constitutes around 10% of the fencing used, particularly in equine and cattle properties across Australia. In these settings, functionality takes precedence, and fences are typically left unpainted. This preference primarily stems from the absence of readily available, high-quality paint solutions for cattle rail. 
A Shift in Possibilities
However, times are changing. Stock and Noble, alongside some other suppliers, now offer premium steel fence paint solutions tailored to this specific application. Property owners are gradually embracing the idea of painting their steel fences to enhance both aesthetics and durability. 
A Solution for Termite-Prone Regions
In regions like northern New South Wales and Southern Queensland, where termite infestations pose a significant threat, timber fences struggle to survive.
In response, many property owners turn to unpainted cattle rail as the next best alternative. It's typically left unpainted due to a shortage of suitable steel paint options and because a majority of people follow this standard practice. 
The Emergence of Premium Steel Fencing 
A growing number of signature properties are now opting for Buckley and Black fencing, reflecting a departure from the conventional choice of leaving cattle rail unpainted. This shift highlights an increasing awareness of the advantages and high aesthetics beautiful steel fences can bring to these properties. 
Check out a recent example of property owners in Southern Highlands, NSW.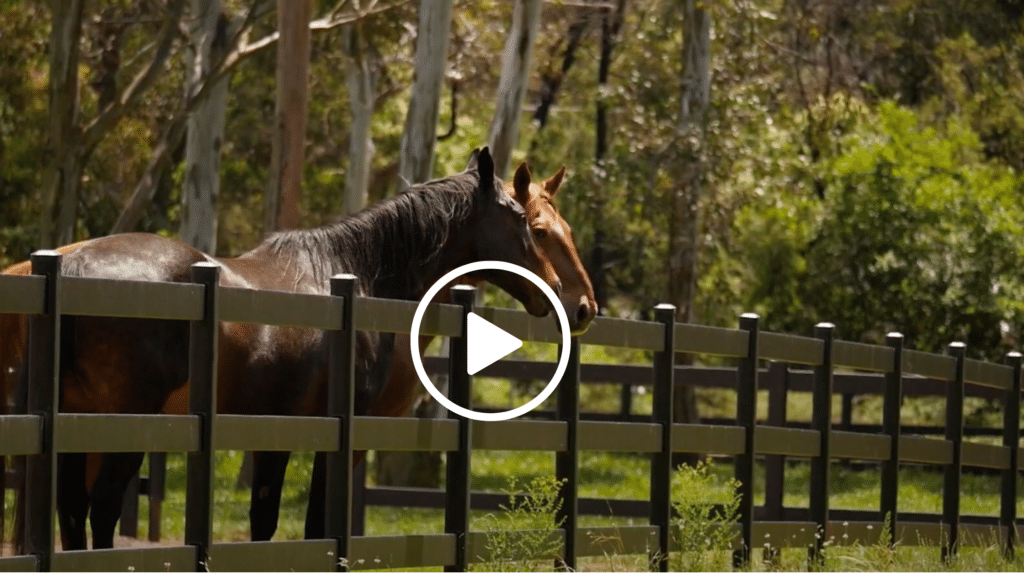 Ready to Choose Your Fence Colours?
In summary, as you ponder over the colour scheme for your fencing project, it's crucial to consider various aspects of each option. 
Custom colours, while visually striking, may run the risk of falling out of fashion over time. 

 

On the other hand, steel grey, though practical, may not be the best choice for properties aiming for a distinctive, high-end look.

 

Natural timber, with its inherent rustic charm and organic feel, holds a unique place in the world of post and rail fencing, offering an irreplaceable appeal that resonates with the essence of the countryside.

 
However, it's important to note that while timber exudes an authentic aesthetic, it also presents several drawbacks that require careful consideration before deciding.  
Conversely, the white fencing trend has suffered from the negative impact of the PVC industry, with poorly constructed white PVC fences undermining the overall standard of white fencing. 
The charm of white fencing has somewhat diminished due to the widespread use of PVC materials. However, still prevalent in certain pockets of Australia.

 
The adoration for black fencing continues to grow, owing to its ability to enhance the overall appearance of any property and create an illusion of lusher, greener grass.

 
This timeless option remains readily accessible from most suppliers, reaffirming its popularity, as evidenced by its widespread presence throughout Australia. In case you have an equine property, it'll be worth finding out whether black or white fencing will be right for you. 
Overall, to make an informed decision about the ideal fencing choice for your property, it's important to define a clear vision of your desired outcome. Consider reaching out to a consultant for personalised guidance and assistance.
Our team can aid in this process by offering fencing samples or guiding you to neighbouring properties that showcase a range of fencing options. This will help you gain clarity and make a well-informed decision about the colour that best suits your property's unique aesthetic and functional needs.