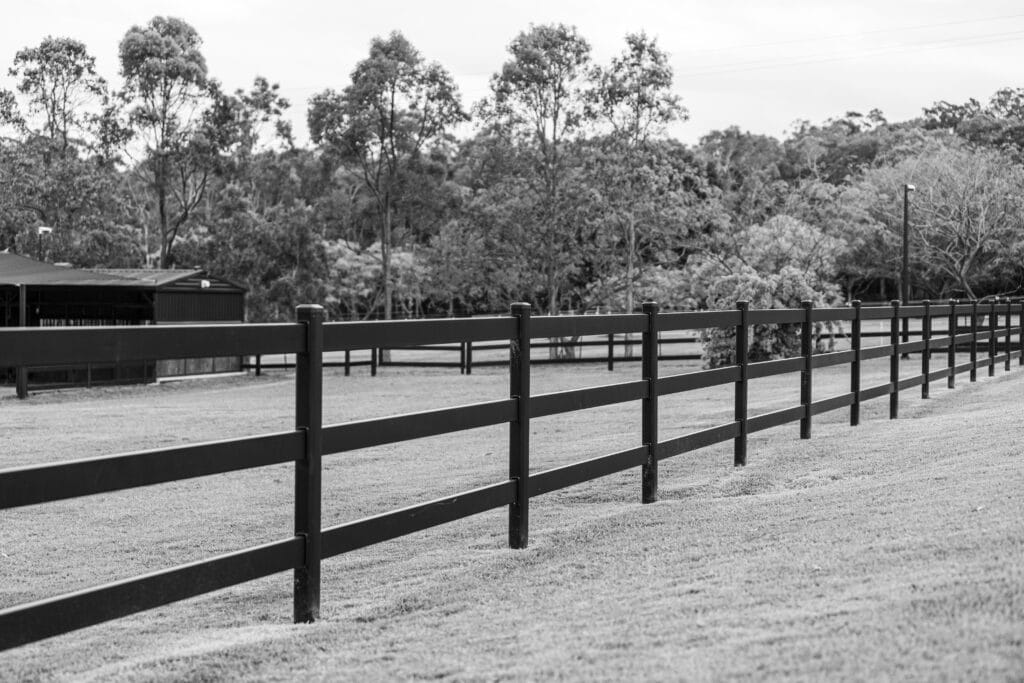 As an equine property owner, you already know that the right horse fencing solution is essential for establishing a safe and beautiful horse property. And if you want your horse fencing to function correctly, it's critical to pick the right fence posts.  
A fence post is required to keep the horizontal product well tensioned, stable, safe and effective to contain horses as well as elevate the looks of your dream property.  
While there are several options for fence posts available today, choosing a fence post for a horse property is slightly different since it involves large strong animals, with soft skin and a tendency to take flight. 
The safety and effective containment of horses are top priorities, and the choice of a fence post should largely be driven by them. A wrong product could lead to an injury, tangling of their legs or hooves, breaking or chewing the fence posts and eventually wasting your time, effort and money. Most importantly it might seriously impact the health and well-being of your favourite animals. 
Stock & Noble provides high-end horse properties across Australia and New Zealand with the finest fencing solutions. Our horse fencing products are chosen based on their proven success and horse safety around the world.  
Based on our expertise and experience in creating safe and beautiful equine properties, we will share a 5-step process to choose your fence posts. 
In this article, you will get a comprehensive checklist to tick off before buying a fence post. If you're an equine property owner, these steps will help you avoid common mistakes and create a safe barrier for your horses. 
Step #1: Check if the fence post is horse safe. 
Step #2: Confirm if the fence post is long and wide enough to stay strong 
Step #3: Look out for any sharp edges in the shape 
Step #4: Consider all the fence post requirements  
Step #5: Check the compatibility of your horse fencing with the fence posts 
Step #1: Check if the fence post is horse safe. 
It is the nature of horses to flee. Their natural defence mechanism is to run away if there's ever a need to protect themselves. And since they run fast, the only thing that can safely stop and prevent their escape or probable injury is a strong and visible fence.  
To be considered horse safe,  
The fence posts should be designed for horses
The wrong fence posts that break too easily on impact can lead to the horse getting away. Or if they are too rigid, it can lead to an injury or horse fatality. To avoid such a situation and because of the intrinsic nature of the horse, you need to have the right posts which are designed for horses. 
The material of fence posts should deter cribbing
Another safety concern is if a horse is a cribber and the material of the fence posts would further aggravate this problem. If that's the case, choose fence posts that a horse cannot bite chunks off. Also,  posts that are laden with chemicals like Treated Pine could adversely affect horses' health and should be avoided. 
We recommend checking with your fencing supplier whether the fence posts are specially designed or considered safe for horses. 
Step #2: Confirm if the fence posts are long and wide enough to stay strong 
 Fence Posts for horse fencing should have the required strength to stop the horses yet should be flexible enough to have some 'give' and avoid injuries.  
Typically, the posts have to be either rammed into the ground or concreted into the ground. That's what they get their strength from. In usual practice, the Fencing Contractors bury half a metre to more than a metre inside the ground.  
The length of fence posts above the ground is usually 1400mm and in some cases with stallions on the property, the fence posts could be as high as 1.8 metres out of the ground. 
While choosing a Fence Post for horse fencing, remember to pick one that's long enough to be buried deep and wide enough to keep the fencing line strong and sturdy. 
Step #3: Look out for any sharp edges in the shape 
 Fence Posts are usually available in round, square or rectangular shapes.  
Pick one that doesn't have any sharp or pointed edges which are likely to poke or tear the skin of your animals. 
Step #4: Consider all the fence post requirements on your property 
 On a horse property, typically two kinds of Fence Posts are needed: Strainer posts or strainer assemblies for the ends or corners of the paddock and Line posts to go in between these strainer posts. 
 Strainer posts/ assemblies

mark the end of a fencing line or are placed at the corners. The posts at the corner join sections at a 90-degree angle

or can be required for smaller angles/curves.

They keep the whole fencing in place and strong posts made of wood or steel are needed here for effective results. Especially to keep the fence straight, safe and stunning.
 

Line or intermediate posts

 are needed for the straight sections of fencing. They hold the rails, wires or board fences together with an ideal post spacing.
While choosing the right material for your Fence Post, consider both requirements.  
We recommend using heavy materials like Steel or possibly Timber for strainer assemblies. Composite posts are probably a better fit for line posts and not end or corner assemblies. 
Step #5: Check the compatibility of your horse fencing with fence posts 
The Fence Posts should be selected in conjunction with your fencing to achieve an ideal fencing solution.  
For example, if you are choosing Steel Posts and Rail, Buckley Steel Fence will have both post and rail as a part of its fencing system. And it's recommended to use them together.  
If you're opting for Sighter Wire as a cost-effective fencing solution, spending on premium posts like Hardwood or Steel is probably not a great idea to fit your budget. And you'd be better off choosing Treated Pine Posts. 
If your choice of fencing is Horserail, plastic posts like Hogan posts would probably work best in conjunction with flexible plastic rails and last as long as the fencing itself.  
Are you prepared to choose the Fence Post for your horse property? 
Designing a horse property requires you to pay attention to every detail. Be it choosing the right fence, or the fence posts needed to hold it all together. You want a solution that's suitable for you, your vision, your property and your animals. 
You can use the checklist above to judge different fence posts, and choose the one based on safety, functionality, and compatibility with your horizontal fencing.  
Before you make the final decision on a fence post, it will be worth reading a detailed comparison between different types of fence posts available today With in-depth information on the pros and cons of each option, you will be able to make the right choice to build a safe and beautiful equine property. 
If you have any more questions on a specific Fence Post for your equine property. Or if you need guidance on how to buy, order, and install Fence Posts that are perfect for your property, then book a free consultation with us. One of our fencing experts will contact you to understand your needs and streamline the process to create an equine property just the way you imagined.