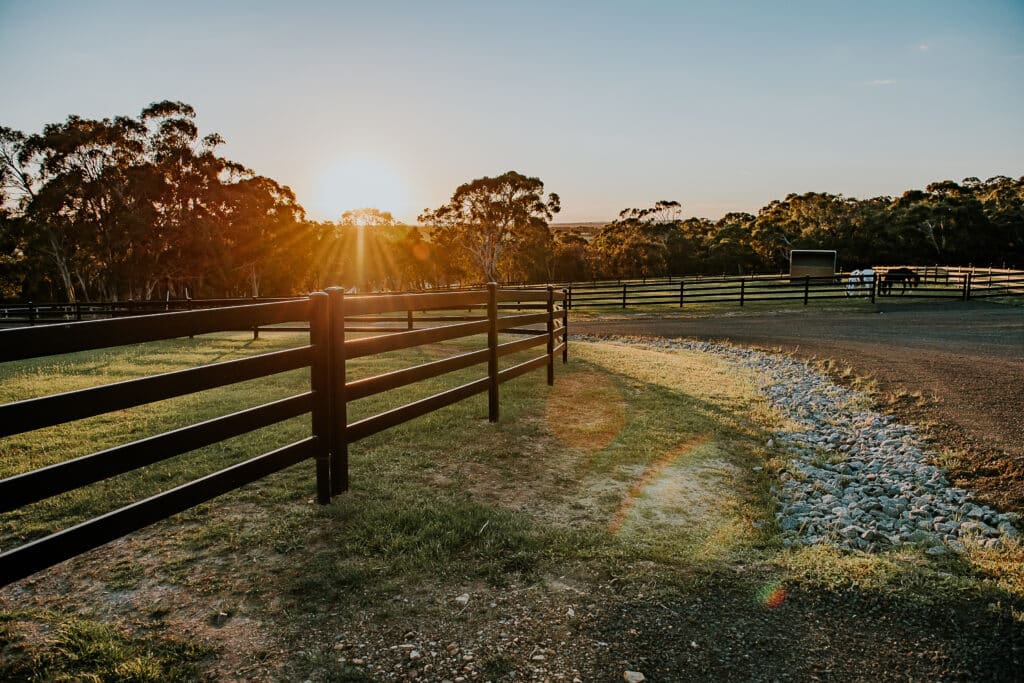 Horse fencing is not just about keeping horses safe and contained, it is also an important aspect of the overall design of your property. There are many different horse fencing design ideas to choose from, each with its unique aesthetic appeal. 
If you are looking to design the most beautiful and safe horse property that matches your vision and want to know some of the latest horse fencing ideas for inspiration, then keep reading. 
At Stock & Noble, we provide the finest fencing solutions to high-end property owners across Australia and New Zealand. Based on years of helping signature properties design their gorgeous horse fencing layouts and knowledge gained from studying globally successful fencing trends, we have curated four ideas that will be leading the way this year. 
This article will discuss the most inspiring horse fencing design ideas to help you create a functional and beautiful space for your horses.  
Add natural or architectural curves to your horse fencing design

Utilise angled fencing in your horse fencing layout

Match the entryway of your horse fencing with your house

Keep timber out of your horse fencing selection
With a little bit of imagination and the help of our reference images, try and envision your signature property. Trust us, these ideas have the power of transforming an average horse property into an aspirational signature property that truly reflects your personality. 
Idea 1: Add natural or architectural curves to your horse fencing plan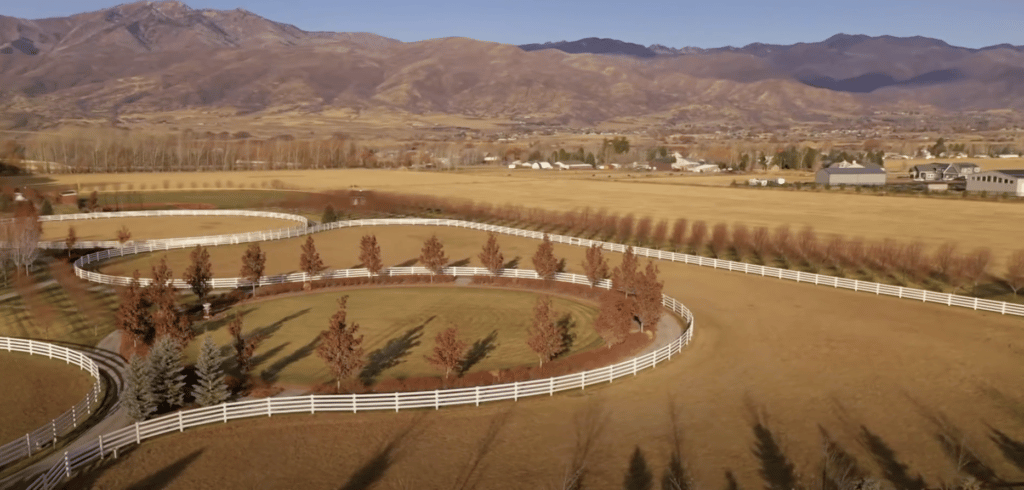 Adding curves to a horse fencing layout design can create a more natural and visually pleasing look. Straight, square paddocks have been there for ages, and on some properties, straight fencing is the right thing to do, but now the time is to add curves at strategic points that give your horse property a beautiful flow and create a naturally beautiful design. 
Curved fencing can follow the contours of the land, providing a more seamless integration into the environment. This can be particularly useful for horse properties that are located on a slope or hill. Curves can also break up the monotony of straight lines and can add an interesting design element to the overall layout. As a famous landscape architect once said 'nobody likes just straight lines'!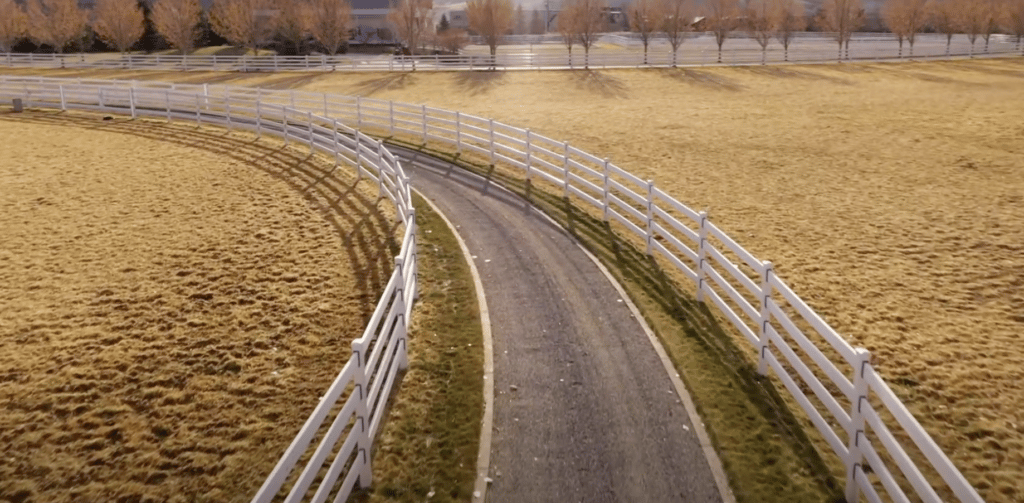 A beautiful product like Premium Post and Rail fencing from Stock & Noble can surely help you add natural curves to your layout and build a stunning and safe property. However, along with the right fencing solution you also need the right design to take your horse property to the next level.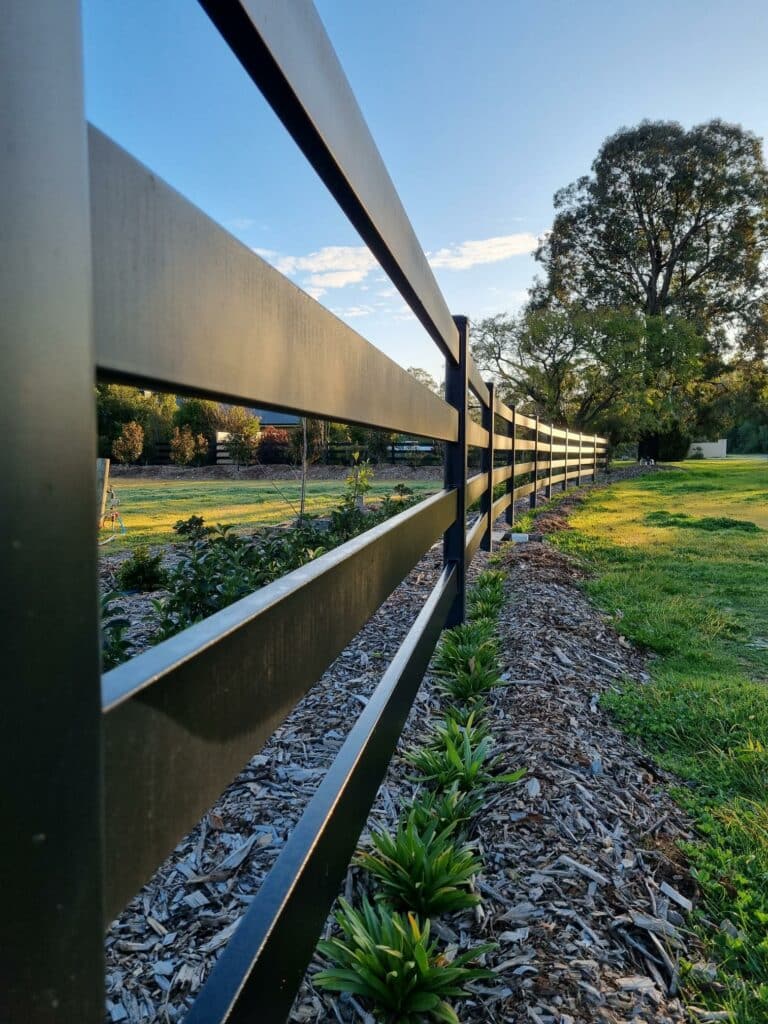 We recommend involving an experienced landscape architect and other professionals to achieve the desired design at the beginning of your fencing project. 
It will also help to consult with fencing experts to ensure proper design and installation. At Stock & Noble, we provide you with a detailed CAD design to translate your vision on paper in a systematic way. 
Idea 2: Include angled fencing in your horse fencing layout 
Angled fencing can be an excellent addition to a horse fencing layout design.  
While the unique design of angled fencing can add character and charm to any horse fencing layout, the biggest benefit is on a functional level.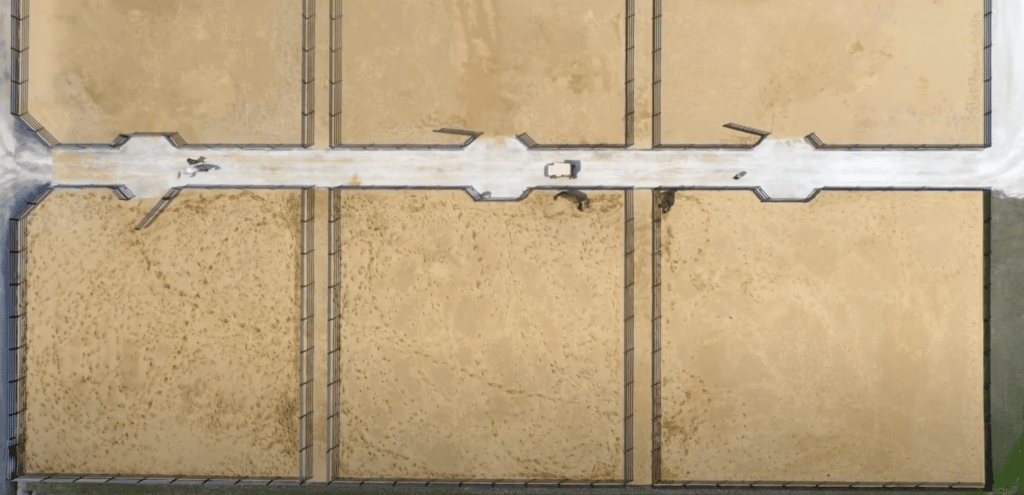 For example, as seen in the image, adding a 45-degree angle before the gate can create a big difference in everyday horse management. 
Typically, in a straight fencing line, as you open the gate of the paddock the horse comes to greet you and it becomes difficult to open the gate while a heavy and spirited animal is pushing against you. 
With angled fencing as you enter the paddock, there's less likelihood of horse pushing against the gate, and you can simply open it to enter and exit. 
It might seem like a small change; however, angled fencing is a beautiful and intelligent design element that can make the overall experience efficient and animal management much more convenient at your property. 
Idea 3: Match the entryway of your horse fencing with your house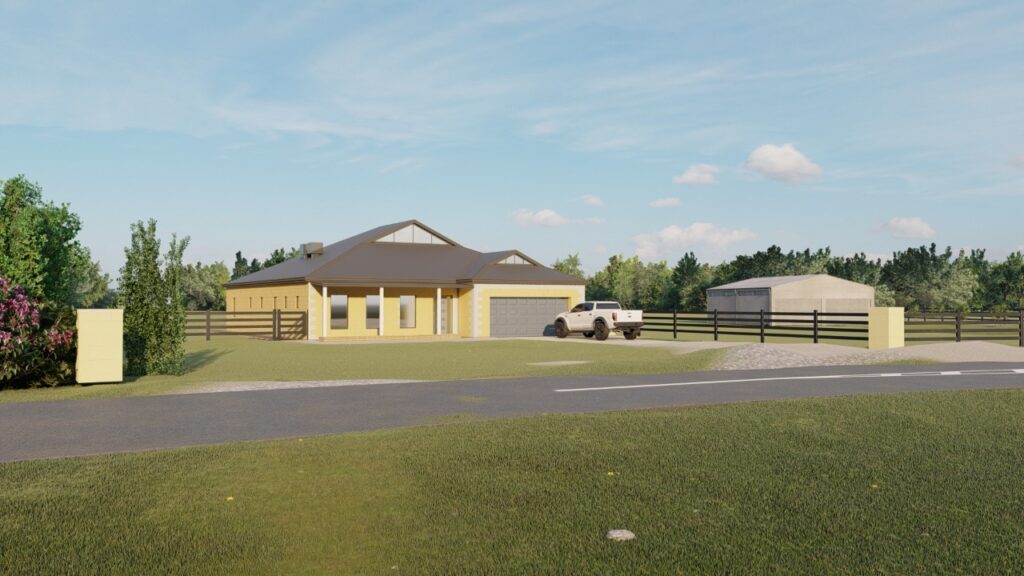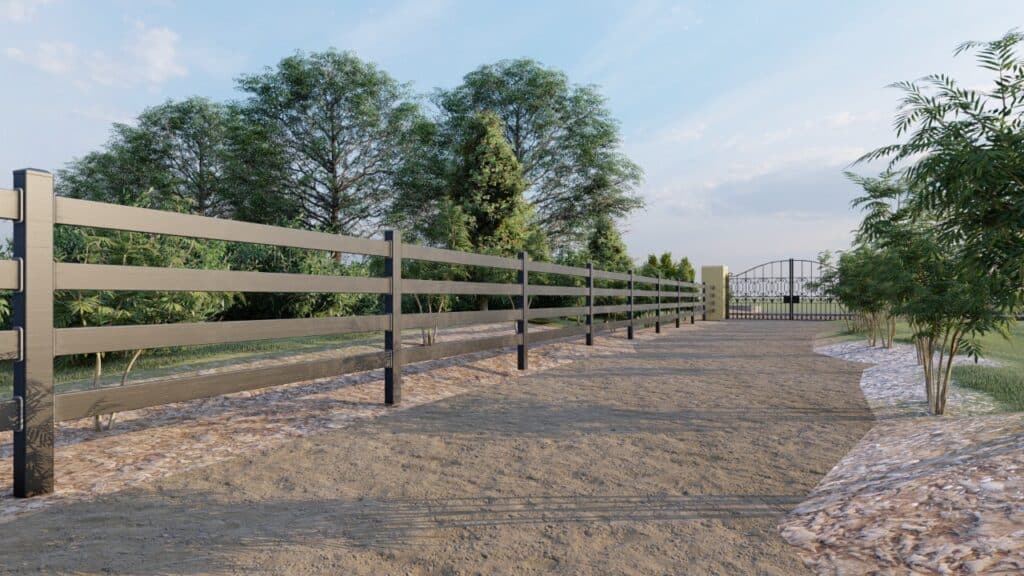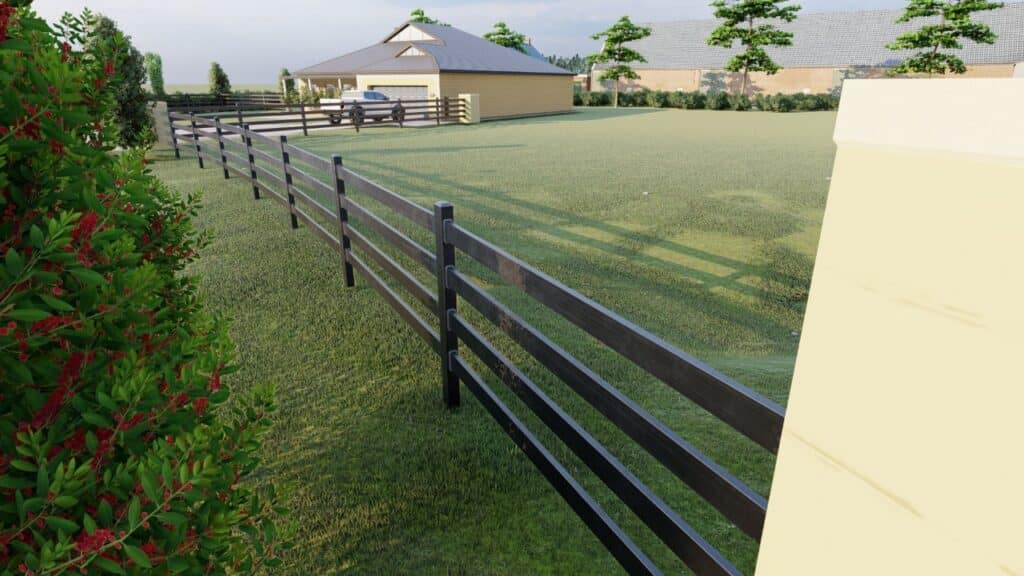 Matching the entryway of your horse fencing layout to your house on a property can create a cohesive and visually pleasing look. 
Incorporating design elements from the house, such as using the same materials or colours, into the entryway of the horse fencing can help to tie the two spaces together. This can be particularly useful for horse properties that are used for both residential and equestrian purposes. 
Additionally, matching the entryway of the horse fencing to your house can also add value to your property. When planning the entryway of your horse fencing layout, it is important to consider the overall aesthetic of your house, as well as the needs of your horses and the functionality of the entryway. 
Use Brick Pillars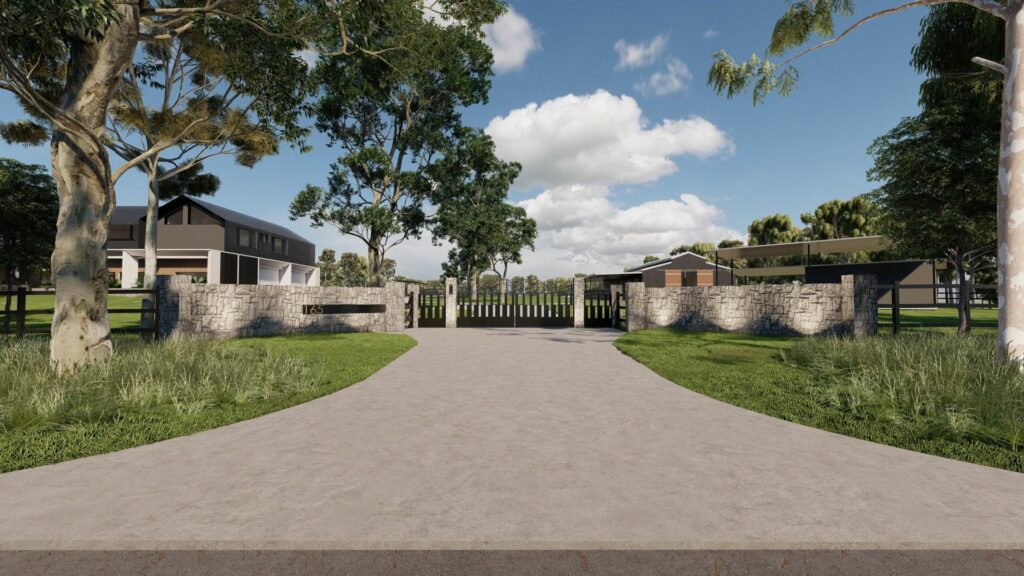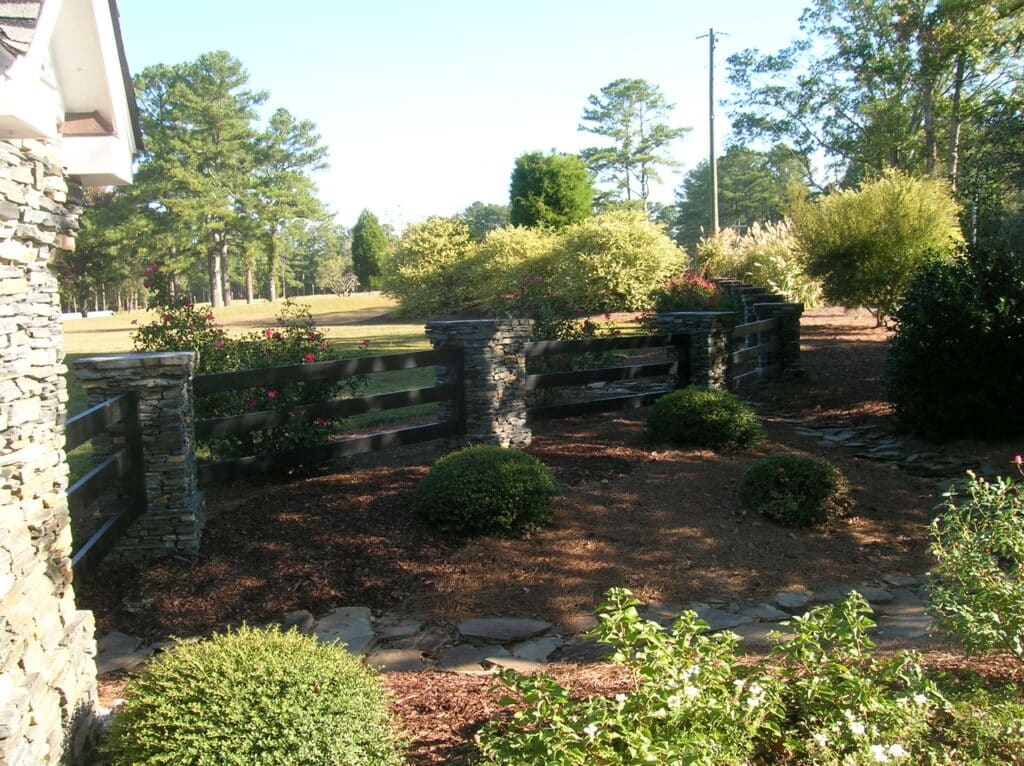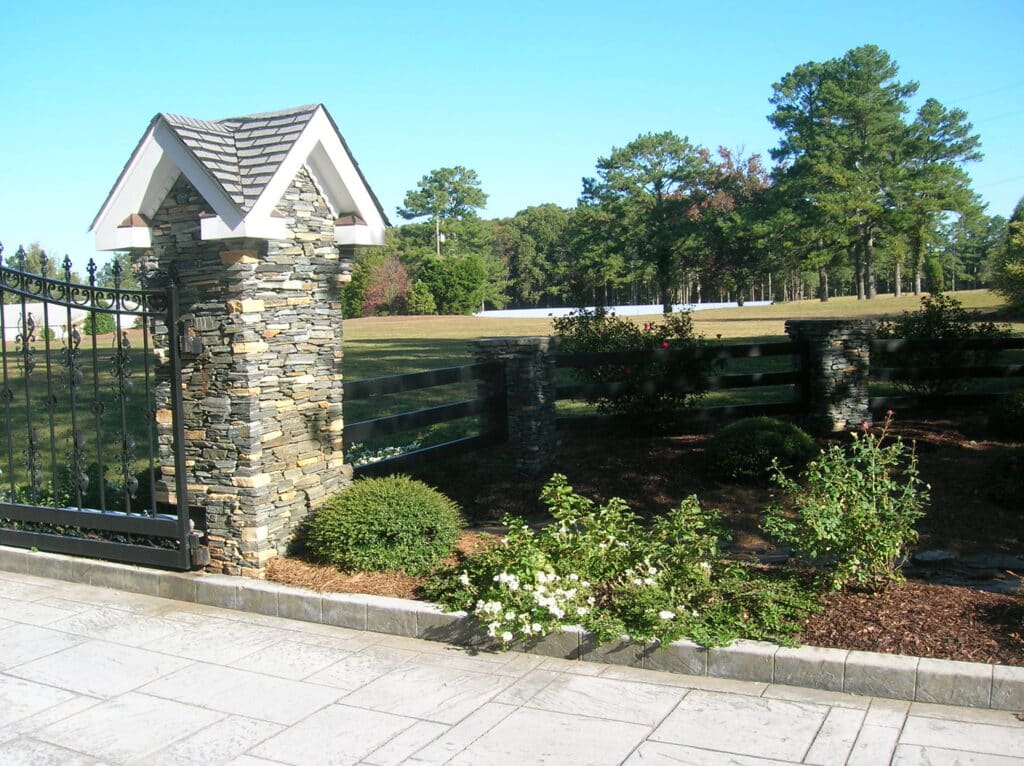 In our experience, using brick pillars in the entryway could be one of the effective design solutions. As seen in the image, the bricks on the house match the ones used on the entryway creating a consistent look across the property. 
Overall, investing time and effort in connecting the appearance of your entryway and house can go a long way in improving the aesthetic value of your horse fencing design and property. 
Idea 4: Keep timber out of your horse fencing layout
Based on our learnings in recent years, the signature horse properties have eliminated timber from their horse fencing layout or limited their use to only a few places. 
This is especially true for the posts, where initially timber was the main material used but has now been replaced by more environmentally friendly and easily manageable materials like recycled plastic or steel. 
For example, while designing one of our recent properties all the horse fencing was done using Hotcote and Hogan posts. It resulted in a sustainable horse property that will not face any issues with termites, will be easy to maintain and last for decades.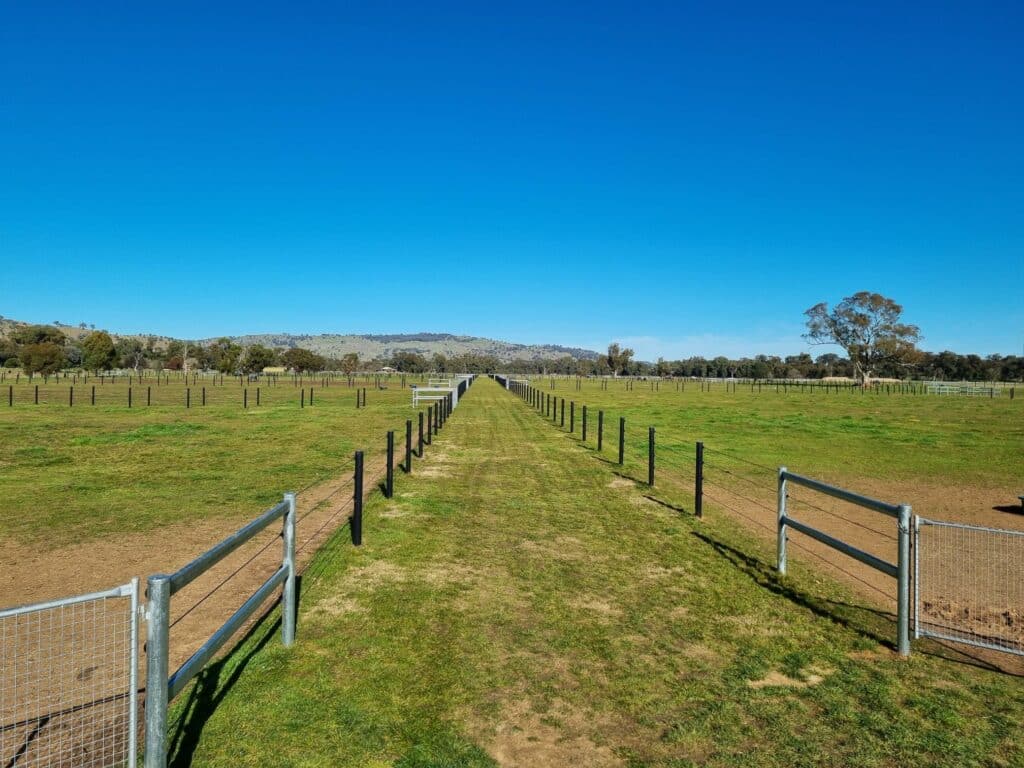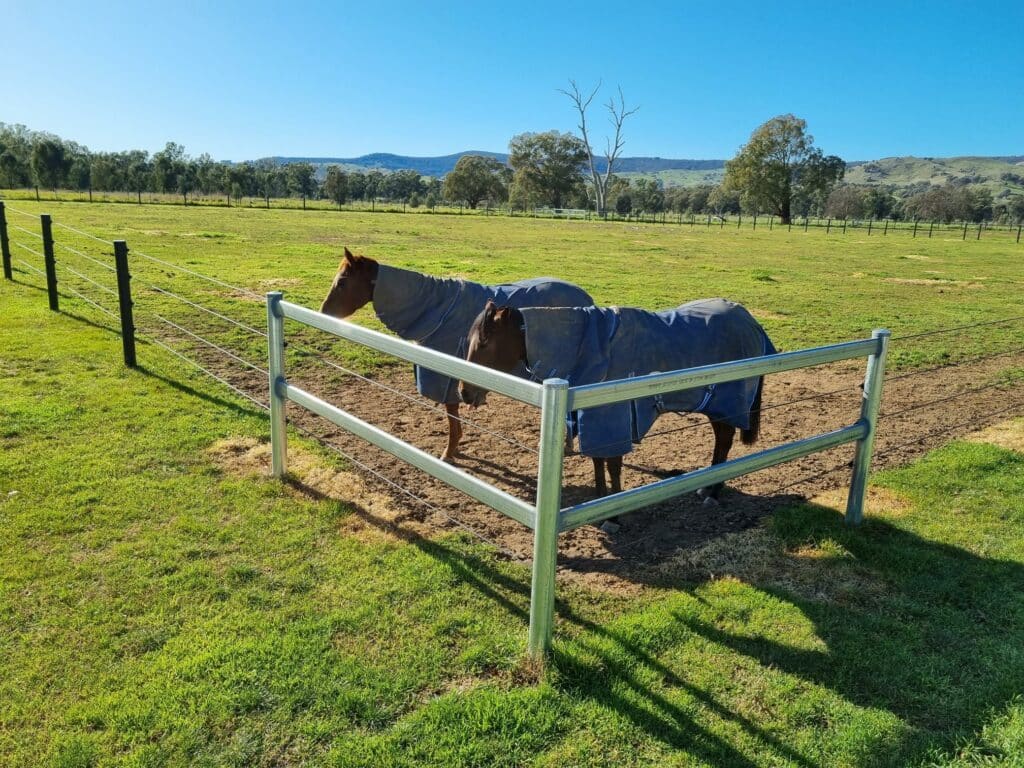 Both these fencing solutions are fast-moving and always in high demand, so before you plan your fencing project it's best to check the availability of Hotcote and Hogan posts. 
Which horse fencing ideas will you include in your design layout? 
You wanted to design a horse property that is beautiful, safe and functional and includes the latest ideas from the world of horse fencing. Now you know the best design solutions that could help you achieve your vision. 
It's best to spend some time thinking about which ideas are best suited for your horse property and can help elevate the aesthetics and functional aspect. The knowledge of the latest trends in horse fencing can also prove beneficial before you hire the services of a professional landscape designer, a fencing contractor or bring a fencing supplier on board. 
As you start visualising your horse fencing layout, you can take inspiration from how to include curved or angled fencing from the images above. If you want to discuss more horse fencing ideas and know what the right fencing solutions for your horse property could be, feel free to book a personalised consultation with our experts. One of our fencing advisors will connect with you to guide you and help create a beautiful equine property just the way you imagined.