Post and Rail Fencing FAQ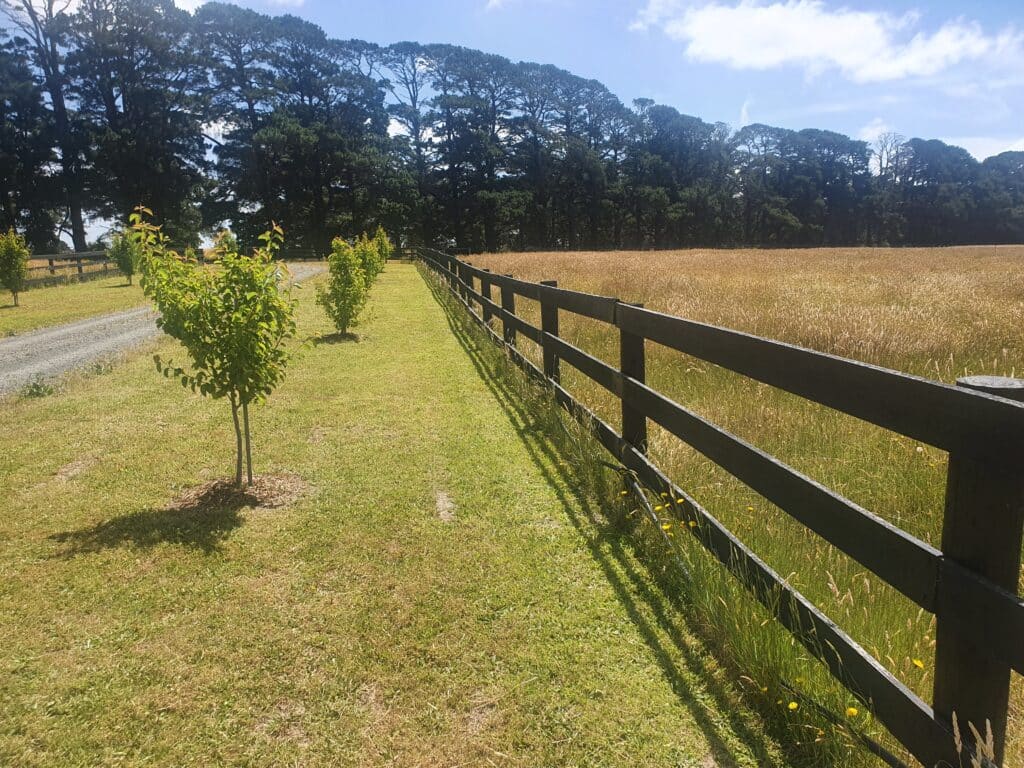 If you're a rural property owner you're most likely to be familiar with post and rail fencing It's beautiful, long-lasting and makes the property look stunning. Simply put, post and rail fencing consists of horizontal rails that are attached to vertical posts. The rails can be made from a variety of materials, such as wood, PVC, or steel, and the posts are typically set into the ground for stability.  
There are a lot of different fencing options to choose from. While larger rural properties are moving towards more sustainable solutions like steel and horserail, typically smaller equine and rural property owners tend to use timber post and rail fencing. It lends a traditional look and most fencing contractors are familiar with the installation. Before you make your final decision, it is wise to know the truth behind timber post and rail fencing.  
However, if timber post and rail fencing has your heart, you might have questions and concerns regarding the installation of your fencing. This article will help answer the most commonly asked questions on about a post and rail fence.   
At Stock & Noble, we provide the finest fencing solutions to properties across Australia and New Zealand. We've helped our clients in building their dream properties from start to end. Based on our years of experience, insights learnt on real-life projects and expertise gained from Fencing Contractors and other fencing professionals, we will address 10 questions: 
Q1: How far apart should post and rail fencing be? 
Q2: How deep a fence post should be? 
Q3: How to put a fence post in concrete? 
Q4: How much concrete do you need for a fence post? 
Q5: Are steel fence posts better than wood? 
Q6: How to level the tops of fence posts? 
Q7: Can you put a new fence post in the old holes? 
Q8: How to brace a corner fence post? 
Q9: What is the cost of the post and rail fence?  
Q10: How to build a post and rail fence? 
In the end, you will have enough information about the post and rail fence to build good-looking and long-lasting fencing on your property.
Question #1: How far apart should post and rail fencing be? 
The spacing of posts in post and rail fencing depends on a few factors, such as the desired look and the length of the available rails.  
For a heavier and more solid-looking fence, closer spacing of rails and posts may be necessary, whereas fewer rails with more space between them may give a lighter visual impact. Additionally, the cost may be a factor, as fewer posts can be less expensive. 
It's important to consider the length of the rails that are available, as shorter rails may be more common when timber is harder to access. While closer post spacing is recommended for smaller yards, for general purposes, posts can be spaced as far apart as desired. 
The industry standard for post spacing is typically 2.4 metres, which meets most requirements for durability, strength, and accessibility. Some people may opt to space posts up to 3 metres apart if they have access to longer rails, while high-intensity work areas may require a spacing of 2 metres between posts. 
Question #2: How deep should a fence post be? 
The general rule of thumb is to bury about one-third of the fence post height in the ground.
For example, if you have a 2.1-meter post, it should have at least 700mm in the ground. 
There are a few factors such as the type of ground and the animals which determine the depth of your fence post: 
For soft and wet ground, you may want to go a bit deeper with the post.

 
For areas with reactive soil, the top layer of the earth tends to expand and contract in different seasons, leading to the ground cracking open. So, the fence in such regions needs to be deeper to avoid wobbling. A fencing contractor in your area, who knows the soil well would be the best person to guide you.

 

Strainer or gate posts need to be deeper than ordinary line posts, depending on the size of the gate and the soil conditions. Typically, a strainer post will be at least 2.4 metres or 2.7 to 3 metres long based on how heavy the gates are and the soil conditions.

 
Some products like Buckley have longer posts, 2.54 meters in length, and offer extra strength and stability to the fencing line. It's best to check out the different types of fence posts available in the market before you make your final decision. 
Question #3: How to put a fence post in concrete? 
Before pouring concrete into the hole, some fencing contractors will place gravel at the bottom to prevent the post from being completely encased in concrete. This allows water to pass through the post and drain out, enabling it to 'breathe'. 
After this step, there are two approaches to putting concrete around the fence post, with a suggestion to choose one. 
The first method involves using around 60 kg of concrete mix, or three 20 kg bags of proper concrete mix, around the post. Rapid-set concrete is not recommended since it lacks the same structural strength as a concrete mix. After placing the gravel, pour the concrete mix in. 

 

The second method some fencing contractors use is to mix all the soil (sometime called spoils) with the concrete, and then returning the entire mix to the hole. The idea is that earth-type concrete provides stability while allowing the post to breathe and dry out without retaining water around the post. This helps to prevent timber rot and extend its life.

 
We recommend the first method of using solid concrete around thepost since we don't have enough experience with the second methodand haven't seen it used much. However, it is a popular choice among fencing contractors across Australia and New Zealand. 
Question #4: How much concrete do you need for a fence post? 
 As mentioned above, 60 kg of concrete is required for each post.  
For a strainer or gate post, double the amount of concrete is required. 
Question 5: Are steel fence posts better than wood? 
The answer depends on what is more important to you – appearance or ease of maintenance, cost and longevity.  
While timber fence posts lend a traditional and seamless look to your entire property when used in conjunction with timber rails, steel posts have a longer lifespan than wood.  
In any situation be it line posts or strainer posts; steel fence posts would be easier to maintain and last longer than wood.  
Question 6: How to level the tops of fence posts? 
Based on our experience, there are two methods: 
Some fencing contractors ensure that the post is levelled and corrected while concreting it. 

 

However, some contractors keep the post slightly high and trim the tops later to streamline it after the concrete has been set.

 
Cutting the top of posts at a 30-degree angle is a common practice to prevent the accumulation of rain, dew, or moisture on the top of the post. This helps to drain everything off the top of the post.  
If the customer desires a levelled top, steel post caps can be used to avoid water ingress at the top of the posts. The steel top sits on top where the grain is exposed. 
Question 7: Can you put a new fence post in the old holes? 
Yes, it is possible as long as the rails being replaced are of the same length.  
However, usually, the old holes need to be redone using an auger, and many fencing contractors find it easier and quicker to dig new holes instead of fitting things back in the old holes.  
So, while it is possible to use old holes, often new holes are dug instead. 
Question 8: How to brace a corner fence post? 
In the case of timber corner posts, bracing is unnecessary as there is no tension on the fence.  
(However, for products like horserail, mesh, or wire, bracing is needed as they create tension on the fence.) 
Question 9: What is the cost of the post and rail fence?  
 The cost of Timber Post and Rail is:  
If you want you can dig deeper and find out the cost of different types of post and rail fences. 
Question 10: How to build a post and rail fence? 
Building post and rail fences can be a DIY project or you can hire an experienced Fencing Contractor for the job.  
Look at a step-by-step process of how to build a post and rail fence before making your decision.  
Have you found an answer to your question on Timber post and rail fencing? 
You have decided to install post and rail fencing on your property and had questions related to its cost, functioning and installation.  
This blog answered some of the most frequently asked questions about post and rail fences. You are now well-equipped to make informed decisions and create a sturdy and attractive fence that will stand the test of time.  
Whether you are looking to keep livestock contained, enhance the aesthetic appeal of your property, or create a clear boundary, a timber post and rail fence can be an excellent choice. However, it does have its problems. There are alternate fencing solutions like Steel Post and Rail gaining popularity in Australia and New Zealand. It's a good idea to have an in-depth knowledge about how timber fencing compares with steel before you say yes to timber. 
By following the guidelines and tips discussed in this blog, you can build a fence that meets your needs and exceeds your expectations. If you have any more doubts related to post and rail fencing, feel free to book a personalised consultation to get all your questions answered in detail by one of our fencing experts. We will help and guide you at every step to create a beautiful property.