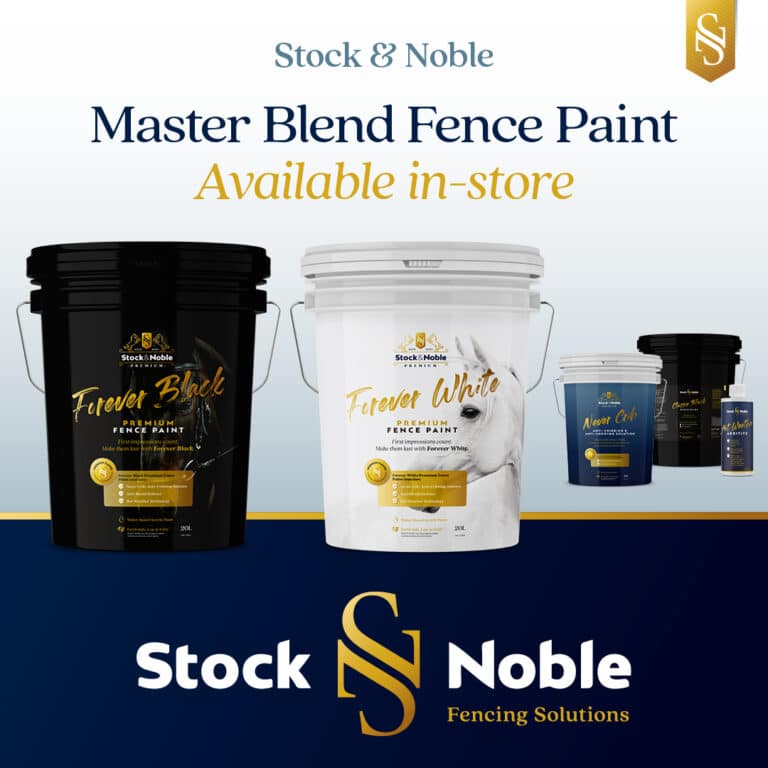 How to become a reseller of Stock & Noble? 
Are you interested in becoming a reseller of Stock & Noble fencing solutions? If so, you've come to the right place. 
Stock & Noble is an Australia-based fencing supplier and manufacturer providing the finest fencing solutions to high-end equine properties. We have a wide range of products that range from horse sighter wires like Border Line to Premium Steel Post and Rail fencing, from electric fencing solutions to the best-quality fence paints.  
The products manufactured by us are created after years of research, learnings from consumer insights and in-depth knowledge of experts. They are designed to be the best and the finest in the industry. 
The fencing solutions we supply are carefully selected based on their global success and high safety standards for horses. 
In all, we aim to build the safest and most beautiful equine estates in every part of Australia and New Zealand. If you wish to be a part of our mission and offer horse owners the right products to create their dream property, then keep reading. 
Becoming a reseller of Stock and Noble fencing products can be a great opportunity for those looking to enter the horse fencing industry or expand their current offerings. In this blog, we will cover everything you need to know to become our reseller, stock our products, gain benefit from our marketing efforts and add profit to your sales. 
Who is a Stock & Noble reseller? 
Let's define what a reseller in our world looks like.  
Our resellers share the same level of passion as Stock & Noble when it comes to their product offerings.  
With a physical shop front and ample stock, they are dedicated to serving their customers with exceptional service. They have a deep understanding of their customers' requirements and provide them with premium solutions.  
Going the extra mile, they prioritize the small details that make a difference, all while delivering service with a smile.  
What are the steps to become a reseller of Stock & Noble?
Step 1: Do your research 
The first step to becoming a reseller of Stock and Noble fencing products is to conduct thorough research. You should learn about the company, our products, and our history. It is important that your values and Stock and Nobles align and there is a desire to work together This research will help you make informed decisions when it comes to selecting the right product offerings. 
Step 2: Contact Stock and Noble 
Once you have completed your research, the next step is to contact Stock and Noble directly. You can visit our website to find the contact information, including our phone number and email address. You should express your interest in becoming a reseller and ask about our reseller program. 
Step 3: Let us know which products you are interested in 
Our resellers can have access to our entire product range.  
However, we believe that Border Line, EquiRope, and Master Blend fence paints are perfect for a customer to buy locally from a store then having to pay for freight and wait for a week or so. Thus, they are ideal for you to stock as a reseller. 
While Premium Steel Post and Rail, Horserail and Legacy Rail are more suited for bigger projects and therefore stock doesn't turn over as much, as a result we don't expect our resellers to stock these items. We are more inclined to work on a project to project basis. 
Step 4: Get a price of the stock and make the payment 
Once you've done your research, put together a suggested list of products you plan to stock. 
Connect with us and you'll be assigned a dedicated account manager who will work with you to create a tailored package to suit your needs.  
Account set up details and credit terms will also be reviewed and implemented to ensure a swift onboarding. 
Step 5: Get featured on our website 
Once your account is set up, you will be uploaded to our website as an authorised reseller. People looking for our products around your location can now visit your store and add to your sales. 
Step 6: Start selling 
Congratulations! You are all set to sell, sell sell! 
You are now officially a reseller and stockist of the Stock and Noble product range.  There are no long forms to sign or agreements to read. Our process is extremely simple, straightforward and personal. 
At any point, if you have any questions regarding a product or process, reach out, we'd love to help. 
Advantages of becoming a reseller with Stock & Noble
1.Enhanced Visibility
Becoming a reseller at Stock and Noble allows people searching for their products to find you on our website and visit your store, particularly local customers who prefer buying products from the local Guy! This improves your visibility and creates an opportunity to attract more customers. 
2. Flexible Business Model
Stock and Noble offers resellers a flexible business model that allows them to negotiate with customers based on their deals. So, while we have a recommended retail price, the resellers can tailor their prices to meet their customers' needs and maintain their relationship while earning a profit.  
3. Reduced Staff Training
Stock and Noble is well-known for its quality products, which sets it apart from other brands. We have effective marketing strategies, which include educating the customers through an extensive and regularly updated blog and helping them with interactive tools like Map my fence and paint calculator. This results in well-informed customers who are likely to come into your store already knowing what they want to buy. This reduces time spent on staff training and allows you to focus more on selling. 
4. Availability of Stock
Stock and Noble always carries stock and ships the same or the next day to anywhere in Australia. This ensures that resellers have access to the products they need and can deliver them to their customers on time. 
5. Product Reassessment and Credit
If a reseller hasn't sold products in 12 months or some product lines aren't moving, Stock and Noble is willing to reassess and credit the stock with products that are selling. This ensures that resellers are not stuck with unsold products and have cash tied up but are reinvesting into products that are more relevant to your customer base.  
6. Support for all Types of Stores
Stock and Noble welcomes all types of stores, from rural stores to farm supplies, big or small. We are willing and driven to support our every reseller. We have resellers in WA, SA, VIC, NSW, QLD, TAS making it easy to support and service you. 
7. Great Shipping Rates
Freight is the silent killer of all transactions; we understand this and appreciate what it means not to pay freight. So we offer FIS structures and other incentives to eliminate freight costs where we can. 
8. Customer Referrals
If a potential customer reaches out directly to Stock and Noble, we will redirect them to their closest store within a 30min radius of their location. If this customer has not purchased from you before, it gives you the opportunity to onboard a new customer, offering your whole range to them – a new customer for life. 
Are you ready to become a Stock & Noble reseller? 
You currently stock farm and fencing supplies, have a retail front and wanted to know if you can become a reseller of Stock & Noble. Now you are well-informed that by conducting thorough research, contacting Stock and Noble, and following our quick process, you can become an authorised reseller and start selling high-quality fencing products to your customers. 
Overall, becoming a reseller at Stock and Noble can be a profitable and worthwhile venture. The brand offers high-quality products at wholesale prices, a flexible business model, availability of stock, product reassessment and credit, and support for all types of stores.  
We believe trust is the foundation of a partnership. We want you to know that we do have an online store, which is primarily to assist customers in remote locations. We have found that the majority of our customers would still prefer to support their local store, operated by their local Guy! Therefore, we don't see our online store being a risk to your store. 
So, if you're interested in becoming our reseller, reach out to Stock and Noble and take advantage of this opportunity. We would be there to guide and help you at every step to stock and sell our products successfully, ensuring you have all the necessities for a lasting partnership.