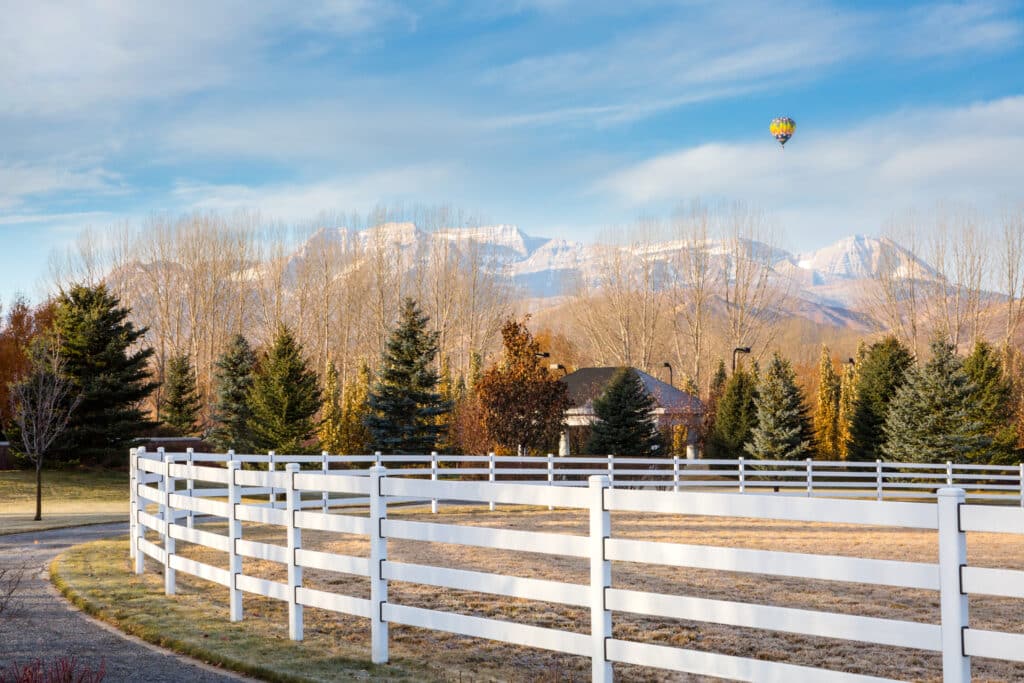 The ultimate checklist to find the best horse fencing supplier. 
When you start building your forever property, you wish for fencing that makes a fabulous first impression. But building your forever property isn't as easy as visualising it. Fencing is an extremely important feature that will turn your dream property into a reality. And the deciding factor is your fencing supplier. They will make the magic happen for you and your property. It's crucial to choose the right one or you might end up with fencing that doesn't match your vision.  
Is your fencing supplier right for you? 
The problem is you might be unsure about your fencing decision and need some guidance, or there might be multiple suppliers for your desired fencing, and you don't know which one would be ideal for your project. Finding and choosing the right fencing supplier is critical to make sure you get the fence that's right for you, at the right time and for the right price. Most importantly this decision helps you build your fence just the way you imagined. 
At Stock & Noble, we provide the finest fencing solutions to high-end property owners across Australia and New Zealand. We believe in educating and informing our customers about everything related to horse fencing so that they can make informed decisions and create their forever equine properties smoothly and successfully. Our wide range of unbiased articles is a testimony to that. 
Based on our industry knowledge and customer experience, we would like to share the 10 best practices or steps you can follow to help you choose the right fencing supplier. We understand that this checklist might even eliminate us from your consideration set, but we will be proud of helping you head in the right direction and find the right fencing. 
10-point checklist for choosing your horse fencing supplier.
As the drill of finalising your horse fencing options, and connecting with your horse fencing suppliers begin, this 10-step checklist will help you reach the one who is perfect for your property and your pocket. 
1.
Check if your fencing supplier has good support and experience in your location.
Continuous access and support of your fencing supplier before, during and after the purchase is critical for the success of your project. You don't want them to be in another country and be inaccessible while you have questions about delivery, warranty or installation. We would recommend choosing an Australia-based supplier unless you're located in New Zealand. 
The biggest proof of a supplier's credibility and capability is how many projects they have executed in the past. It's even better if they have experience in similar projects as yours and you can get reviews from their existing customers. 
 2.
Check if the supplier is interested in your project or their products
When you converse with a prospective fencing supplier for your horse property, a good sign is if they ask questions and a lot of them. Also, evaluate if the questions are aimed at knowing you and your property better or simply selling their fencing products. 
Choose the one who listens and understands your problems before promoting products and providing solutions. 
Some examples of questions that a good supplier would ask: 
Tell us about your project and what you wish to achieve.

 

The three most important things in choosing a fence according to you.

 

Is it your forever property?

 
3. Check what your gut feeling says about your future fencing supplier
This is probably the most unusual point in this checklist, but the most important one. In our experience, both personally and professionally we value relationships when they are based on trust and comfort. Fencing your horse property takes some time, you want to interact and build a connection with people you like and who value your trust above everything else. 
If your gut says your supplier is listening to your needs, you can see signs in smaller details like, when they reply on time, ask the right questions, get back when they say they will and keep their commitments throughout the process. 
4. Ask for a sample
There's nothing like seeing your dream fencing, for real. Before you get your desired fencing on your horse property, the best thing you can do to experience the look and feel of your future fencing is to get a sample.  
Check with your supplier if they can provide a free sample of your fencing and send it home. Instead of looking at the images, you can examine the quality and finesse of the real fence. It will become much easier for you to compare different options and will help you make a much better decision. 
5. Ensure you'll be provided with everything you need
You need to know and be aware of the fact that other than the fencing material, a fencing project has more requirements. Is your fencing supplier equipped to fulfil each one of them? 
Availability of multiple fencing options

 

In-depth Information and advice on fencing solutions

 

Contact of fencing contractors

 

Detailed installation documents and videos

 

Assistance with fencing plans and advice

 

Site visits if or when required

 
6. Check if the fencing supplier matches your special preferences
 If you are inclined towards purchasing only from Australian businesses or want horse fencing which is environmentally friendly or if you have any other specific criteria, it's best to check with your fencing supplier directly. This information might or might not be mentioned on their website and it will help you narrow down your choices. 
7.
Check if the supplier has reviews from real customers
It's a great habit to check testimonials, ratings or reviews of a product, service and in this case, a fencing supplier before you take the final decision. You might have the reviews on the supplier's website, in a video or a written format. The details will give you an idea of the kind of projects and clients the fencing supplier has successfully dealt with. 
You can also go one step further and contact the customer to know their feedback and also learn from their horse fencing journey. 
8.
Check if the fencing supplier has helpful tools to aid your decision
Take a look at your supplier's website, blogs, emails and other communication platforms. Are there tools or services offered and shared with you that could help in your research, designing and translating your vision into reality? For example, a fence mapping tool, CAD design, articles on cost, problems, maintenance, honest reviews and more. 
9. Check if the advice is unbiased or focused on selling one product
When you speak to the fencing supplier, a warning sign would be when they try to force sell you their self-manufactured product rather than offer a piece of unbiased advice that's best for you and your property. Good suppliers give you honest suggestions no matter what. Because they know a bad fencing fit will eventually move away from your dream fence and leave you, them and everyone dissatisfied and unhappy.  
10.
Check if the supplier is ready to visit you
 If it's your forever property, a big dream project with a huge investment at stake then it's advisable to find a fencing supplier who can visit you on your site and plan your fencing together. It will help ensure the best use of your time, effort and money. Most importantly it will give you your dream fence without any road blocks. 
Ready to pick your favourite horse fencing supplier?
Congratulations, you are in the final stage of your fencing journey. You now have the ultimate checklist to prepare you for the calls with your list of fencing suppliers. 
It's time to start ticking these off, narrow down your results based on their location, products, tools, reviews, honest opinion, helpful content, years of experience and most importantly, your gut feel. 
If you've started the conversation about buying your horse fence, you may be feeling overwhelmed about what happens next. We totally understand. Knowing how to prepare for your fencing order and delivery is a great place to start. After all, dreams do demand effort, and being prepared is your 1st step towards building your dream horse property.  
In-depth knowledge, truthful advice and great research are a few of the things that can make this journey enjoyable while making sure you get what you always desired from your forever horse property.   
If you have any more questions on horse fencing or need some advice to confirm if your choice is right for your property, we would love to help. We have a wide range of fencing options to choose from and our fencing advisors will have a personalised consultation based on your vision and budget. Whether you go ahead with us or not, we would guide you in every way possible to help build a beautiful equine property.