Is EZ Gate Latch Worth It? Examining the Pros and Cons of This Fence Gate Latching System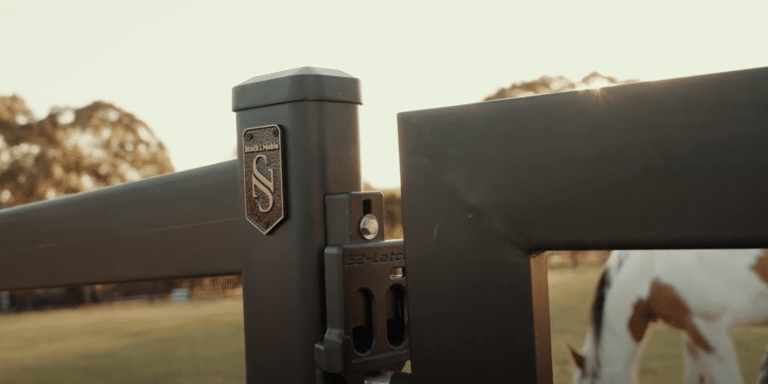 Whether you have an equine property, acreage property, or a large farm, securing your fence gate is crucial for maintaining the safety and security of your property. Traditional gate latches often require dismounting from your horse or manual opening and closing of the gate, which can be inconvenient and time-consuming. However, the introduction of the EZ Gate Latch has made this process effortless and efficient. 
The EZ gate latch has gained a loyal following among equine property owners, but is it the right choice for your property?  
Stock & Noble, is the exclusive supplier of premium fencing solutions like Buckley Steel Fencing System and EZ Latch in Australia and New Zealand. This versatile and innovative latch system has been embraced by numerous customers, not only for steel gates but also for wood and pipe-style farm gates. Though we take immense pride in this product, we are also aware that it might not be perfect for every property. Over the years we've helped several clients build a safe fencing system using EZ Gate Latch and gained valuable insights from live customer projects. 
Based on our knowledge and expertise, we will explore the pros and cons of the EZ Gate Latch system to determine if it is worth investing in. From its innovative features and convenient operation to its limitations and considerations, we will provide you with a comprehensive analysis to help you make an informed decision.  
Let's dive into the world of EZ Latch and discover if it is the right solution for your fence gate needs. 
What is EZ Gate Latch?
The EZ Gate Latch is a versatile fence gate latch designed to accommodate different types of gates, including Buckley Steel Gates, as well as metal, wood, or pipe-style farm gates.  
It provides easy and secure gate closure, featuring a convenient loop for a standard padlock storage. The EZ Gate Latch ensures the utmost security for your property while serving as a "horse-proof" mechanism to prevent gate openings. 
Advantages of the EZ Gate Latch System
When it comes to securing your gate, you need a latch that not only provides reliable closure but also offers convenient operation.
Check out the experience of Michael Harrison and why he installed EZ Latch on all his gates, including timber.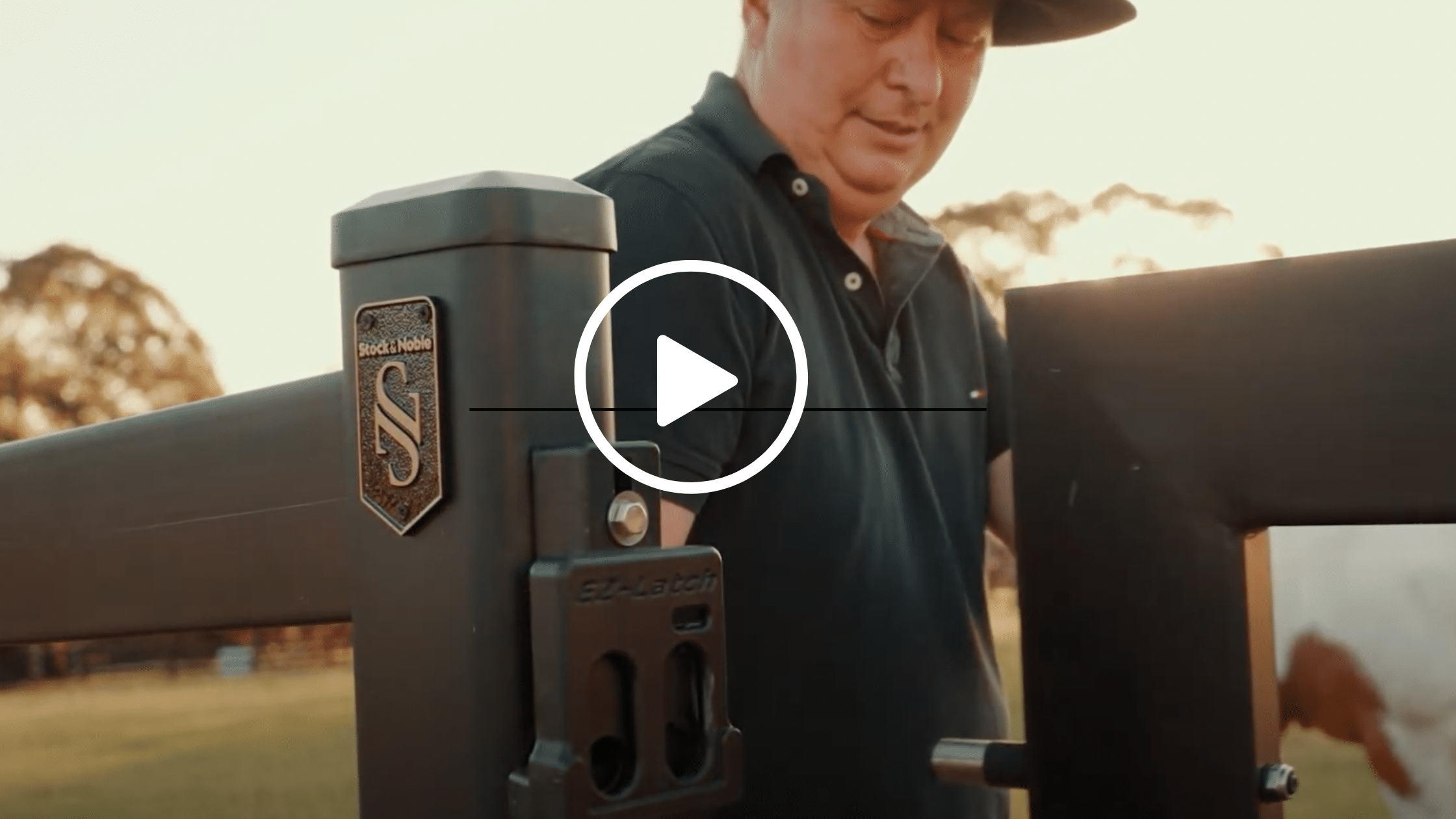 Here are the advantages that the EZ Gate Latch brings to the table: 
Advantage #1 – Two-Way Gate Latch Operation: Unmatched Convenience 
Gone are the days of dismounting from your horse just to open or close a gate. The EZ Gate Latch introduces a revolutionary two-way operation, allowing you to effortlessly handle the gate from either direction while you're still mounted. Its internal heat-treated alloy steel drop-plates can be easily lifted with a finger, smoothly opening the gate, and gracefully dropping back into place upon closure. 
Advantage #2 – Preventing Gate Lean: Stability at Its Best
Gate lean is a common problem that compromises the stability of your gate and surrounding structures. The EZ Gate Latch tackles this issue head-on. By resting the latch pin on a stainless steel metal latch plate when the gate is closed, it effectively reduces the weight on the gate post. This smart engineering feature ensures that your gate remains steadfast and prevents any unwanted lean. 
Advantage #3 – Corrosion-Free: Built to Last 
The EZ Gate Latch is built with durability and longevity in mind. It features a latch pin end equipped with a shock-absorbing rubber bushing, safeguarded by a stainless steel contact roller. Corrosion-resistant washers are included to allow horizontal pin adjustment of up to 1.5 inches. The entire housing of the latch is crafted from a robust cast-aluminium alloy, powder-coated for added strength and protection against corrosion. This gate latch is built to withstand the test of time. 
Advantage #4 – Fully Adjustable: Tailored to Your Needs 
Installation shouldn't be a hassle, and adjustments should be easy to make. The EZ Gate Latch understands this, offering a fully adjustable design. The gate latch housing features upper and lower mount bosses, enabling vertical adjustments at any stage of the installation process. To ensure a proper pin-to-latch engagement, the mount-pin comes with seven thick adjustment washers, allowing for effortless customisation to suit your requirements. 
Advantage #5 – Lock Gate with a Padlock: Enhanced Security
Security is paramount, and the EZ Gate Latch takes it seriously. The housing is equipped with a convenient slit in the upper right section, designed specifically for a padlock. By utilising a padlock, both drop plates can be locked down, preventing the gate from being opened in any direction. This feature offers an extra layer of protection and reassurance, ensuring that only authorised individuals can access your property. 
Disadvantages of the EZ Gate Latch System 
The EZ Gate Latch System has gained recognition for its advanced features and functionality. However, like any product, it is not without its limitations. Here are some of the disadvantages of EZ Gate Latch that you should consider: 
Disadvantage #1 – Premium Price Tag: Investing in Quality 
One significant drawback of the EZ Fence Gate Latch System is its premium price. As a high-quality product with advanced design features, it is not available at a bargain price. While the cost may be justified by its durability and long-term performance, it may not fit within everyone's budget. 
Disadvantage #2 – Incompatibility with Sloping Gates: A Barrier to Installation 
If your gate is situated on a slope, you may encounter difficulties with the EZ Gate Latch System. Due to its design, which relies on a specific alignment between the latch and the gate, the system may not function properly on sloping surfaces. This limitation poses a challenge for those with sloping gate installations, requiring alternative latch solutions. 
Disadvantage #3 – Vulnerability to Coastal Environments: Wear and Tear 
The EZ Gate Latch System may be susceptible to accelerated wear and tear in coastal areas due to the corrosive effects of salt in the air. The coating of the latch may deteriorate over time, compromising its appearance and potentially reducing its overall lifespan. If you reside in a coastal region, it is crucial to consider this factor before investing in this latch system. 
Disadvantage #4 – Limited Colour Options: Lack of Variety 
The EZ Gate Latch System offers a limited range of colour options, limiting your aesthetic choices. Currently, the system is available only in black or white. If you were hoping for a latch that matches your gate or blends seamlessly with your surroundings in a specific color, the EZ Fence Gate Latch System may not fulfill your expectations in terms of colour customization. 
Disadvantage #5 – Pre-cut Bolt Length: Challenging Gate Spacing 
The pre-cut bolt length of the EZ Gate Latch System may pose difficulties for installations with larger gate spacings. Additional measures, such as adding a packer behind the latch or acquiring a longer bolt separately, may be necessary to achieve proper installation. This inconvenience adds an extra step to the installation process and may require additional effort or resources. 
Should You Invest in the EZ Gate Latch for Your Property? 
You are looking for a secure gate latch system for your fences and were interested to know whether EZ Gate Latch would be the perfect fit for your property and needs.  
Now you know the pros and cons of the EZ Gate Latch system and can make an informed choice.  
If you prioritise convenience, durability, and security, the EZ Gate Latch system could be an excellent investment for your fence gate needs. Its innovative features, two-way operation, stability enhancement, corrosion-free construction, and adjustable design make it a compelling choice. 
However, if the limitations mentioned pose significant challenges or if budget constraints are a concern, exploring alternative latch systems may be necessary.  
Ultimately, whether the EZ Gate Latch system is worth it depends on your specific requirements, budget, and the conditions of your property. Before making the final decision it'll be worth digging deeper into the product specifications, installation and applications of EZ Gate Latch. 
At Stock & Noble, we understand the importance of selecting the right gate latch for your property. Our fencing experts are available to provide personalised guidance and answer any questions you may have. By evaluating your unique circumstances and requirements, they can assist you in making the right choice to ensure the safety, security, and convenience of your property.