The Ultimate Checklist to Buy Timber Post and Rail Fencing in Australia.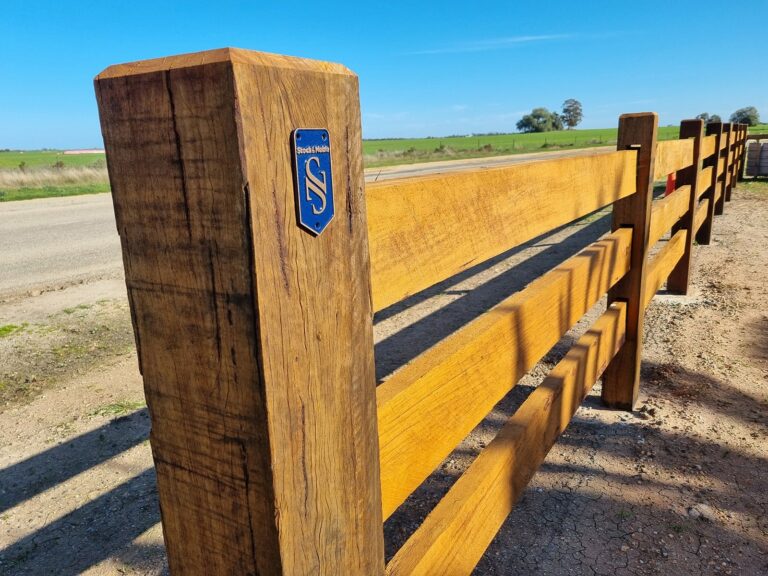 Are you enamoured by the rustic charm of Timber and have decided to build your dream property with this beautiful fencing? Then keep reading to make sure you get the finest wood out there! 
Timber Post and Rail is undoubtedly one of the most charming fencing options available with its earthy feel and natural flair. However, when it comes to choosing the right product, the story can change. There are quite a few options for timber as well as suppliers and a wrong selection can lead to a waste of time, effort and money. Most importantly you won't be able to achieve the look you always wished for. The right timber can significantly impact the durability, aesthetics, and overall performance of your fencing solution. 
The problem is how to decide which Timber Post and Rail Fencing is ideal for you, your property, your budget and your vision. 
At Stock & Noble, we provide the finest fencing solutions to high-end property owners across Australia and New Zealand. We've helped numerous clients create their dream properties using top-quality post and rail fencing. We aim to empower you with fact and insight-based fencing knowledge that enables you to make the right decision. 
In this article, we will list out key factors that should be considered before choosing your Timber Post and Rail Fencing. From the type of timber to the specific dimensions and installation requirements, this comprehensive checklist will help you evaluate your post and rail fencing options and reach the one that's perfect to realise your dream.  
It's important to note that through this blog we will only be focusing on hardwood timber post and rail fencing solutions. We'll explore the unique qualities and features of four main timber options, including Ironbark, Spotted Gum, Forest Red Gum, and White Cypress, offering you valuable insights to make an informed decision for your fencing project. 
Factor #1: What's the type of Timber used in your post and rail fencing?
This is perhaps the most important factor that will govern the overall performance and longevity of your fencing. Explore the various options available for hardwood, including ironbark, spotted gum, forest gum, Macrocarpa, and white cypress, each with its unique characteristics and aesthetic appeal. 
Consult with your supplier about the best combination based on your needs. 
Factor #2: What's the quality of Timber?
Timber is beautiful but being a natural product, it comes with its own set of challenges. To make sure you face the least of these problems, you should do a quality assurance. Look for reputable suppliers known for their high-quality timber. Ensure the wood is durable and resistant to pests, such as termites, to guarantee the longevity of your fence. 
Factor #3: Is the Timber used in your Post and Rail Fencing Hardwood Class 1?
The class of timber is a rating system that indicates the durability and suitability of the timber for various applications. It is often used to assess the performance of timber in different environments, such as in-ground or above-ground applications. The class rating typically ranges from Class 1 to Class 4, with Class 1 being the most durable and long-lasting and Class 4 being the least durable. 
Check the durability class of the timber in both ground and above-ground conditions to assess its resilience and lifespan. 
Ironbark, Spotted gum, Forest gum, and White cypress all belong to the Hardwood class 1 cluster both on and above ground, except White Cypress, which is Class 2 in the ground. 
However, White Cypress does remain a reliable and cost-effective option, particularly for price-conscious customers. 
Factor #4: Is the Timber Sustainably Sourced?
In today's world being environmentally conscious isn't a choice anymore, but a necessity. So familiarise yourself with timber sourcing and check if the wood in your fencing project is sourced from sustainable forests or not. 
We also recommend obtaining a sustainability certificate for timber sourced from responsible forestry, aligning with environmental conservation efforts and industry standards. This is especially useful if you're building a commercial property. 
At Stock & Noble, we prioritise responsible and ethical forestry practices, ensuring that the timber we utilise is obtained through sustainable methods. Our commitment to sustainability involves adhering to strict guidelines and regulations set forth by environmental authorities and organizations.  
Factor #5: Where is the Hardwood for your Post and Rail Fencing Sourced From?
Surprisingly similar hardwood from different regions can perform differently and impact the aesthetics and life of your fencing. 
For instance, while we source White Cypress from Southern Queensland which is a high-quality hardwood, be cautious of buying Victorian Cypress or Macocarpa, known for issues such as splitting or warping. 
Factor #5: Is Your Required rail configuration available?
Determine the ideal dimensions for your post and rail fence, considering the specific requirements of your property.  
In our experience, 1 Rail is typically used around council and sports fields. 3 Rail is the most popular option across rural or acreage properties with 4-rail being preferred by equestrians. 
Evaluate various post sizes, including 150×150, 200×200, 300×300, and 400×400, which can be used for larger entry posts etc., to find the most suitable option for your needs. 
Check whether your supplier has the required dimensions of the post and rail that match your requirements. 
Factor #6: Does Your Fencing Supplier Provide Customisation for Timber Posts and Rail?
If you have a specific vision for your dream property, it's important to discuss the possibility of customisation with your supplier.
Check if they can accommodate customised height and post specifications, morticing along with angle cuts and drilled holes for specific requirements like electric fencing. 
While some providers offer rough and rudimentary morticed options, opt for providers where meticulous craftsmanship results in clean and beautiful holes, ensuring a refined and visually appealing finish for your fencing project. 
It will be good to ensure the chosen timber post and rail fencing aligns with your unique aesthetic preferences and practical needs for a uniform and visually appealing fencing line. 
Factor #7: What's the Lead Time and Availability for Your Hardwood? 
Inquire about the lead time for the delivery and installation of your timber fencing. Being a natural product, the availability of different types of timber can vary considerably. 
Especially if you're looking for a specific hardwood for your post and rail fencing it's best to check with your supplier. Planning and understanding the time frame involved can help you streamline the process effectively. 
Factor #8: What's the Cost of Timber Post and Rail Fencing?
Consider the overall budget and past experiences: While making a timber selection, balance the cost-effectiveness of the product with any positive experiences or recommendations from trusted sources.
Assess the long-term benefits and advantages of each timber type based on previous customer experiences and expert guidance. 
Factor #9: Is Your Timber Post and Rail Supplier Reliable? 
Opt for suppliers with a track record of providing high-quality and reliable fencing solutions. Ensure they can accommodate custom sizing and specific requirements, offering a diverse range of options to choose from. 
Ready to Choose Your Timber Post and Rail Fencing?
You are looking to build a signature property using the best hardwood timber for your post and rail fencing. Now you know selecting the perfect timber for your post and rail fencing project demands careful consideration of various critical factors, including timber type, quality, durability class, sustainability, sourcing, customisation options, lead time, and cost.  
Whether you choose the Ironbark, Spotted Gum, Forest Red Gum, or White Cypress, understanding the unique characteristics and features of each timber type is essential for making the best choice. Prioritise sustainability, quality, and longevity to create a fencing solution that not only adds value to your property but also contributes to environmental conservation efforts. 
If you aim to build a beautiful property with the finest fencing solutions that look stunning and last for decades with the least maintenance, it will be worth checking out the difference between Timber and Premium Steel Post and Rail Fencing. It will help you know all your options for premium fencing solutions and make the right decision for your property. 
Overall investing in the right timber for your post and rail fencing not only enhances the aesthetic appeal of your property but also ensures long-term durability and performance. With this comprehensive checklist, you can confidently make an informed decision that aligns with your vision, budget, and property requirements. 
If you have any questions on the source, type, cost, life or installation of hardwood post and rail fencing speak to our fencing experts. Let us help you bring your dream property to life with the finest timber solutions available in Australia.