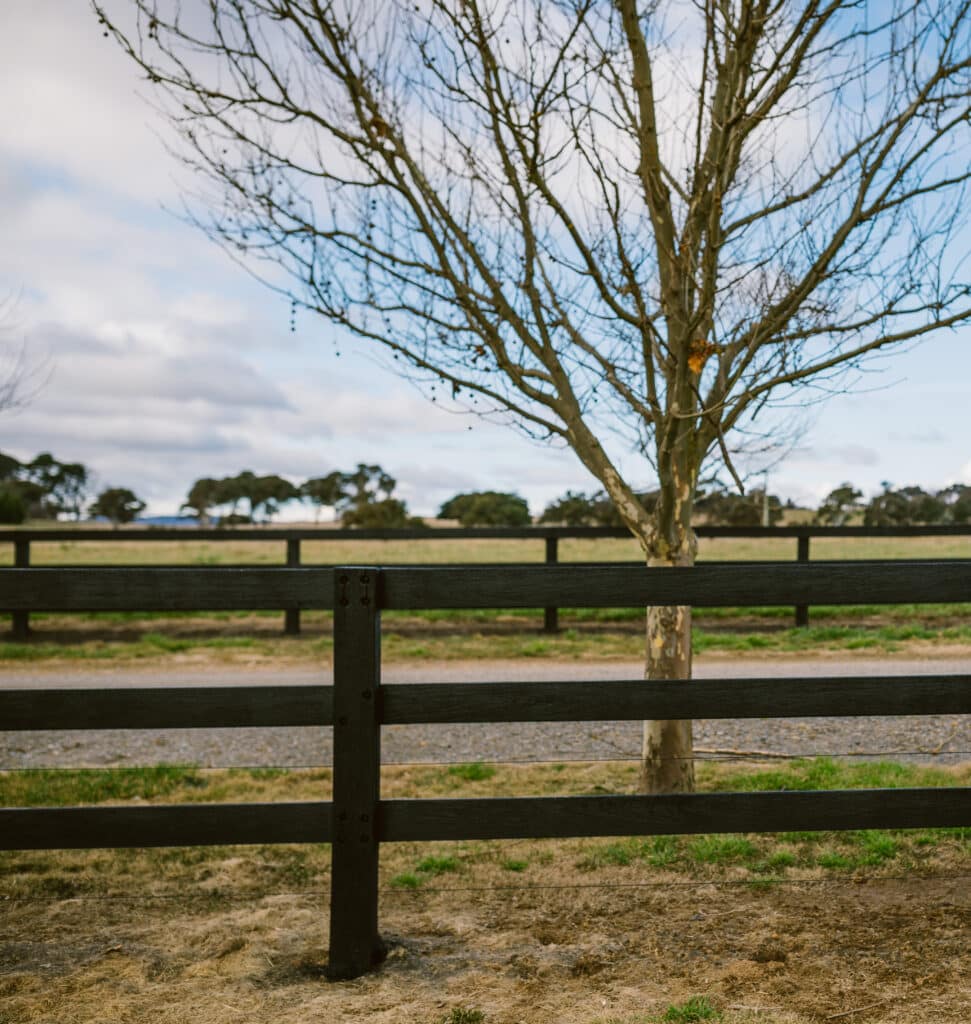 Which is the best fence paint for my Timber Fences? Comparing 10 Timber Fence Paints available in Australia.   
Painting your new or old fences is probably the easiest way to give your property a fresh new look. It's a great weekend project to step out in the sun and paint your timber fences yourself or hire a professional and see them transform. The problem is with so many options flooding the market, claiming they are the best paints for your fences, you don't know what, which and who to trust.  
No matter how enjoyable the process of painting is, you don't want to do it every year. You want a paint that lasts for a reasonably good time, is easy and safe to apply on the fences at your home, equine property, farm, entrances or lifestyle acreage property and is decently priced.  
At Stock & Noble, we provide high-end property owners across Australia and New Zealand with the finest fencing solutions. Master Blend Fence Paint is one of our most loved range of products, developed after in-depth market research and consumer feedback. It's obvious that we think our paints are the best in the market, but we also know that they might not be right for your property and budget. 
Based on the experience of our clients, insights of the experts and our learning of the paint world we will lay out a detailed comparison of all the Timber Fence Paints available in Australia, to help you choose the best Timber Fence Paint for your property. 
So, if you want fabulous-looking fences without the hassle of painting every year, sans the fear of chalking, chipping, and inhaling dangerous fumes then read on. 
In this article we will discuss: 
The top 10 options of Timber Fence Paints available in Australia 

 

Must-have features of a good Timber Fence Paint

 

Detailed comparison of all the Timber Fence Paints 

 
In the end, we want you to find the best timber fence paint that fulfils your requirement and helps you create a beautiful property.  
What are the different types of Timber Fence Paints available today?
When you start your research, you will notice that the fence paints are divided into  two broad categories: 
Water-based paints

 

Oil-based paints.

 
When we talk about oil-based or water-based paint, we are talking about the type of solvent that is used in the paint, which evaporates or soaks in as the paint dries. Almost all of the solvent used in water-based paint is water. While oil-based paint contains an organic solvent, such as mineral turpentine in its makeup.   
The difference between oil-based and water-based paints is largely because the solvent in oil-based paints leads to the emissions of higher Volatile Organic Compounds, increased flammability and inhalation of harmful fumes.  
If you want to further understand the details of water-based fence paints and how they are different from oil-based paints speak to our fence paint advisor.    
Water-based paints for Timber Fences are:  
Oil-based paints for Timber Fences are:  
Kentucky Horse Fence Black

 from Paint Sales 

 

Fence Black from Sceneys

 
Must-have features of a good timber fence paint
To choose a fence paint that fits your requirements, take a look at this checklist and tick off the features one by one.  
Should meet your expectations  
A good fence paint should be able to do the job, meaning it should prove to be value for money and look good for a reasonable period.  
In our experience, property owners who are looking to paint the fences typically in high-visual areas of the home choose premium fence paints that are sure to last long and look fabulous over the years despite, sun, rain and storm.  
For fences on equine properties, farms and other commercial properties, owners prefer to use good quality but cost-effective products. 
Fence paint should be safe  
No matter which paints you choose, it should be safe for the environment and have no health hazards for the applicator and people exposed to the fumes. Oil-based paints are high in VOCs as compared to water-based and it's advisable to consider their use and safety before application. 
Fence paint should be UV stable 
In Australia, the sun plays a critical role in determining the performance of outdoor paints. We highly recommend that your fence paint should be UV stable. This means it should not fade, break or lose its sheen when exposed to high UV over the years. For example, Kentucky Farm Black isn't UV stable, it turns brown and starts to break down in some time. 
Should have anti-mould or mould defence 
With all the time and money, you've invested to make your timber look good, it's recommended to choose the fence paint which has added protection.  
 Check for fence paints that come with additives like anti-mould, they are especially useful if your timber fences are in a moist environment.  
Also, it's nice to have an anti-chew deterrent if you are painting fences that are close to animals like an equine property or a farm.  
Should be easy to apply and clean up  
As compared to water-based paint, the application and clean-up process of oil-based paint is more difficult. You need to wear protective gear like a respirator and protective clothing to apply the oil-based paints. 
 At the end of the day or after applying a coat of oil-based paint, you need specific chemicals for the clean-up. Often people end up throwing away all the application products because they are difficult to clean. Before you spend on oil-based paint, note that all the gear, tools and chemicals will add to the cost on top of your paint. Also, if you are looking to hire a professional for your paint project, it's usually tough to find someone interested in painting with oil-based paints. 
In comparison, water-based paints are easier to apply with no additional gear required and all you need for clean-up is water. 
However, paints like Stud X and Forever Black come with an anti-chew additive that can get into your mouth while painting your fences with a spray gun. It might make your teatime or lunch taste bitter that day. 
Paint should maintain the stunning look of your fences 
When you paint your fences, you want the nice black or white finish to last for as long as possible and keep your fences looking fabulous.  
One of the main ingredients used in paint is the glue that holds the paint together and the colour additives. However, if cheaper glue and a low-quality colour are added to the paint, then the fences will start developing a chalky appearance and lose their shiny black look soon after the application.  
The oil-based paints or paints like Stud X and Stud X Full Body which have standard additives give your fences the chalky look and don't last long. They are meant for an undercoat environment that shouldn't see the sun. That's the reason over the years as they get exposed to sunshine and intense weather they tend to lose their vibrancy.  
Forever black is made with premium and expensive additives which means the fences keep their stark brilliant black colour, for several years compared to the cheaper paints.  
Though Classic Black is reasonably priced, it won't develop the chalky look but also won't last very long. 
Fence paint should follow the Occupational Health and Safety Act or OHS 
While buying and applying the oil-based fence paint, you should be conscious that these paints do harm the environment.  
There's an occupational health and safety aspect attached to their application. If a respirator isn't used the applicator of oil-based paint can become unwell by inhaling the fumes of the paint.  
An honest comparison of the top 10 Timber fence paints available in Australia
It's time to find out which Timber Fence Paint is the best for your property. We know all the filters that a fence paint needs to be qualified as good for your property. So, let's apply each one of them and compare different paint options.  
Here's the comparison chart of 10 Timber Fence Paints, for easy comprehension of how each of them performs on different features like longevity, finish, additives, UV Stability, cost and other factors.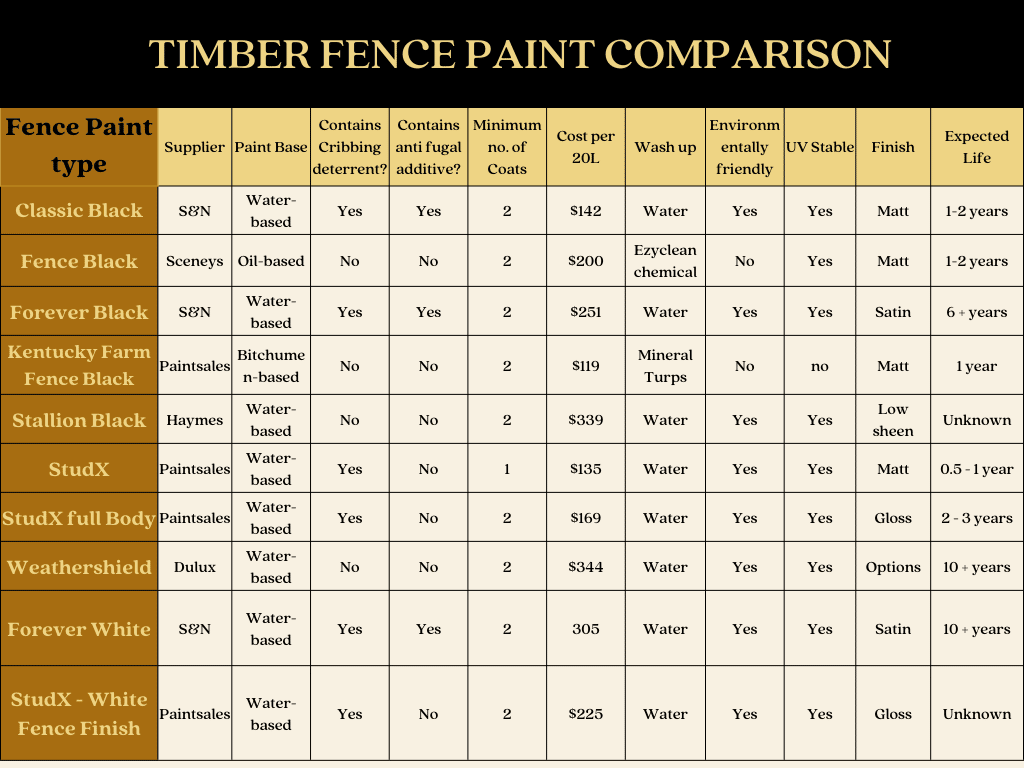 The cost is true at the time of publishing this article. 
As you can see the fence paints come in three broad price ranges: lowest mid-range and maximum. Let's see the balance of price and quality that each brand is able to strike for the best value and look for money. 
Cheapest Fence Paints 
Kentucky Farm Black from PaintSales at $119 is the cheapest fence paint available. However, it's an oil-based fence paint. It offers no additional defences like anti-mould, or anti-crib and is not UV Stable. It tends to turn chalky after a while and is potentially hazardous to the environment and harmful to the people exposed to their fumes.  
If you're looking at this paint to save money, do consider additional costs to the world, the health of people and your dollars needed for protective gear and tools for clean-up and application.  
Stud X from Paint Sales at $135 and Classic Black from Stock & Noble at $142 are similarly priced. Both are UV Stable, have an anti-crib deterrent and a matt finish. However Classic Black comes with an anti-fungal additive as well and while Stud X is known to last not more than a year and give a chalky appearance over time Classic Black has a longer life expectancy of 2 years and maintains its black finish.  
If cost is a huge consideration, you might want to choose from Stud X Or Classic Black as they are water-based instead of oil-based. But do note that you might have to repaint after a couple of years.  
Middle range Fence Paints 
Stud X Full Body from Paint Sales is priced at $169. It is higher in cost, has higher paint solids as compared to Stud X, has a gloss finish and longer life of up to 3 years. However, it tends to turn chalky as well and has no anti-mould defence.  
Fence Black from Sceneys is for $200. It's an oil-based paint similar to Kentucky Farm Black with no additional defences or UV Stability and isn't environmentally friendly. 
Forever Black from Stock & Noble costs $251 for 20 litres. Known to last twice as long which is more than 6 years, it has six times higher paint solids than Stud X Full Body or Classic Black. 
Forever Black maintains its premium looks and Black Satin Finish over the years and has an anti-fungal additive, anti-crib deterrent and it is UV Stable as well, so, you get beautiful fences without the stress of maintenance.  
Most Expensive Fence Paints 
Weathershield from Dulux at $344 and Stallion Black from Haymes are the most expensive fence paints of the lot. Weathershield does not come with additives and defences because it's best suited for domestic use. With a life of more than 10 years and options of different looks to choose from it's a good investment for fencing in the high-visual areas of your home.  
Stallion Black too doesn't have any additives, but it has a low sheen and its life expectancy isn't known to us. So, before you choose this fence paint it's best to check with the supplier and evaluate yourself.  
In our experience, Weathershield is largely preferred by homeowners who have a smaller section of timber fences to paint at the entrance of their properties in a colour that isn't black or white. Equine property owners or large lifestyle acreage properties who have greater areas of fences to be covered typically go for a paint that can strike a good balance of premium look and decent price. 
Which is the best Timber fence paint for my property?
You want to give your timber fences a makeover and need paint that has a beautiful finish and can elevate the look of your property. After reviewing the top qualities and comparisons of the most popular Timber Fence Paints available in Australia, you have a decision to make. 
Ultimately the choice is yours. All fence paints are good depending on what you're looking for. Whether you want to paint fences for your home, an entrance, a farm, a signature property or an equine centre? Whether you want a matt or a gloss finish? Decide if you want to invest in premium paint that lasts a long time or are you fine with decent quality paint and are ready to recoat in a couple of years. 
Once you've compared all the options and taken a decision, the next step is to paint your fences. Whether you do it yourself or hire a professional it's good to know the best practices of painting timber fences in Australia. It will help you plan, prepare and paint your fences for a stunning look in the most timely and effective fashion. 
If you have more questions on which paint is best suited for your timber fences, feel free to speak to one of our paint advisors. As Matthew Dale would say, our advisors are one of the best when it comes to fence paints and would love to guide you and help build a beautiful property.